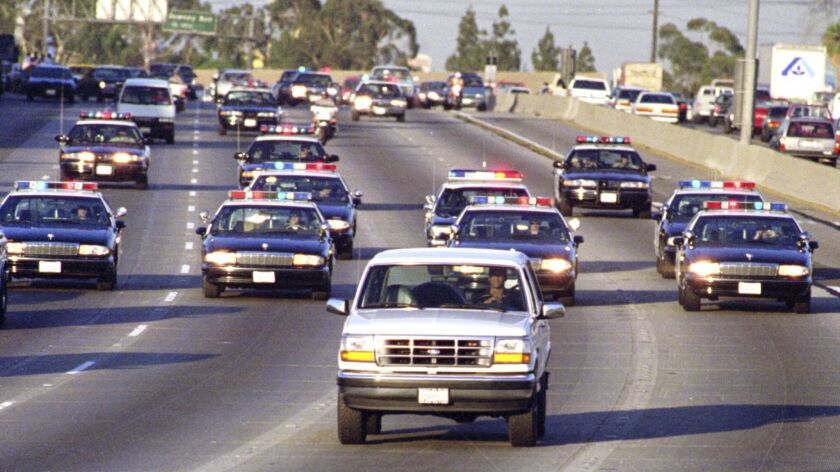 Reporting from CARSON CITY, NEV. —
It was justice. It was a legal abomination. It was reality television before reality television was even really a thing. It was before social media and yet was probably the most viral story of the last half-century.
And it's all front and center again this week.
O.J. Simpson will go before the Nevada Board of Parole on Thursday morning in hopes of being released from a medium-security prison about two hours northeast of Carson City.
Brooke Keast, spokeswoman for the Nevada Department of Corrections, said 19 networks and 120 reporters are expected to encamp outside Lovelock Correctional Center, where he is serving time for robbery and kidnapping convictions in 2008.
Droves of media will also descend on Carson City, about 100 miles southwest of the prison, where the parole board will decide Simpson's fate. If he is granted parole, he could be out of jail as soon as October.
What life is like behind bars for O.J. Simpson, Prisoner 1027820? »
But why do people still care about Simpson, whose televised Ford Bronco chase and criminal trial in the slayings of Ron Goldman and Nicole Brown Simpson resulted in his controversial acquittal more than 20 years ago?
Because it was about race relations in America. Because it was about the public's insatiable appetite for celebrity crime. Because Americans live still with the offspring of that trial — television shows like "Keeping up with the Kardashians" and the Academy Award-winning documentary "O.J.: Made in America."
It's like the Bronco chase continues.
Laurie Levenson, Loyola Law School
Laurie Levenson, a Loyola Law School professor who became a fixture as an analyst for CBS during the trial, said that among water-cooler moments, it was a rare phenomenon: Everyone had an opinion on O.J., and the case became a cultural touchstone. Almost anyone could say where they were when the cops chased the Bronco on June 17, 1994, or when the verdict was read on Oct. 3, 1995.
"He really does define the combination of modern pop culture with the modern justice system," Levinson said. "He was the origin of reality TV. You followed the Bronco. You followed the trial. You followed the everything after. It's like the Bronco chase continues."
Simpson's life tracks through some of the nation's most tumultuous periods even as he seemed to glide through much of it.
While he was winning the Heisman Trophy in 1968, he was more muted compared with some African Americans who took strong stands for civil rights — like Muhammad Ali did by defying his draft orders. Or like Tommie Smith and John Carlos did at the Mexico City Olympics by raising their black-gloved fists in a black power salute to highlight the struggle for racial equality.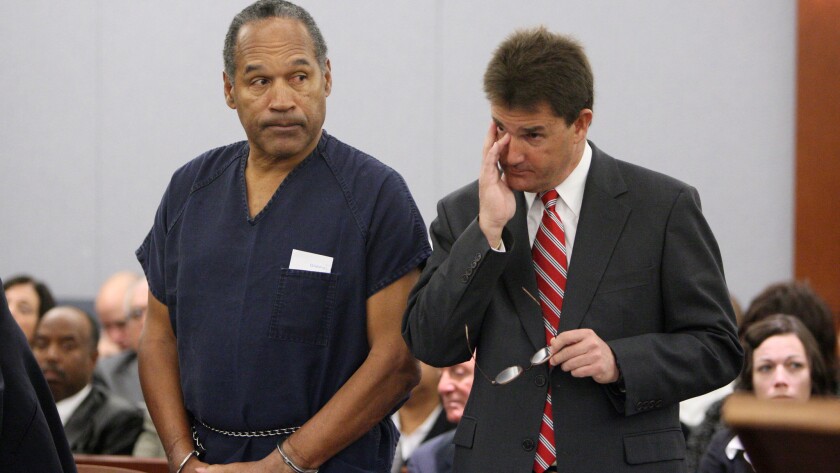 But he also broke barriers. He was the first black man to be a national pitchman for Chevy. Hertz built a hugely successful ad campaign around him. He was cast in big-budget Hollywood films despite little acting experience, including turns in "The Towering Inferno" and "The Naked Gun."
His murder trial came on the heels of the acquittal of four white Los Angeles Police Department officers in Rodney King's beating and the subsequent riots that tore up the city and contributed to Chief Daryl F. Gates losing his job and a series of reforms within the force.
The documentary "O.J.: Made in America" tied race relations and Simpson's life into a tightly wound dissertation on why blacks and whites reacted so differently when Simpson was found not guilty of the slayings and how he became an unlikely face for injustices blacks saw in the American legal system.
When the documentary premiered at the Sundance Film Festival last year, the director, Ezra Edelman, told The Times that the Simpson story simply couldn't get away from the overarching themes of race relations in Los Angeles and the nation.
Timeline: O.J. Simpson's journey from sports legend to murder suspect to prisoner »
"O.J. is a sad, depressing American story, and a tragedy," he said. "But the tragedy is not that this beautiful, charismatic person ended up where he is today. It's that the people who invested in him had so little hope that this was something so important to celebrate."
His acquittal soon was followed by his losing a civil trial in Santa Monica filed by the Goldman and Brown families; a jury awarded them $33 million.
Simpson's Brentwood Estate was eventually bulldozed and he was forced to sell off some of his prized possessions. His two children with Nicole Brown Simpson managed to stay mostly out of the public eye, but Simpson still seemed to attract the spotlight after moving to Florida.
Notable players in the Simpson trial also were tracked by a public still curious about the courtroom theater that had gripped the nation. Prosecutor Marcia Clark had a television show. Defense attorney Johnnie Cochran died in 2005. Judge Lance Ito retired. Famed defense lawyer F. Lee Bailey filed for bankruptcy. Robert Kardashian, Simpson's close friend, died in 2003.
Simpson was criticized after saying he'd spend his time looking for the real killers of Brown and Goldman but instead seemed to play a lot of golf and lead a party lifestyle in Florida.
Then came the arrest in Las Vegas in 2007 after a bizarre robbery at the Palace Station Casino, where Simpson and some armed accomplices ostensibly came to reclaim memorabilia the former football star said belonged to him.
He was convicted and sentenced to 9 to 33 years in prison on the charges — a move some have suggested served as justice for his murder acquittals.
Simpson was first eligible for parole in 2013 and testified via videoconference from the prison.
"I'm sorry for what has happened. I have spoken at length to both of the victims. They've apologized. I've apologized," Simpson said. "I know their families. They know my families. I just wish I'd never gone to that room. I wish I didn't. I wish I'd said, 'Keep it and not worry about it.' Other than that, I'm just sorry all this had to happen."
Simpson, who turned 70 this week, has been incarcerated 9 years — the minimum amount of his sentence. Keast, the prison spokeswoman, said his cell is about 90 square feet and, like most every inmate, Simpson has a job. He started as a porter, but has mostly worked in gym maintenance.
On Thursday, Simpson will once again testify via videoconference from Lovelock. The proceedings will be streamed live by CNN, which was the first 24-hour cable channel to provide gavel-to-gavel coverage in the mid-1990s during the double-murder trial.
The parole board has received phone calls and emails both supporting and opposing his parole, and there's been a Change.org petition with more than 149,000 people saying he should stay behind bars.
But Levenson believes that because he has kept out of trouble in prison and was granted parole on some of his charges in 2013, Simpson has a decent chance to walk out of Lovelock in November.
"And we'll follow to see where he goes," she said.
Twitter: @davemontero
ALSO
What you need to know about President Trump's voter fraud commission
Atty. Gen. Sessions revives controversial practice of police seizing suspects' assets
Old Volvos are an object of affection in Seattle, where drivers tend to hate driving
---