Hundreds line up in South Carolina's capital to honor slain pastor Clementa Pinckney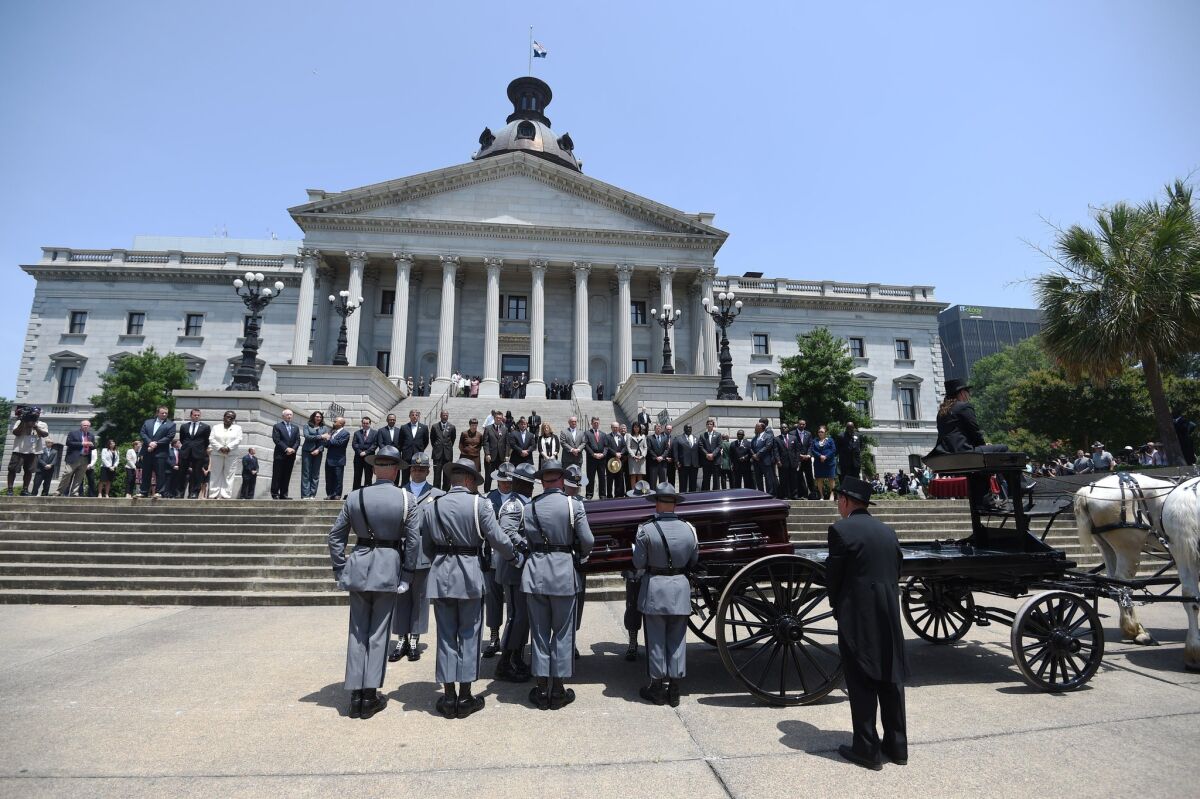 Reporting from Columbia, S.C. —
Two white horses on Wednesday carried Clementa Pinckney, the revered South Carolina state senator and pastor who was killed alongside eight members of his Charleston church, to the Statehouse building Wednesday, passing the Confederate flag that has sparked national debate about Civil War symbols in the South.
A row of legislators stood under the building's Corinthian granite columns, gazing down as hundreds of mourners escorted Pinckney's mahogany casket into the Rotunda.
As nine members of the honor guard carried Pinckney into the State House, the crowd sang "We Shall Overcome."
Ann Shephard, 65, of Columbia, S.C., stood in the 95-degree heat in black mourning clothes, sobbing as she held up a black parasol. "A cloud has been over me since this happened," she said. "I look at it from every angle and it doesn't make sense to me."
A long procession filed patiently through the Statehouse's lush grounds, clinging to the shade of palmetto and magnolia trees, and then up the stairway of the soaring Rotunda to pay their respects to Pinckney, who lay in a coffin between the House and Senate chambers, where he served for almost two decades.
"This line of people, in and of itself, signifies the impact of his life," said Russell Patterson, 30, an Atlanta graduate student who had attended Emanuel AME Church in Charleston and who considered Pinckney his big brother and mentor as well as pastor. "He taught us love."
Pinckney, who was leading a Bible study at Emanuel AME when he and the others were gunned down June17, was elected to the South Carolina State of Representatives in 1996 at the age of 23, the youngest African American to win such a seat. Four years later, voters elected him to the state Senate.
Dressed in a black suit, white shirt, red tie and gold cuff links, Pinckney's body was surrounded by red roses, white lilies and eucalyptus.
Inside the Statehouse, a large black drape covered a window with a view of the Confederate flag outside.
"He looks like he's just sleeping there," said Tiffny Palmore, 28, a doctor's assistant from Columbia who had stood in line for hours with her mother and six children. "It still doesn't take away the pain."
After legislators voted Tuesday to hold a debate this summer about removing the Confederate flag from the capitol grounds, many said their focus was on grieving and paying tribute to Pinckney.
"I'm thinking about my friend Mr. Pinckney, and the amazing life he lived," said state Sen. J. Thomas McElveen III. "I'm also thinking about the conversation his loss has touched off across the state, the South and the country. This has really forced people in South Carolina to be having new conversations we were reluctant and unwilling to have.
"I am troubled that the flag a murderer waved as a banner of hatred flies as his body lies in repose," he added. "I'm not happy about that, I can tell you that."
Still, in a legislature that had steadfastly resisted calls to remove the flag, even amid a long-standing NAACP boycott, the speed of the passage of resolutions in the House and the Senate to debate the issue, and by such large margins, astounded many observers.
"It's been quite a show," said Don H. Doyle, McCausland professor of history at the University of South Carolina. Deeply entrenched attitudes in the South about the Confederacy were changing rapidly, he said, with the battle flag and other symbols increasingly defined as radical opposition to decency.
Though many said that allowing the Confederate flag to remain on state grounds during the public viewing of the slain state senator's casket was a sign of disrespect, Doyle said he had never expected the flag to be taken down before Pinckney lay in state.
"It's important for the state to come to terms with this, to have a debate and go through due process," he said. "If it was just abruptly taken down, it would look dictatorial. There will be a backlash."
After two more public viewings at St. John AME Church in Ridgeland and Emanuel AME Church, President Obama will deliver the eulogy at Pinckney's public funeral service Friday in Charleston. Pinckney will be laid to rest at St. James AME Church in Marion.
Paula Marshall, 51, a Columbia medical assistant, beamed as she walked through the Statehouse grounds after paying respect to Pinckney and took in all the hundreds of people still lining up. After all the heartache, she said, she couldn't help feeling proud.
"Sen. Pinckney accomplished a lot when he was living, and now he's accomplishing just as much in death," she said. "This is a part of our history."
---
Must-read stories from the L.A. Times
Get the day's top news with our Today's Headlines newsletter, sent every weekday morning.
You may occasionally receive promotional content from the Los Angeles Times.