In Alabama and across the country, pride swells as black female voters show they matter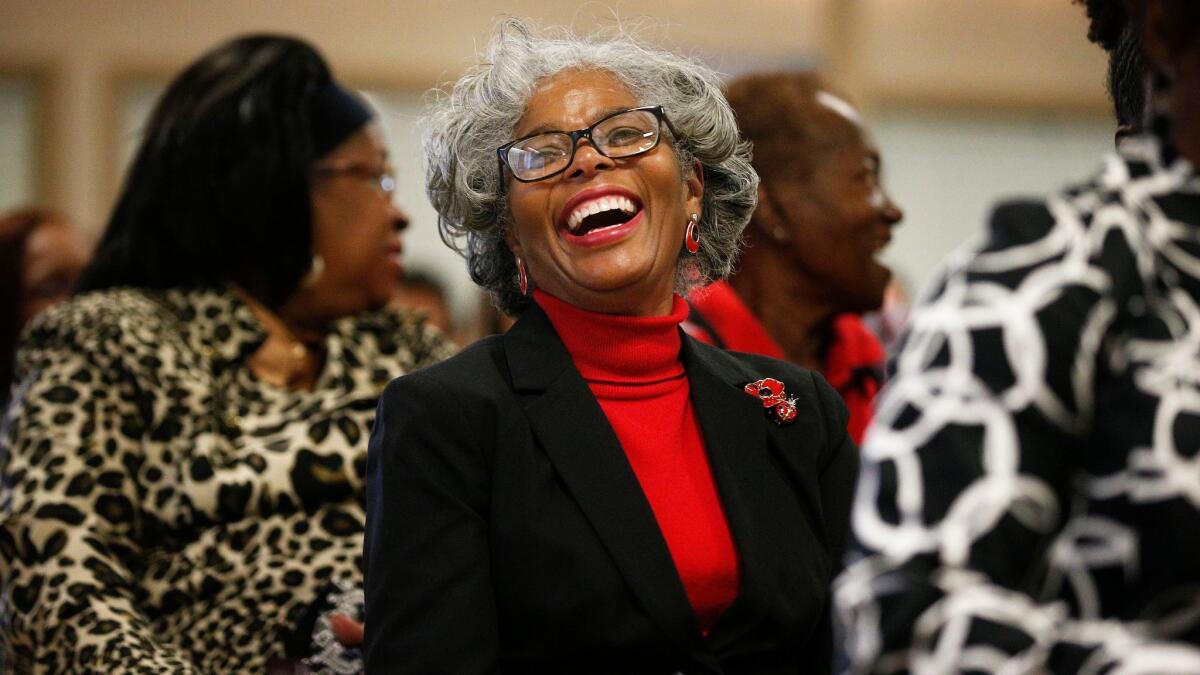 Reporting from Birmingham, Ala. —
Every election since she was 16, Catrena Norris Carter has gone door to door, urging black Alabama voters to the polls.
In the months leading up to Tuesday's U.S. Senate race, the community activist and a band of mostly black women registered college students to vote, waved signs on street corners and egged on fellow African Americans at churches, sororities and even football stadiums to be sure to cast their ballots.
"Hey, we worked our butts off," said Norris Carter, 49, an organizer with Vote or Die, a get-out-the-vote group that canvassed on Democrat Doug Jones' behalf in Birmingham, Montgomery and black rural communities. "A win's been a long time coming."
The mobilization of African American support is a routine part of just about any winning Democratic campaign. But the overwhelming black turnout here Tuesday, the staggering support for Jones and the sense that African American women in particular carried him to an upset victory made for a moment of shining pride.
Not just here in Alabama, but across the country.
The fact that the loser was Roy Moore, a Republican with a long history of racially provocative actions and statements, and that the triumph was eked out in a state with a long, ugly history of racial oppression made victory all the sweeter.
The Twitter hashtag #BlackWomen became an overnight sensation.
Women (and men) posted celebratory photos and videos across social media of black women dancing, strutting and fixing gold crowns to their heads. They marched determinedly down office corridors and waved signs saying, "Black women tried to save y'all!"
It was like a church revival and neighborhood block party rolled into one joyous national celebration.
"Trending on twitter give me all of the good feels!!! We kept tryna tell y'all we are magic.… we just made #Moore disappear," Tai Cooper tweeted under the handle @prettylady.
Jones made history as the first Democrat elected to a Senate seat in Alabama in 25 years, an upset that cut the Republican majority on Capitol Hill to a mere 51 to 49.
He won a whopping 98% of the vote among black women, just ahead of his 93% share of black men, according to exit polls. Even more striking were the turnout numbers in this special election: African Americans made up 30% of Tuesday's electorate, exceeding their 27% share of Alabama's population.
The numbers, which surpassed the percentages when Barack Obama ran for president, were especially noteworthy given the tendency of black turnout to fall in off-year elections.
African American turnout was also strong in last month's gubernatorial contests in Virginia and New Jersey, where Democrats cruised to big wins, buoying the party's hopes for the 2018 midterm election.
In Alabama — where Jones won by just 1.5 percentage points — any number of factors may be credited for his victory. The more than 20,000 write-in votes for other candidates might just as well have cost Moore the race.
And given the state's deeply conservative nature, Jones probably would not have won if Moore hadn't been tainted by allegations of sexual misconduct involving underage girls.
"Nothing better in politics than to be blessed with an opponent who is so fatally flawed," said Don Sipple, a longtime ad maker for Republican candidates across the nation.
But there was no denying the import of the massive black turnout, which helped Jones overcome a lopsidedly poor showing among whites in the state's rural regions. "That vote was just overwhelming, and women were spearheading that," said Paul Maslin, a top Jones strategist.
The Jones campaign devoted enormous resources to mobilizing black support. Former President Obama recorded a robocall for Jones, leading politicians came in from out of state to stump on the candidate's behalf, and a broad network worked to mobilize African Americans who skipped prior elections.
Faya Toure, a longtime Selma voting rights activist, led dozens of volunteers in Vote or Die who campaigned for Jones in churches, at ballgames and in nightclubs, and amplified their message on social media.
"The literature we distributed had a picture of [President] Trump and President Obama," she said. "It clearly gave the message that this is about keeping alive the policies of President Obama or allowing people like Roy Moore to kill them."
The sexual misconduct allegations against Moore were a particular motivation for some African American women, said LaTanya Millhouse, 47, a political activist in Birmingham.
"It hit home more with black women, because of the way black women were treated during slavery — raped and assaulted, often and with no repercussions," she said. "Some of those things we still experience in the Deep South. The chain reaction of all those different charges resonated with so many women because the issue is still alive and still relevant."
Not least, the Jones campaign highlighted his prosecution, when he was a U.S. attorney, of Ku Klux Klansmen who in 1963 dynamited Birmingham's 16th Street Baptist Church, a major staging ground for the civil rights movement.
For those black women who have toiled long and often, they felt, thanklessly for Democratic candidates and causes, the recognition Wednesday was welcomed as long overdue.
"Finally — I want to write it in big letters — the world gets it, and black women are finally being noticed," Norris Carter said.
Yet some black Alabamans preferred to take Jones victory in stride.
Pausing on the way to a hair appointment in downtown Birmingham, Linda Perdue said she voted for Jones because he stood for equality and civil rights and cared "for mankind, regardless of race or color."
All the social media to-do struck her as a bit foolish.
"That's part of the reason I don't do social media, OK?" said Perdue, a systems analyst and a "woman of a certain age."
"You want to break it all down, you're going to divide it up. People who stood for the same causes united — regardless of their color, their sex, their histories," she said. "That was what happened. People got out and they did what they thought was good for the state."
But there was no denying the pleasure she took in Jones' unexpected victory.
"I think it's absolutely wonderful that we can wear blue for change," she said with a smile.
Jarvie is a special correspondent.
Jarvie reported from Atlanta, Finnegan from Los Angeles and Barabak from Birmingham.
ALSO
Black voters are key to Democratic hopes in Alabama's Senate race. Will they turn out?
The Alabama Senate loss just made Trump's job a lot harder
Politics has veered from one side to the other, but Doug Jones' win in Alabama suggests the need to hew to the center
Sign up for Essential California for news, features and recommendations from the L.A. Times and beyond in your inbox six days a week.
You may occasionally receive promotional content from the Los Angeles Times.