In Nevada, some Native Americans have to travel 270 miles to vote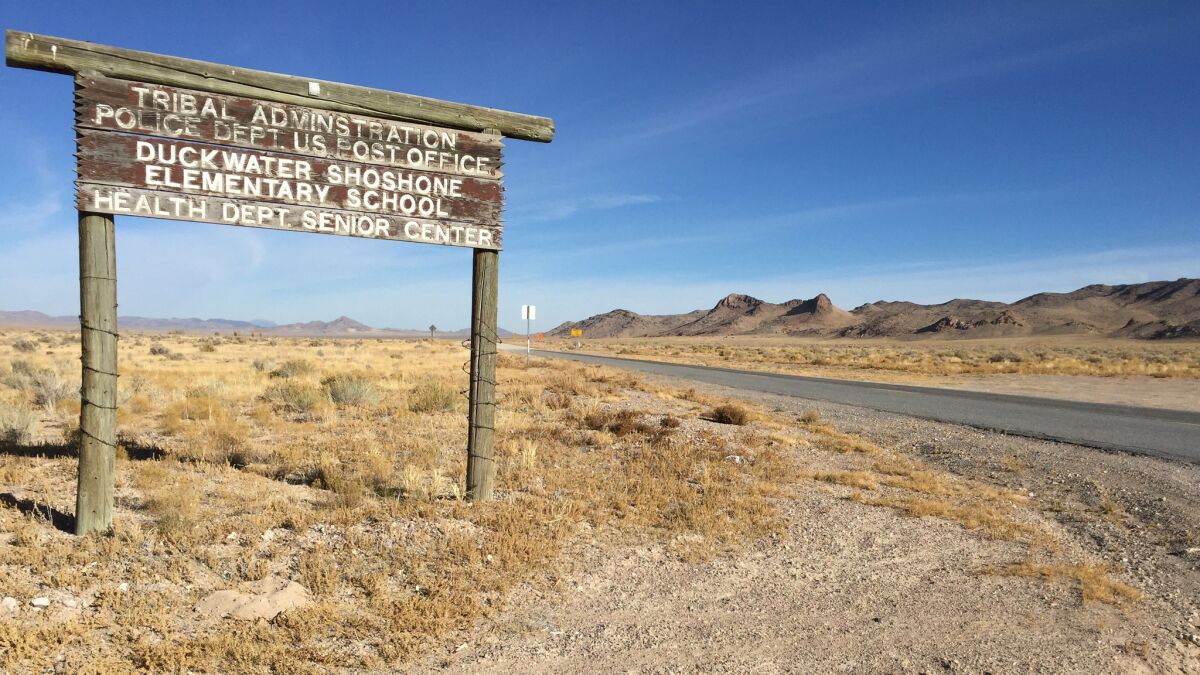 Reporting from DUCKWATER, Nev. —
Highway 379 turns to gravel here, white and dusty, narrowing until it disappears into the craggy mountains off in the distance. Hang a right before the pavement ends and a skinny road veers toward the center of this tiny town.
They're used to remoteness here on the Duckwater Shoshone reservation in Nye County. Its residents recently got a laundromat with seven washing machines. They are still searching for a doctor, but they finally filled two vacant police positions. There's no restaurants, banks or supermarkets, but there is a gas station — four large tanks propped high on skinny metal legs with a naked nozzle padlocked to the side.
But there is another glaring need in Duckwater and at several other reservations: a reasonably close site for residents to cast ballots. So the Inter-Tribal Council of Nevada sued in October and got two sites added to the state's approximately 435 polling locations. They wrote a letter to the Nevada secretary of state shortly afterward to ask for more but were rejected.
Duckwater was one of those places that didn't get a site, even though its residents have the longest trek to cast ballots in Nevada — about 270 miles round trip to vote on election day.
"I would vote, but it's such a long drive, about two hours each way," Alissa Thompson said. "I'd have to leave at 8 a.m."
Thompson, 61, has lived in Duckwater her whole life. She said it's not simply a long drive, either. It's a sojourn on a two-lane highway fraught with peril. A collision with deer, elk or wild horses that wander onto the highway can destroy a car and injure or kill a driver, not to mention the animals.
Distance drives many of her decisions. If she was picked for jury duty — a distinct possibility if she'd registered as a voter — she would have to make that drive for a trial. To her, it wasn't worth the risk, which is why she didn't register to vote by mail, either.
Which means, Thompson said, that Hillary Clinton will miss out on at least one vote here.
Bret Healy, a consultant for the Native American advocacy group Four Directions, was part of the lawsuit that sought to increase polling sites on tribal lands in rural areas. U.S. District Judge Miranda Du ruled in October that sites for in-person early voting had to be placed in Nixon and Schurz. Now for the first time, the Pyramid Lake Paiutes will have close access — just a few miles from their homes — to a place to vote on election day.
The Justice Department also announced Monday that the Nixon site would be a part of its 28-state poll monitoring effort to enforce voting rights laws.
Healy said participation in early voting at the Nixon site had already born fruit, with a 10% increase in turnout. He expects more on election day.
"This is what happens when you remove hurdles," Healy said. "You remove the distance — in this case a 95-mile round trip — you achieve participation."
Nevada Deputy Secretary of State Wayne Thorley said county clerks can designate an area as a vote-by-mail precinct if there aren't more than 200 registered voters living there. That's the case for the Duckwater Shoshone reservation.
He said a lack of nearby polling places is an issue for rural people across the state.
"Nevada is a very large state geographically with many communities in rural locations, and it is simply not possible to have a polling location close to every community in the state. This is one of the reasons why Nevada is a no-excuse absentee state and why voters in some of the most remote areas are automatically sent an absentee/mail ballot," Thorley said in a statement. "The secretary of state's office is always open to discussing voting issues with any group, including Native American groups, in an effort to provide better information and access for future elections."
But Jerry Millett, an elder from Duckwater, said access wasn't the reason he wasn't casting a ballot this election. It will be the first election he's skipped; if he felt good about the choices, he said, he'd even make the drive to Tonopah if he had to.
"I don't really trust either of them," he said. "The people we elect for president should be honest. Donald Trump says he'll build a wall and make Mexico pay for it? That's a lie."
Virginia Sanchez, 62, voted by mail and remembered there was a time a few decades ago when there was a polling site at the old school on the reservation. She said she missed the process of casting a ballot in person.
"It was easy then," she said. "But that was a long time ago."
Twitter: @davemontero
ALSO
New York's security headache: Trump and Clinton will be about a mile apart when results come in
The fight for Ohio pits a well-oiled Democratic machine against Republican enthusiasm
Homeless people vote too: Here's what they have to say about the presidential election
Must-read stories from the L.A. Times
Get the day's top news with our Today's Headlines newsletter, sent every weekday morning.
You may occasionally receive promotional content from the Los Angeles Times.