Head of nation's largest police chief group issues formal apology for 'historical mistreatment' of racial minorities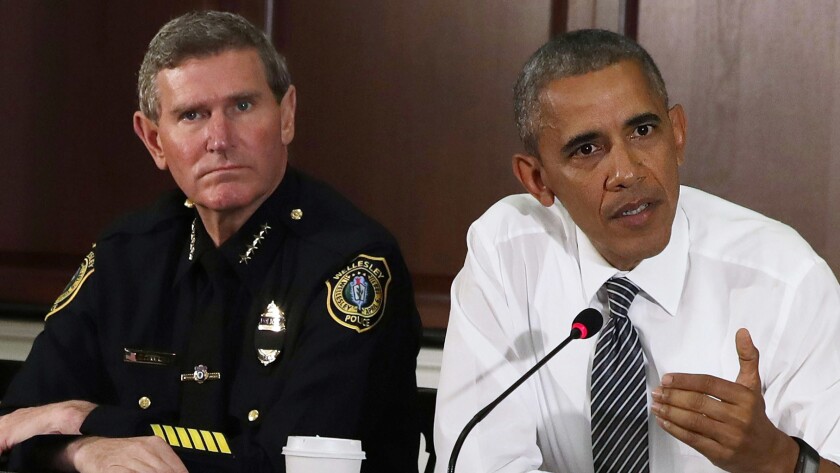 The president of the country's largest police chief organization formally apologized Monday for the "historical mistreatment" of racial minorities — one of the strongest statements a national police figure has made to date on race.
Law enforcement officers have been the "face of oppression for far too many of our fellow citizens," Terrence Cunningham, president of the International Assn. of Chiefs of Police, told thousands of police chiefs from across the country at the group's annual conference in San Diego. He said that police have had "darker periods" in their history, and that mistrust between police and minorities is the "fundamental issue" facing police today.

For the record:
12:46 a.m. May 31, 2019
A previous version of this article said the president of the country's largest police organization apologized. It should have said the country's largest police chief organization.
Outbid, outhustled, outmuscled: Why Trump was never able to conquer Southern California »
It was a watershed moment for the organization, which counts chiefs and high-ranking officers from nearly every U.S. police department among its 27,000 members, sets priorities and trends across American policing, and acts as a national liaison between local police and the federal government.
As national outrage over police shootings of black Americans has grown, the association frequently called for greater building of trust between police and communities, but did not formally apologize for past racism among police.
Cunningham, who is white and serves as the chief of police in Wellesley, Mass., spoke for just over four minutes between longer speeches from the general secretary of Interpol and Atty. Gen. Loretta Lynch.
Police and activists alike praised Cunningham's remarks, though some said they fell short of fully addressing the reasons there is sometimes a gulf between police and the communities they serve.
"Cunningham's statement today noting the role that police have played and continue to play in functioning as both the face and tool of racial oppression in this country is important, especially given that we have not heard such a clear statement from a senior-level police officer until today," said DeRay Mckesson, a Baltimore-based activist who has advised President Obama on policing issues and co-founded the police reform organization Campaign Zero.
"I look forward to seeing this statement supported with tangible commitments to enact deep structural and systemic changes within policing and the criminal justice system that specifically undo the damage that police have done to communities of color," Mckesson said.
The president of the National Organization of Black Law Enforcement, Perry Tarrant, was among officers in the room who gave Cunningham a standing ovation after his speech at the San Diego Convention Center. He described Cunningham's words as a "big deal" that "could make a real difference."
"It's hard to get groups to the table who feel affronted by police until you go out there and apologize," said Tarrant, who is assistant chief of Seattle police.
Protests over deadly police shootings of black men have gripped cities across the country in recent months — in El Cajon, Calif. south of San Diego; Charlotte, N.C.; Milwaukee; Falcon Heights, Minn.; and Baton Rouge, La. — but Cunningham avoided mentioning those by name. He also didn't talk about targeted killings of police officers over the summer in Dallas and Baton Rouge, incidents that raised fear among police officers across the U.S. about their safety while on the job.
The Black Lives Matter movement, which has gained traction nationwide with its criticisms of modern-day officer tactics and police shootings, did not make an appearance in the speech, either.
Instead, Cunningham focused on apologizing for the past, when police carried out "many unpalatable tasks, such as ensuring legalized discrimination or even denying the basic rights of citizenship to many of our fellow Americans." But while that history, including the role of police in enforcing Jim Crow laws, has led to mistrust today, Cunningham said today's officers are not to blame for the past.
"While we obviously cannot change the past, it is clear that we must change the future," he said. "We must move forward together to build a shared understanding. We must forge a path that allows us to move beyond our history and identify common solutions to better protect our communities."
For Delores Jones-Brown, a professor at the John Jay College Center on Race, Crime and Justice, the apology amounted to too little, too late.
"I am unimpressed and underwhelmed," she said. "He fails to acknowledge the deplorable behavior of some modern-day police officers who are allowed to go from police agency to police agency after having been cited for misconduct within one or more departments. [He] fails to acknowledge the warrior mentality of many police agencies and police officers and commanders. There are bigoted cops today as there were when it was legal to be a bigoted cop."
Police union officials, many of whom have said activism over police shootings has fueled anti-police views, also criticized Cunningham.
Brian Moriguchi, president of the union that represents supervisors in the Los Angeles County Sheriff's Department, acknowledged that police officers had mistreated minorities in the past but said Cunningham was "pandering to political pressures" by apologizing for those historical sins in an attempt to address present-day problems.
"He's using the past to legitimize the argument that there's something wrong in police work today, and that is wrong," said Moriguchi, who has said police are "far more ethical" today than they were decades ago. "His statements fuel the rhetoric about racist cops, certainly. Instead of fueling the anger and bias, he should be trying to find solutions to the problem."
Dustin DeRollo, a spokesman for the union that represents rank-and-file officers in the Los Angeles Police Department, said Cunningham's comments support the "false narrative" that police officers are deliberately targeting black men. Instead, the focus should be on officers who are killed because of their uniforms, he said, citing a Los Angeles County sheriff's deputy and two Palm Springs officers who were fatally shot in recent weeks. "There's no rational conversation, no outrage about that," DeRollo said.
A contentious debate has developed over both the deaths of officers and killings by police, with politicians and activists frequently sparring over statistics and studies. A summer report from the National Law Enforcement Officers Memorial Fund found that although numbers of police dying while on the job have fluctuated in recent years, shootings of police have drastically decreased overall since the 1970s.
Some statistics show a similar overall decline in the number of police shootings of civilians. But there are no reliable nationwide records, senior law enforcement officials say.
Speaking at the International Assn. of Chiefs of Police conference Sunday, FBI Director James Comey said that despite protests over police shootings of black people, "Americans actually have no idea" about police use of force across the country because the data are lacking. Currently, the most comprehensive data come from media organizations, such as a national database of police shootings compiled by the Washington Post. That database has found that police this year have shot black people at 2.5 times the rate of white Americans, which is similar to the rate last year.
The Justice Department said last week that it would launch a pilot program next year to gather national data on police shootings and nonlethal use of force, an initiative Lynch spoke of Monday after Cunningham's apology.
Lynch also challenged police to build community partnerships to ease tension.
"From doctors to religious leaders, from employers to housing developers, and from schools to civil rights organizations, the opportunity for cooperation — and the potential for progress — is enormous," she said. "Mutual agreement may not be the first thing that occurs. Mutual trust will have to be earned. But we can only find the right approach — we can only build trust — by working together."
Times staff writer Cindy Chang contributed to this report.
Jaweed Kaleem is The Times' national race and justice correspondent. Follow him on Twitter, Facebook and Instagram.
ALSO
Illegal border crossings by Central American families spike again
How an act of political violence in North Carolina led to something rare — a bipartisan response
Fourth victim dies after deadly gun battle at underground Jamaican restaurant
---
UPDATES:
10:39 a.m.: This article was updated with a discussion of statistics on police shootings of civilians.
7:20 p.m.: This article was updated with interviews with police, union officials and activists about the speech.
This article was originally published at 1:50 p.m.
---
Must-read stories from the L.A. Times
Get all the day's most vital news with our Today's Headlines newsletter, sent every weekday morning.
You may occasionally receive promotional content from the Los Angeles Times.