Outbid, outhustled, outmuscled: Trump has never been able to conquer Southern California
On Jan. 13, 1990, Donald Trump arrived at the once-glamorous Ambassador Hotel for a major announcement: Here on Los Angeles' Wilshire Boulevard, Trump said, he would build the tallest building in the world.
It was the New York developer's first major deal on the West Coast and a potentially skyline-redefining project for L.A. The 125-story, $1-billion-plus residential and commercial complex would overshadow everything else in the neighborhood, a towering testament to Trump's ambition.
At the time, long before his 2016 run for president, Trump seemed to be everywhere. He was already a household name with Trump Tower and the Plaza Hotel in New York, plus his casinos in Atlantic City and his lavish Mar-a-Lago estate in Florida, which led then-City Council President John Ferraro to joke, "Why did it take you so long to get to Los Angeles?"
Twenty-six years later, Trump still hasn't really arrived in L.A. — at least not as a builder of skyscrapers.
In the world of real estate, the Trump name is a symbol of opulence and daring, stamped on buildings in New York, Chicago and Las Vegas in the U.S. and in cities around the world, including Rio de Janeiro, Istanbul and Mumbai, where Trump has licensed his brand to other developers.
But there is no Trump Tower on the old Ambassador Hotel site or anywhere else in L.A., for that matter.
Trump's biggest land holding here is a shoreline Rancho Palos Verdes golf course, which bankrupted its previous owners when the 18th hole slid into the ocean in 1999.
Trump has said he spent nearly $300 million buying and fixing up the course, which reopened in 2005 and wowed visitors with its sweeping panoramas of the Pacific Ocean. But Trump's own tax attorney has claimed in recent years that the course is worth just $10 million, and a former general manager said the course was not much of a moneymaker.
Trump, now the Republican nominee for president, has touted his business experience as a major developer and his image as a dealmaker as qualifications for the nation's highest office.
But when it comes to his lesser-known history in Southern California, Trump's record is peppered with setbacks, lawsuits and bold ideas that never came to pass.
::
Trump, 70, has had an eye on Los Angeles since he was a young man interested in show business, with thoughts of attending the film school at the University of Southern California.
Trump dreamed of living a Hollywood showman's life like MGM co-founder Louis B. Mayer, once proclaiming, "the ultimate job for me would have been running MGM in the '30s and '40s."
Trump chose to go into the real estate business in New York instead, but California's appeal lingered.
"I like Los Angeles," Trump said in his 1987 book, "The Art of the Deal." "I spent a lot of weekends there during the 1970s." When Trump visited, he "always" stayed at the Beverly Hills Hotel, a playground for Hollywood glitterati.
As Trump leaped into the national spotlight in the 1980s with a series of bold business gambits on the East Coast, his name began to bubble up again and again for potential deals in Southern California, though more as a dabbler than a serious player.
In 1986, Trump took an interest in his favorite Beverly Hills haunt, which was up for sale and in decline.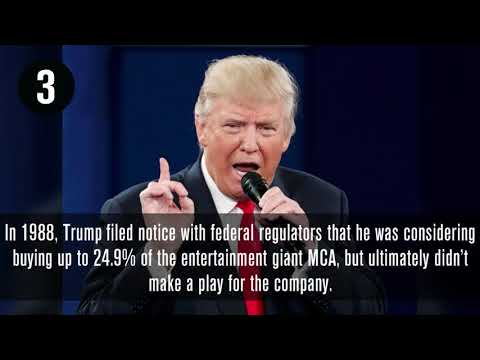 Here are 7 Southern California deals or ideas that didn't pan out for Donald Trump.
"My idea is to hire Steve Rubell and Ian Schrager, the creators of Studio 54 and the Palladium, to run the Beverly Hills Hotel for me," Trump said in "The Art of the Deal." "Steve's an incredible promoter, and he'd make the hotel hot as hell again." (Rubell died in 1989, and Schrager declined to comment for this story.)
But the hotel, built in 1912, was in need of refurbishing. After having the property inspected, Trump kept his bid "low," he said in his memoir. ("He may have expressed an interest, but he was not in the end a serious contender," one of the hotel's owners at the time, Seema Boesky, says today of the bidding process. "I don't recall Trump being one of those people being in there toward the end, seriously.")
Oilman Marvin Davis won the hotel with a bid of $135 million, "a price far in excess of what I was willing to pay," Trump wrote. He added, "Of course, should Davis ever choose to sell, I'm sure he'll earn a profit."
The next year, Davis flipped the property to another buyer — the Sultan of Brunei — for at least $50 million more than he paid for it.
Trump was also courted as a potential player, albeit briefly, when the San Diego Padres' owner put the team up for sale in 1986.
Former Los Angeles Dodger great Steve Garvey, who was finishing his playing career with the Padres, wondered who might join him if he assembled a consortium to buy the San Diego club.
"I contacted Donald," Garvey recalled. "He said he was interested." Garvey said he flew to the East Coast and spent an afternoon meeting with Trump about buying the Padres.
Trump had been a staple of the sports pages in the mid-1980s as the brash owner of New Jersey Generals in the U.S. Football League. The league was an upstart competitor to the NFL, and it shut down in 1986 after just three seasons.
"He wondered if he could take the [Padres] franchise and move it back East, because he really wasn't on the West Coast at that time," Garvey said of his meeting with Trump. "He said, 'Gosh, if I had been out there already, it would be a great complement.' "
Ultimately, Trump said he didn't want the Padres to be his first investment in California, Garvey said.
"It would have been interesting," Garvey said. "To be a Major League owner and have a presence on the West Coast would have been a great foundation for him out here."
During the 1980s, Southern California was just one of Trump's many interests around the country as his empire expanded, former Trump development executive Blanche Sprague said.
"If there was a great deal and he could get it at a great price and if we could make it a phenomenal place … he was interested," Sprague said. "But at the time, we weren't seeing anything special. It's not that there weren't very special things in L.A., it's just we weren't seeing them for sale."
Trump wanted properties that suited his particular tastes. "He's not just looking for a spot to build another tower, just another of the same," Sprague said. "He wants to do things that are special. … He likes trophy properties, he likes the best. And he likes things that somehow he feels nobody else could have gotten."
In 1988, Trump dabbled with another potential entry into Southern California, by way of a power play on the stock market.
He filed notice with federal regulators that he was considering buying up to 24.9% of the entertainment giant MCA, whose vast holdings included Universal Pictures, Universal Television and the sprawling 420-acre Universal Studios lot in the San Fernando Valley. MCA's stock soared on Trump's interest, and some close watchers of the company speculated that Trump, who had bought about 1% of MCA's stock, was after the company's real estate.
But the company itself didn't seem to take Trump's acquisition threat too seriously. When news of Trump's interest broke, MCA's top managers responded by decamping for their weekend homes in Palm Springs and Malibu, The Times reported.
Trump ultimately didn't make a play for the company, and his once market-moving interest has since become a little-remembered historical footnote. "I have no personal recollection of any contact or any dealings with him," former MCA President Sidney Sheinberg said this summer when asked about Trump's interest. "I doubt that I would forget such a thing."
Trump himself had an odd explanation in 1988 when a Times reporter asked him if or when he planned to make a serious move on L.A.
"I'm really concerned with the whole earthquake situation in L.A.," Trump said. "I am a tremendous believer that someday Las Vegas may be the West Coast."
::
As it turned out, Trump's tremor concerns melted away almost immediately.
In 1989, one of the Southland's once-great hotels, the Ambassador, shut down. Trump proposed building a world-record skyscraper over the site after joining a syndicate that bought the 23.5-acre lot for $64 million.
Wasn't Trump worried about earthquakes? "It's no problem," Trump told a reporter.
Trump, who reportedly held a 20% stake in the syndicate, said the hotel was too run-down to bring back to life. He suggested the tower complex might hold a mix of apartments, condos, a hotel, offices, retail stores and a ballroom in a densely populated stretch of Mid-Wilshire.
Yet a Trump Tower was not to be. Civic forces in Los Angeles rose up against the developer and would eventually ruin his plans.
There were the preservationists who wanted to save the hotel, which held the once-legendary Cocoanut Grove nightclub and which had been the site of Robert F. Kennedy's assassination in 1968.
And there was then-Mayor Tom Bradley, who thought the tower would be too big for the neighborhood. Bradley, who died in 1998, also suggested that Trump should build affordable housing and finance economic development in poorer parts of the city, like Pacoima.
Trump's greatest opponent of all, however, was the Los Angeles Unified School District.
The district needed land for a new school and muscled in. The district claimed the Ambassador Hotel site in 1990 through eminent domain, triggering a complicated and acrimonious legal back-and-forth with Trump that lasted for almost a decade.
In a deposition obtained by The Times in 1997, Trump said the school district had taken the land from him "as viciously as in Nazi Germany."
"I assumed that the people essentially teaching the kids were not stupid," Trump said of the district. "They turned out to be very stupid." Trump threatened that the development would be his "first and last" in L.A.
Shortly after, Trump abandoned the project.
"The district's actions have badly hurt the area," Trump said in a bitter statement when he announced the sale of his stake in the project in 1998. "I look forward to coming back to Los Angeles some day to develop another property in the Trump style and manner."
The district finally claimed the land, and up went the grand Robert F. Kennedy Community Schools complex, with a development cost of more than $578 million.
To this day, the school district's maneuvers still pain former Trump executive Barbara Res.
"Stupid. Literally stupid. We had a very good idea, and the school district should never have gone near that site," Res said in an interview.
::
The '90s marked an otherwise fallow period for Trump's interests in Southern California, as mounting debts from his other projects on the East Coast nearly crushed his empire.
When Trump returned to the Southland for a new project in 2000, it was for a small deal with a small partner: the Twenty-Nine Palms Band of Mission Indians, a Coachella Valley tribe of about a dozen adult members.
It was an unusual pairing. Trump had previously demeaned tribes who competed with his casino empire on the East Coast as criminals and fakes. (At one point, he told members of Congress at a subcommittee hearing that the Mashantucket Pequots "don't look like Indians to me.")
But with the passage of a new state law that allowed California tribes to own Nevada-style casinos, the Coachella Valley tribe wanted to make a deal with an experienced casino operator who could help them develop and run a casino near Palm Springs.
"The tribe reached out to us to see if we had an interest in helping them out," Bob Pickus, a former general counsel for Trump's publicly traded casino company, said in a recent interview. Trump was game.
The tribe signed Trump's casino company to a management contract and licensed his name for its newly renamed Trump 29 casino. "We're going to have a beautiful love fest," Trump said when the casino opened in 2002.
Not quite. Although the casino soon grew more successful and revenue grew, the tribe wasn't satisfied and grew tired of Trump's involvement, which was pricey: Trump's deal secured him 30% of the casino's revenue, the legal maximum normally allowed for such contracts with tribes.
The tribe's current chairman, Darrell Mike, told the Desert Sun newspaper recently that they'd hoped Trump would bring "spectacular" business to the casino but had been disappointed. Mike likened it to a "marriage that didn't work out."
Two years after opening, the tribe's gaming commission threatened to revoke Trump's tribal gaming license, which would end his five-year management contract three years early. The move came as Trump's casino company, facing debts from its Atlantic City properties, was headed into bankruptcy.
Tribe members arrived at a meeting with Trump wearing t-shirts with Trump's image that said, "You're fired" — a reference to Trump's catchphrase from his NBC reality show, "The Apprentice"—according to Gary Green, a former vice president at the Trump 29 casino. (Tribe members say it wasn't a protest; Trump himself, they said, gave them the shirts.)
Trump's casino company, unable to manage the debts from its Atlantic City properties, headed into bankruptcy in 2004. The tribe's gaming commission threatened to revoke Trump's tribal gaming license, which would end his five-year management contract three years early.
Public records don't show why the tribe tried to revoke Trump's license. But Pickus, the Trump casino attorney, says, "Somebody sort of had the idea, 'We don't have to pay them their buyout, we can just revoke their license … because they're bankrupt.' "
But bankruptcy was not grounds to strip a gaming license in other jurisdictions as long as you were still paying your bills, Pickus said. After a few days of hearings about the issue in front of the tribe's gaming commission in late 2004, the tribe instead agreed to cut Trump a check for $6 million to walk away amicably.
Off came Trump's name from the casino, and up went a new one: "Spotlight 29."
"Hey, we would have preferred the agreement stay in place for a full five years," Pickus says. (In 2004, the casino would bring Trump a $7.5-million profit, according to SEC filings, suggesting Trump could have raked in millions more had the five-year deal been left in place.)
But Pickus said the venture brought a nice profit overall for Trump. "I remember Donald telling me, 'That was a great deal.' "
The tribe's leader echoed that sentiment.
"Sometimes in business things don't work out so well," Mike told the Desert Sun. "But, yes, for my tribe and my family … we did get a good deal."
::
In 2002, Ocean Trails in Rancho Palos Verdes was one of the nation's most unique golf courses: It had a sweeping ocean view — and only 17 holes (although only 15 were playable).
The 18th hole had fallen into the Pacific Ocean in a 1999 landslide, bankrupting the course's original developers.
In rode Trump, who had taken an interest in golf courses and who spied a piece of Southern California coastline up for grabs. "That land is solid," Trump said after announcing his $27-million purchase. "We checked carefully."
Trump renamed the course Trump National Golf Club, Los Angeles (though the course is not actually in Los Angeles) and went to work rebuilding the course to 18 holes again — at what he said was a massive cost.
"I estimated that to redo the entire course, including reconstruction of the fallen hole, would cost me around $265 million," Trump said in one of his several memoirs. He said the 18th hole alone cost $61 million to rebuild — more than twice what he'd paid for the entire course.
The course opened in 2005 with a flourish, hosting a tournament for LPGA pros who said they were wowed by the ocean views. Open to the public, green fees for a round of golf currently cost up to $280.
Trump's presidential financial disclosure says the course brought in $15.6 million in golf-related revenue from January 2015 to May 2016.
Yet tax and court records suggest the course might not be much of a moneymaker. A county appraiser in 2008 projected that after expenses the course would bring in $1.4 million in profit for that year.
"I don't think we ever made money while I was there," Mike van der Goes, the club's general manager until 2008, said in a deposition in an employee lawsuit over a lack of rest breaks.
Tax figures suggest the course has become less popular with golfers over the last decade. Revenue from golf fees has dropped nearly 25% between 2007 and 2015, according to Rancho Palos Verdes tax figures obtained by The Times through a public-records request.
In a statement responding to The Times' written list of questions about the club, Trump National's current general manager called the club "a tremendous success" but otherwise declined to comment on its profitability.
"For the past 10 years, Trump National Golf Club, Los Angeles has been a pinnacle of golf in California and beyond," Lili Amini, the club's general manager, said in a statement.
She noted that the club had won several accolades, worked with area nonprofit groups and brought "countless job and business opportunities to the region due to the large influx of high-income travelers who shop, dine, stay overnight, and in some cases choose to move to the [Palos Verdes] Peninsula."
If Trump's golf course is facing an uphill financial battle, it's not alone.
"It has become a very low-margin business, let's put it that way," said Ron Carciere, a California-based golf appraiser who says most of the golf courses he examines are not profitable. "It's a tough business these days."
Having finally arrived as a property owner in Southern California, Trump has tried to minimize his tax footprint, hiring Pasadena tax attorney Wade E. Norwood to repeatedly appeal to Los Angeles County for cuts to his property tax bills.
Norwood, who did not respond to a request for comment, had argued as recently as 2013 that the course Trump says he spent nearly $300 million purchasing and restoring was worth $10 million.
::
Apart from a Beverly Hills mansion he bought for $7 million on Rodeo Drive, the golf course has remained Trump's jewel in Southern California as other projects in the region have fallen through.
In 2003, Trump put in a proposal to spearhead the Grand Avenue project for a residential and commercial development that would revitalize downtown L.A., which would have given him a hand in reshaping one of the nation's hottest neighborhoods. He was passed over for a team later joined by superstar architect Frank Gehry.
In 2006, Trump made another major swing, and this time he fell into a 52-round bidding war for an empty lot at 10000 Santa Monica Blvd. between Century City and Beverly Hills. The site once held Jimmy's restaurant, a famed hangout for celebrities and power-brokers.
Trump's adversary, the Orange County developer SunCal Cos., beat Trump with a bid of $110.2 million for a lot slightly larger than two acres, one of the highest prices ever paid per acre in this part of the country.
"Every bid has its limit and we felt this had reached its limit," Trump's partner on the deal, Bill Witte, president of the California development group for Related, told The Times in 2006.
SunCal's victory over Trump was short-lived. The project lapsed into bankruptcy two years later when SunCal's financier, Lehman Bros., imploded in the nation's financial crisis.
One of Trump's more unusual episodes in Southern California came when he offered to buy TV host Ed McMahon's mansion in Beverly Hills in 2008.
McMahon was ailing, unable to work, and had defaulted on $4.8 million in mortgages with Countrywide Financial Corp. Framing it as an act of benevolence, Trump publicly offered to buy the property and allow McMahon to keep living on it, telling the Los Angeles Times in 2008, "I don't know the man, but I grew up watching him on TV."
The gesture, coming in the thick of the housing crisis, earned numerous headlines. But Trump's attempts to buy the house fell through.
"We contacted the institution that had the mortgage on this house, and it was unfortunately wrapped with many other mortgages, and they were unable to get out of their own way," Trump later told the Wall Street Journal.
Dan Schryer, a low-profile tech investor from northern California, had no such problem.
Doing what Trump couldn't or wouldn't do, Schryer swooped in, anonymously bought the house for an unlisted amount, allowed McMahon to stay there until his death in 2009.
Today, Trump's most reliable moneymaker in the Southland might be his real-estate development at the golf club, which includes 36 housing lots that have been sold or are available for development, plus another 21 lots still awaiting approval. Trump's presidential financial disclosure from May claimed $11.3 million in recent land sales.
In a 2007 deposition, Trump said that he — or perhaps a buyer down the road — could someday close down the golf course to "get a tremendous number of houses on the site," which Trump said would have "a bigger value than the golf."
Trump added that he was reluctant to sell housing lots too fast. "I want to hold them, because I think in 10 years it's more valuable, and I think in 20 years it's more valuable," Trump said. "I don't like selling land along the ocean."
But as with his abandoned Ambassador Hotel development, Trump again faced battle with civic forces who didn't see eye-to-eye with his plans.
Managers at Trump's course have chafed with the California Coastal Commission and city residents over smaller development squabbles, such as when the course erected a 70-foot flagpole and a row of ficus trees without permission.
Trump also sued Rancho Palos Verdes for $100 million in 2008, saying the city was requiring his course to adhere to unfairly stringent development requirements; four years later he reached a confidential settlement with the city.
Trump's relations with the city had improved by January 2015, when he announced that at the end of December he had granted an 11.5-acre conservation easement on the golf course's driving range to the Palos Verdes Peninsula Land Conservancy.
Trump still owns the land, and golfers could still use the area, but the move barred future development of houses on the area. The move met praise from community leaders happy to preserve open space on the coastline.
According to the Daily Breeze, Trump said the easement covered land that was worth "much more than $25 million."
While framed as an act of charity, it was in Trump's interest for the land to be valued as high as possible, because it would have affected the size of the tax break he could claim for such easements.
Trump or his representatives did not answer questions on whether he sought the conservation tax break, and he has not released his tax returns.
Either way, the easement, which will continue in perpetuity even if Trump were to sell the course, meant that Trump had left a permanent mark on Southern California — a piece of open space.
"It is my great honor," Trump said when announcing his donation of the easement, according to the Daily Breeze. "Enjoy it for infinity, I guess."
ALSO
Trump claims without evidence that the election is rigged, but officials say that's not how voting works
Donald Trump has turned to scorched-earth campaigning. It could affect a lot more than the election
Employees at Trump's California golf course say he wanted to fire women who weren't pretty enough
---
UPDATES:
Oct. 21: The story was updated with information from the Twenty-Nine Palms Band of Mission Indians, which had initially declined to comment. Tribe members said the Trump t-shirts they wore at a meeting to discuss the tribe's contract with Trump were actually supplied by Trump.
This story was originally published on Oct. 17.
Get our Essential Politics newsletter
The latest news, analysis and insights from our politics team.
You may occasionally receive promotional content from the Los Angeles Times.