Amid power outages, hospitals pushed to their limits in Puerto Rico
Reporting from San Juan, Puerto Rico —
In the emergency room lobby at the Puerto Rico Medical Center, the island's largest public hospital, more than a dozen patients — one with a broken leg, others with arms in slings or other wounds — were lined up on stretchers and in wheelchairs in the stifling heat.
A generator hummed in the background, but that was powering the air conditioning for patients already being treated.
"We have to conserve," said Dr. Charlie Gomez, who had been working 12-hour shifts. "It's a very tough situation and it might get worse."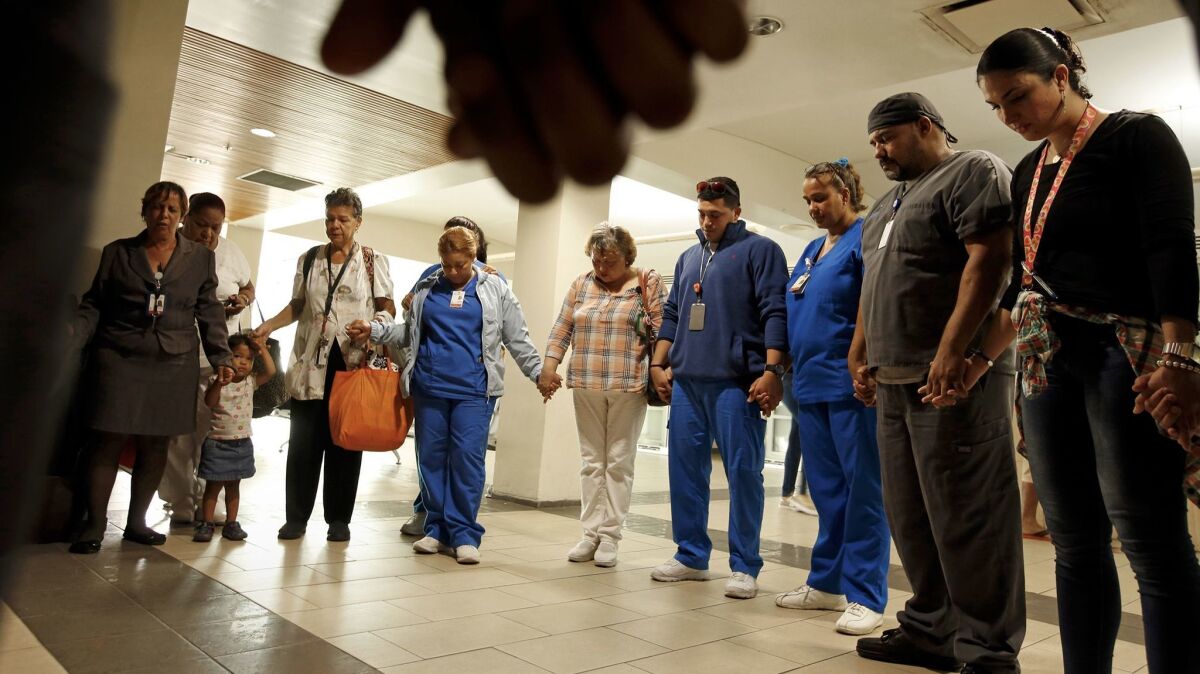 In the aftermath of Hurricane Maria, the healthcare system here is being pushed to its limits, even as medical teams from the U.S. mainland have been arriving. Many of the 69 hospitals across the island remained closed as of Tuesday. The Medical Center was one of only 11 with fuel or power.
Gomez said the emergency room treated about 178 patients on Tuesday, a typical daily load since the storm hit and about 80 more than on a normal pre-storm day.
The most common injuries were no longer from the storm itself but from the early attempts to recover from it: nail wounds, machete wounds and internal bleeding — often from trying to repair roofs and generators.
Some of the patients were not Puerto Ricans but people who had evacuated from other Caribbean islands devastated by Maria or Hurricane Irma earlier this month.
Gomez was one of a dozen doctors staffing the emergency room in shifts of six at a time.
About two dozen other doctors were working in other parts of the 1,400-bed hospital.
"Some doctors cannot even get to the hospital because the roads are not cleared yet," Gomez said.
There was much else to worry about. Homebound patients could soon run out of their medications. The weather could deteriorate, triggering landslides and accidents. Gomez glanced at the sky, which had been cloudy all morning.
"Rain is not good," the doctor said.
San Juan Mayor Carmen Yulin Cruz told CBS news that two people on life support died Monday because their hospital had run out of fuel. She did not specify which hospital.
In the town of Manati, the mayor, Jose Sanchez Gonzalez, made a plea for aid. "The hospital is about to collapse," he said. "It's at capacity. We need someone to help us immediately."
Federal disaster medical assistance teams, coordinated by the U.S. Department of Health and Human Services, have arrived from California, Arizona, Massachusetts, Oklahoma, South Carolina and Texas; some of their paramedics were handling overflow from the Medical Center's emergency room in tents outside.
"We're requesting more resources every five minutes," said Lisa Ansell, a Dallas-based chief nursing officer.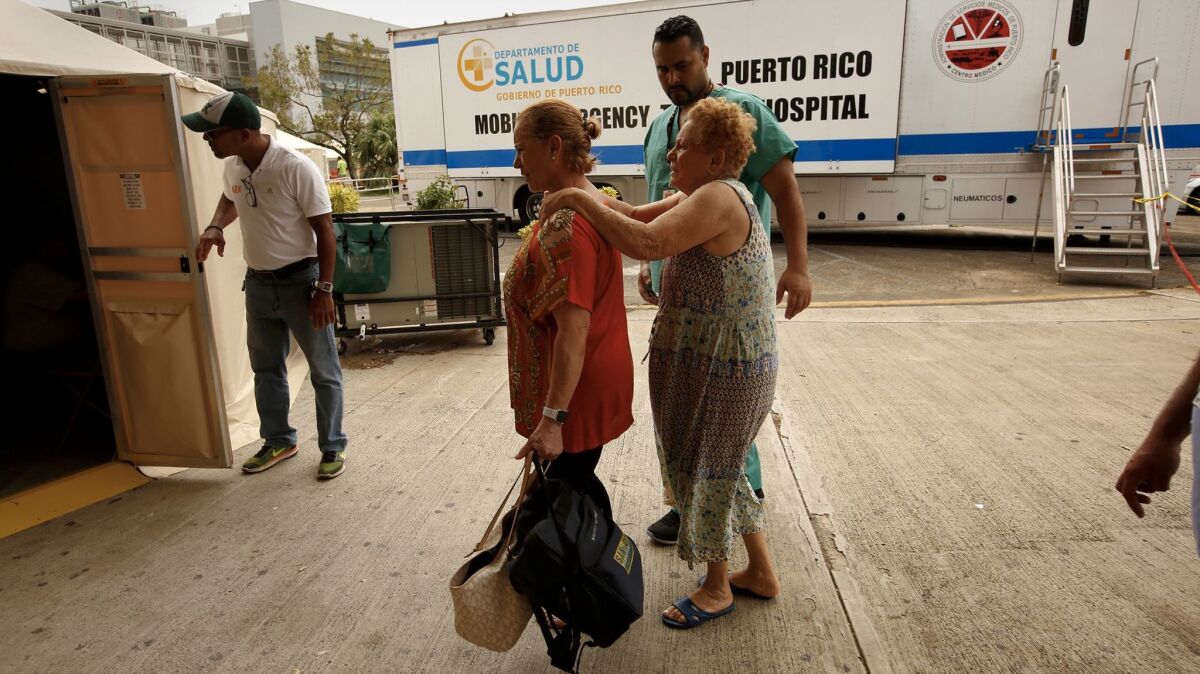 The Pentagon was planning to supply a medical treatment facility with 50 beds, along with ground and helicopter ambulances and several medical teams. It was not clear when the aid would arrive.
The Navy said it would deploy the hospital ship Comfort — an 894-foot modified supertanker with 1,000 beds, 12 operating rooms and a pharmacy — to Puerto Rico. But it was expected to take at least five days to arrive.
The nearby San Juan City Hospital was also open, but food, water and air conditioning were limited, and some staff couldn't get to work because of gasoline shortages.
One nurse, 49-year-old Wanda Tapia, said she had to take gas from her generator to drive to work Tuesday. She wasn't sure she would have enough left to return Wednesday, but said she would try.
"We have our patients we have to care for," she said. "We have our problems at home, but this is our responsibility."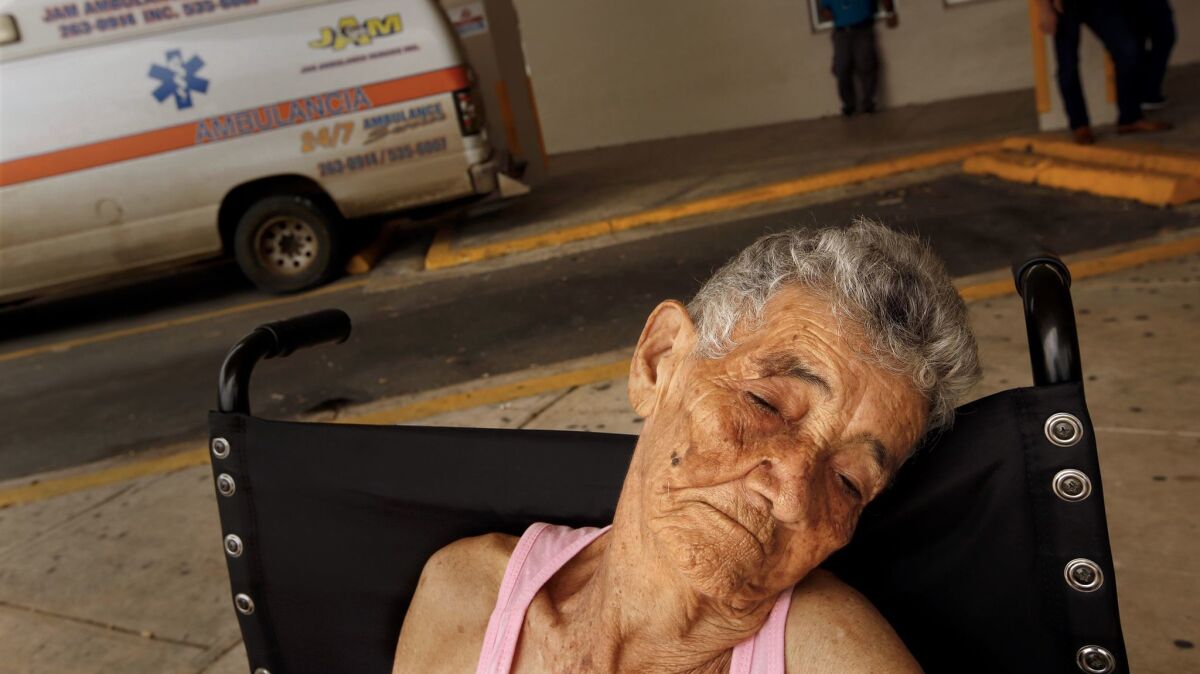 Outside near a row of aid tents, Fermin Talvera, a 39-year-old construction worker, said his 9-month-old son had been admitted with bronchitis.
"We're so hot at night we can't stand it," he said.
The child became sick at the Roberto Clemente Coliseum, a public shelter where they had stayed during the storm with hundreds of other families.
In the hospital lobby, a dozen nurses and other staff joined hands Tuesday to pray for a colleague in intensive care.
They said he had been injured in a carjacking Saturday on his way to work when the hospital reopened.
To read the article in Spanish, click here
molly.hennessy-fiske@latimes.com
Twitter: @mollyhf
W.J. Hennigan in Washington contributed to this article.
ALSO
Trump defends administration's aid to Puerto Rico, denies he was distracted by his fight with NFL players
It was a Mexico City office building. Now, after the earthquake, it's a tomb
Hurricane Maria victims in Puerto Rico struggle to connect with their families on U.S. mainland
Postcards from an island of ruin: Puerto Rico after Hurricane Maria
Must-read stories from the L.A. Times
Get the day's top news with our Today's Headlines newsletter, sent every weekday morning.
You may occasionally receive promotional content from the Los Angeles Times.