Dennis Rodman talks North Korea diplomacy before an audience of cadets at West Point
Reporting from West Point, N.Y. —
So here's an out-of-the-box suggestion for dealing with the North Korea conundrum.
Send Dennis Rodman to negotiate a meeting between President Trump and dictator Kim Jong Un.
Only half-kidding, the idea was raised at an unusual panel held Friday at the United States Military Academy at West Point, N.Y., in which the former NBA star discussed his many visits to North Korea.
It is hard to imagine a more improbable guest at West Point than the tattooed, body-pierced, bad-boy sports celebrity, but the irrepressible Rodman has a way of wriggling himself into unlikely situations. This out-of-control celebrity got invited to visit the world's most controlled country in 2013 at the behest of Vice News.
Rodman helped arrange an exhibition basketball game with the Harlem Globetrotters for Kim, who happens to be a basketball fan. That visit was followed by others in which Rodman ate and drank, smoked cigars, played basketball and sailed on a yacht with Kim. He even held Kim's baby daughter, who he gave a jersey emblazoned with 91, his number with the Chicago Bulls.
He ended up calling Kim a "friend for life.''
"To me he is just a normal guy. He told me, 'I would love to come to America to go to a New York Knicks game.' He actually said that to me," Rodman said Friday, speaking from the podium of an auditorium in front of uniformed cadets. "Obviously, he can't come here or he would be dead."
Rodman, 55, said he was awed by the adulation that North Koreans have for their leader.
"To see that much power in one man's hand, to see how much people love that little guy when he walks in the door," said Rodman, recalling his visit to a stadium in the capital of Pyongyang where 150,000 people were in attendance. "People were standing for a half-hour just clapping. They were crying."
It is easy to scoff at Rodman's observations about the North Korean leader, a man who has made himself international public enemy No. 1 through his country's nuclear tests, missile tests and an abysmal human rights record. South Korean officials have accused North Korea of ordering the assassination of Kim's half brother, Kim Jong Nam, who died last month, apparently by poisoning.
But Rodman has probably spent more time with Kim Jong Un than any other American, making his North Korea experiences of keen public interest.
For the occasion of his visit to West Point, Rodman dressed conservatively — a baseball cap, black jacquard jacket, T-shirt, white canvas trousers, and sneakers and sunglasses, which he didn't remove during the appearance.
Rodman seldom speaks in public or to the press about his North Korea experiences because the trips engendered so much criticism. He was denounced as a dupe and a traitor in 2014 when he organized a game of retired players for Kim's birthday and actually sang "Happy Birthday" in the arena.
"I sang 'Happy Birthday,' and people tripped out in America.…He's supposed to be this bad guy," said Rodman, clearly still stung by the criticism. "Our friendship is about sports. It's not about politics.''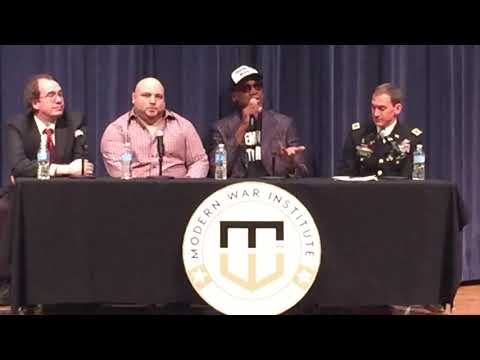 Dennis Rodman speaks during a panel held Friday at the United States Military Academy at West Point, N.Y., in which the former NBA star discussed his many visits to North Korea.
Liam Collins, the director of the Modern War Institute at West Point, who had issued the invitation to Rodman, asked directly whether Rodman thought he had a role to play as an emissary between the United States and North Korea in the same way that "ping-pong diplomacy" opened doors with China.
His agent, Chris Volo, was enthusiastic. "Dennis would do anything for President Trump.… He would go back there in a second, if it ended up helping our nation, helping our president,'' said Volo.
"You don't get more American than Dennis Rodman,'' he added, referring to the body piercings and tattoos, the flamboyant individualism. "The fact that [the North Koreans] saw their leader accept him is such a big step for both countries.''
Rodman himself was noncommittal about returning to North Korea. "Sports is the one thing on the planet that could actually heal things at least for a day, two days or a week."
Nevertheless, Rodman hinted at the possibility of communication between the countries. He said repeatedly that Kim likes Trump, and that Trump has expressed at least a curiosity about visiting North Korea.
"I was in [Trump's] office, and he said, 'I want to go.' That's the first thing he said,'' recalled Rodman, who appeared on Trump's reality television show "Celebrity Apprentice.''
The cadets listened respectfully, rushing up afterward to pose for photographs and get autographed basketballs.
"We are always told North Korea is the big threat,'' said David Stanford, a 25-year-old senior, after Rodman's talk. "It got me thinking there are other things than force to open doors.''
ALSO
Sessions' denial of talks with Russians was untrue. But was it perjury?
Attorneys for Mississippi 'Dreamer' say they're racing to prevent her deportation
Man arrested in St. Louis in connection with threats against Jewish community centers
Sign up for Essential California for news, features and recommendations from the L.A. Times and beyond in your inbox six days a week.
You may occasionally receive promotional content from the Los Angeles Times.