Seattle takes a small step against gentrification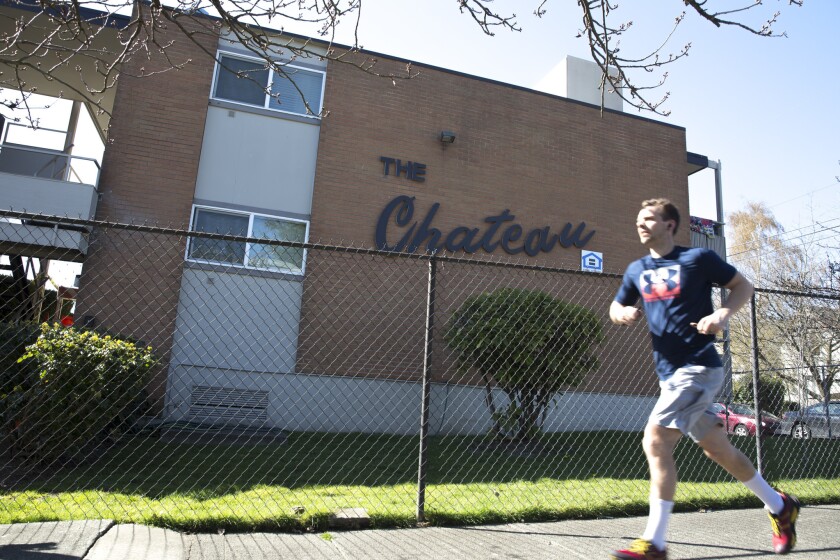 Reporting from Seattle —
This tech hub is booming as never before. Expedia is building a $900-million campus. Google, Facebook and Salesforce are expanding. And Amazon, closing in on Boeing as the area's largest private employer, is currently advertising 10,000 jobs.
In seven years, Seattle saw its population swell from 609,000 to 725,000, making it the fastest-growing metropolis in the country.
The boom is fantastic news — if you happen to have real estate or a plum job at Amazon. But for many others, the once economical, laid-back city feels increasingly like a country club they're not allowed to join.
Even as developers add thousands of apartments, rents are up nearly 70% on average since 2010. Luxury apartments have been so hot that downtown leasing agents operate like futures traders, quoting prices that float daily.
Seattle could not in good conscience ignore its blue-collar roots and simply let gentrification happen. So last month, after years of political negotiations and legal wrangling, the City Council unanimously adopted a measure to build affordable housing.
The experiment is being closely watched across the country as other boomtowns strive to protect low-income residents, retain a middle class, curb commutes and reduce racial disparities in housing. Randy Shaw, the author of a recent book about gentrification, called the plan "the biggest 'upzoning' reform any city has done."
The lingo refers to legal changes aimed at increasing the housing supply. Developers — even commercial ones, exempted from less ambitious schemes elsewhere — are now required to build affordable units into projects or pay into a city fund for the construction of low-income apartments. In exchange, the developers are allowed to exceed old height and density limits on buildings.
But for all the fanfare, the measure has serious limitations that help illustrate why no city has managed to solve the problem. As City Council member Sally Bagshaw put it after casting her vote: "I regard this as a very important drop in the bucket."
Over the next decade, the law is expected to create 6,000 affordable housing units in Seattle. That's 150,000 fewer than a county task force recently concluded the metro area needs right away.
The measure applies to 27 "neighborhood hubs," covering just 6% of single-family-zoned areas and sparing the vast majority of blocks with potential for home-building in those neighborhoods.
To understand why the measure is no panacea, consider the Chateau, a squat 1960s-era apartment building in a gentrifying neighborhood not far from sleek towers containing Amazon headquarters, Google and Facebook.
The 21-unit building is a godsend for families that were recently homeless as well as residents like Roselle Johnson, who has lived there for 11 years. She and her husband, Warren, a retired shoe repairman, pay $419 a month for their one-bedroom apartment, thanks to a federal Section 8 housing subsidy.
"It's nice and quiet here, and close to church and the hospital where my mom and dad have to go," Johnson said.
Then in 2017, Cadence Real Estate bought the Chateau for $4.2 million, intending to tear it down and replace it with a four-story structure containing about 73 compact apartments.
In today's rental market, each would go for between $1,500 and $1,900, said Chris Garvin, a Cadence principal.
The new law will let the company build bigger. Now Cadence plans five stories and about 80 units.
The company plans to pay more than $1 million into the affordable housing fund instead of building in low-income units, which developers often avoid including for marketing reasons. Garvin said paying the fee avoids the uncertainty of how regulations could change during the 50 years building owners are locked into keeping the units low-income.
Current tenants will be allowed to stay until demolition begins — it could take two years or longer to start — but many will have no choice but to leave before then because Cadence is withdrawing the Chateau from the Section 8 program. The Johnsons said they were told their rent would jump to at least $1,300.
Looking to get out, Warren Johnson, 69, found an apartment in a building for senior citizens. But then a manager learned that Roselle, disabled from a car accident, is 44.
"He said, 'Okay, you can come, but your wife can't,'" Johnson said.
Other tenants fear becoming homeless. Waiting lists for subsidized housing in the area are often months or years long.
The city is funding more affordable-housing construction, thanks to a levy passed overwhelmingly by voters in 2016. And Microsoft raised hopes in January with a $500-million pledge supporting affordable housing, mostly around its base in nearby Redmond, Wash.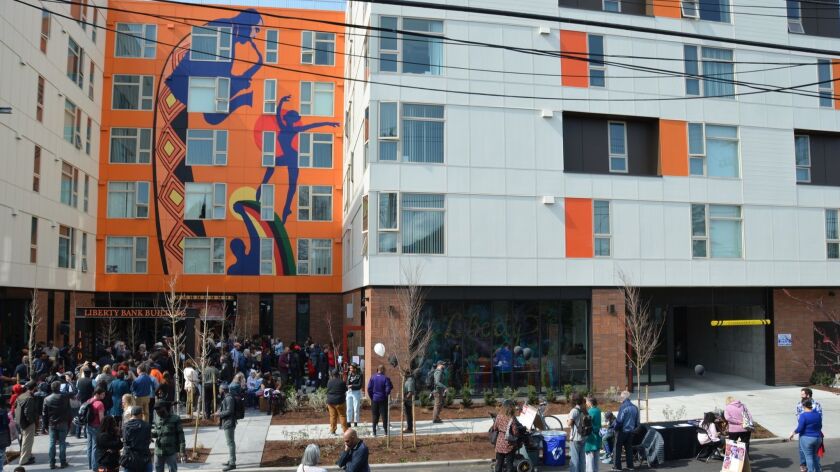 But low-income housing developers note that Microsoft's planned loans in Seattle merely match market rates. They say that to make real progress, the city would have to allow apartment buildings and other multi-unit building in residential neighborhoods that have long been zoned for single-family houses.
Minneapolis recently became the first U.S. city to eliminate single-family zoning. Portland is advancing a plan to allow fourplexes in areas long limited to single families.
In Seattle, it was residents of single-family neighborhoods who most vigorously fought the affordable-housing initiative, filing a lawsuit that delayed the measure for a year. They are girding for battle against the threat of more extensive incursions — should lawmakers ever muster the political will.
"Having a 3½-story building five feet from your lot line, shadowing your house, and buildings that have no yards and very limited setbacks, has big impacts," said Frank Fay, a spokesman for an opposition group called the Seattle Coalition for Affordability, Livability and Equity.
The issue will be a hot topic in City Council elections in November. Last year the council imposed an annual tax of $275 per worker on Amazon and other large employers to fund housing and services for homeless people.
But council members, facing a backlash from Amazon and other companies, quickly repealed the head tax.
---
Must-read stories from the L.A. Times
Get the day's top news with our Today's Headlines newsletter, sent every weekday morning.
You may occasionally receive promotional content from the Los Angeles Times.