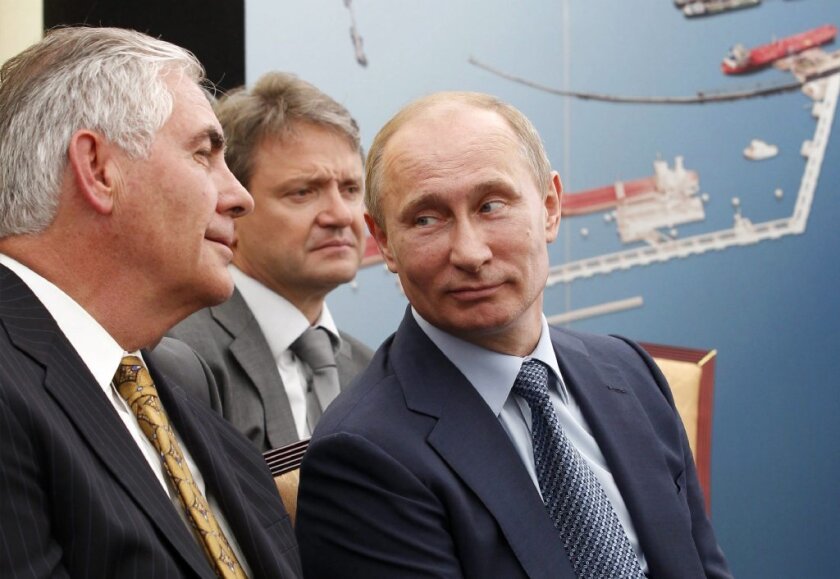 Reporting from Washington —
In a decision that could alter U.S. relations with one of its principal rivals, President-elect Donald Trump is expected to choose Rex Tillerson, a powerful oil tycoon with close ties to Russia's president, as Secretary of State, according to media reports.
Tillerson, chief executive of Exxon Mobil Corp., one of the largest companies in the world, is likely to face rocky Senate confirmation hearings because of his company's business interests with Russia if he is formally nominated.
Many in Congress already are worried about Trump's refusal to recognize what the U.S. intelligence community has concluded was hacking by Russia and an attempt to help Trump win the presidential race.
The Trump transition team said no official announcement would be made until next week at the earliest, and they cautioned that other contenders had not been completely eliminated. Trump often changes his mind, and the Tillerson nomination would be highly controversial.
Speaking in an interview to be broadcast Sunday on Fox TV, Trump expressed admiration for Tillerson, without confirming he was the choice.
"He's much more than a business executive," Trump told interviewer Chris Wallace. "He's a real player."
Tillerson, 64, has been Exxon's chief executive for the last decade and often is included on lists of the country's highest paid executives.
He emerged as a dark horse candidate for the State Department job last week after Trump conducted an unusual public selection process, interviewing a series of high-profile candidates.
Tillerson joined the global energy company in 1975 as a production engineer, and then worked his way up through the executive ranks.
The Texas native is the rare American who has had a personal relationship for years with Vladimir Putin, a former KGB officer who has been Russia's president since 2012 and has frequently clashed with the Obama administration.
Putin bestowed Russia's Order of Friendship on Tillerson in 2013, two years after Exxon Mobil signed a multibillion-dollar deal with Russia's largest state-owned oil company, Rosneft, for joint exploration and production.
When Russian forces invaded Ukraine and seized the Crimea peninsula in 2014, Tillerson lobbied against U.S. sanctions because Exxon would lose millions of dollars.
The Obama administration, with congressional backing, imposed the sanctions on Russia anyway, and Exxon was forced to abandon projects estimated to have cost it about $1 billion.
Exxon claims oil and gas operations in 50 countries on six continents. As its executive, Tillerson has traveled the world to strike deals, making contacts with leaders of all stripes.
Tillerson had been expected to retire from Exxon next year.
The oil industry is seen by critics as a rapacious business that has propped up dictators and run roughshod over environmental concerns and local indigenous groups in countries around the world.
That baggage almost certainly will follow Tillerson to his confirmation hearing if he is nominated.
Trump turned to Tillerson after his longtime friend and ally Rudolph W. Giuliani, the combative and increasingly strident former mayor of New York, dropped out of the race Friday.
Trump left Mitt Romney, the 2012 GOP presidential nominee and former governor of Massachusetts, who did not support him during the election, twisting in the wind for weeks.
He also repeatedly praised retired Gen. David H. Petraeus, a highly respected combat commander who headed the CIA until his career ran aground in scandal. Petraeus ultimately pleaded guilty to furnishing highly-classified material to his biographer and lying to the FBI about it.
Trump apparently liked Tillerson's brash, take-no-prisoners style of making a deal.
How that will play on the global stage of diplomacy is another question.
Environmentalists were appalled as the news spread Saturday.
Trump "told the world we are the United States of Exxon," said Erich Pica, president of Friends of the Earth-U.S. "He wants to create a government controlled by robber barons that will accelerate the demise of workers, the environment and any semblance of a government for and by the people."
Tillerson has also expressed doubts about climate change as a phenomenon caused by human action. That puts him in accord with Trump, who has suggested global warming is a hoax perpetrated by China.
Resistance wasn't just from the left.
Sen. John McCain (R-Ariz), the GOP presidential nominee in 2008, said he had "concerns" about the reported pick and would want to explore Tillerson's ties with Russia during confirmation hearings.
Ian Bremmer, president of the Eurasia risk assessment group and a political scientist, predicted a Trump-Tillerson team would end trade sanctions against Russia and try to extract the United States from its "global responsibilities."
The "biggest change of Trump team is end of US exceptionalism, the idea that America stood for values different/better than other nations," Bremmer said on Twitter.
Trump has spoken glowingly of Putin and said he wants a better, more transactional relationship with Russia, one where the two governments might fight terrorism together but not dwell on other matters, presumably human rights or political values.
For more on international affairs, follow @TracyKWilkinson on Twitter
ALSO
Trump looks to oil industry ally, GOP stalwart to run Interior
Tensions erupt between Trump and the CIA over Russia's hacking during the 2016 campaign
Trump names climate change skeptic and oil industry ally to lead the EPA
---