Trump looks to oil industry ally, GOP stalwart to run Interior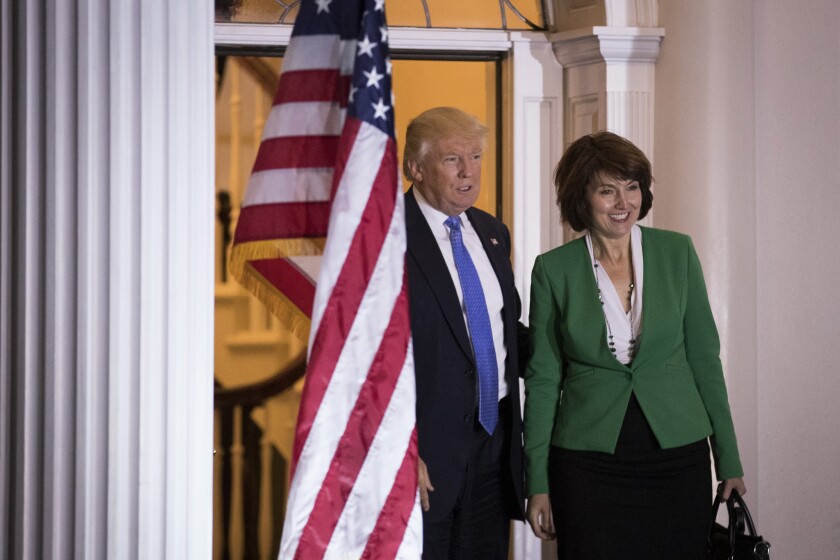 Reporting from Washington —
Donald Trump is expected to choose Rep. Cathy McMorris Rodgers of Washington state, a GOP leader and outspoken advocate for increased oil and gas drilling on federal lands, to head the Interior Department.
McMorris Rodgers, the highest ranking Republican woman in the House of Representatives, would take the helm of a 70,000-person agency that manages hundreds of millions of acres of federal lands, including the national parks system, according to news reports citing unnamed transition officials. Contacted to confirm the reports, transition officials declined to comment.

For the record:
6:55 PM, Dec. 09, 2016
An earlier version of this article said McMorris Rodgers was first elected to the House 11 years ago. She was elected 12 years ago.
She would be charged with implementing Trump's plan to aggressively roll back many of the environmental restrictions the Obama administration has placed on federal lands. The president-elect has said he wants to open up substantially more land for drilling and mining.
A week that started with Trump hinting he is keeping an open mind on environmental issues by meeting climate crusaders Al Gore and Leonardo DiCaprio ended with him settling on unwavering enemies of the environmental lobby to manage federal lands at Interior and to run the Environmental Protection Agency, which Oklahoma Atty. Gen. Scott Pruitt has been chosen to lead.
McMorris Rogers has also expressed skepticism of climate science and worked against most of the major federal conservation measures supported by the environmental lobby since first getting elected to the House 12 years ago.
She is an establishment Republican who supported Trump in the general election and shares his view that big energy companies should have more access to the lands under federal stewardship. McMorris Rodgers has repeatedly voted against environmental protections. The nonprofit Defenders of Wildlife gave her a zero out of a possible 100 for her lifetime voting record; the League of Conservation Voters scored her 4 out of 100.
The congresswoman supports opening the Atlantic Ocean for drilling, aligns closely with timber companies seeking to expand logging and has fought efforts to regulate hydraulic fracturing, or fracking, on federal lands. McMorris Rodgers also voted to make it easier to drill in Native American lands.
Defenders of Wildlife Chief Executive Jamie Rappaport called the pick "another signal from the Trump administration that environmental protections will likely be rolled back and that America's land, water and wildlife are up for sale." The Union of Concerned Scientists said in a statement that McMorris Rodgers has "attempted to interfere with the use of science in public policy" and "sponsored legislation that would erode the scientific foundation of the Endangered Species Act."
If confirmed, McMorris Rodgers would continue the tradition of a having a Westerner run the Interior Department, reflecting the vast acreage of federal land in the West. While environmental issues are not the profile for which she is known, McMorris Rodgers has been a trusted advisor to Trump, serving as one of the co-chairs of his transition team and working with his daughter Ivanka on childcare policies.
She is a polished and steadfast leader of the GOP caucus in the House, where she is often a point person representing the party before the media. Her experience brokering deals, rallying fellow Republicans and staying on message might help Trump build bridges on Capitol Hill and project an orderly pursuit of his agenda.
But if confirmed, McMorris Rodgers will find herself at the center of the nation's most contentious environmental battles, facing an organized resistance that already is mobilized to fight Trump's plans.
She will also face confrontations with Native American tribes who are assertively challenging energy production on their lands.
That battle has been crystallized by the Standing Rock Sioux Tribe in the North Dakota protest against the Dakota Access pipeline. Although the U.S. Army Corps of Engineers is the agency making final decisions on that issue, Interior more than once has expressed support for paying more attention to the tribe's concerns.
On Sunday, when the Corps said it would look at alternative routes for the pipeline, a victory for the Standing Rock Sioux, Obama's Interior Department applauded the move.
Earlier this year, it issued an order to ensure that Native communities have an active role in the management of public lands that "have special geographical, historical and cultural connections to the tribes." It has approved a plan to prevent oil and gas development on Montana land that is important to the Blackfeet tribe.
Just this week, Obama cited Native American concerns in issuing an executive order protecting a wide stretch off the coast of western Alaska from energy development.
But Trump has signaled he will work to lift such protections.
McMorris Rodgers, whose district includes all or parts of several reservations, has been on opposite sides of tribes on some issues. Her steady support of hydroelectric power has put her in opposition to some tribes that want to remove four dams from the Lower Snake River to help endangered salmon. As secretary, she could face pressure for dam removal elsewhere, including on the Klamath River in Oregon and California, where tribes want dams removed.
But some tribes have applauded her efforts, particularly those seeking to lure logging or energy production jobs to their land, such as the Confederated Tribes of the Colville Reservation, which are partly in her district.
"While we have not always agreed with Congresswoman McMorris Rodgers on every issue, she has always listened to and considered our perspective," the Colville tribes said in a statement.
Halper reported from Washington and Yardley reported from Seattle
Follow me: @evanhalper
Follow @yardleyLAT on Twitter
ALSO
Trump said to pick drilling advocate Cathy McMorris Rodgers for Interior
Trump is expected to make Goldman Sachs' president the head of National Economic Council
Low-wage earners and far-right skeptics united in criticism of Andrew Puzder for Labor secretary
---
Get our Essential Politics newsletter
The latest news, analysis and insights from our politics teams from Sacramento to D.C.
You may occasionally receive promotional content from the Los Angeles Times.