Unlikely allies are joining the quest to save the imperiled sage grouse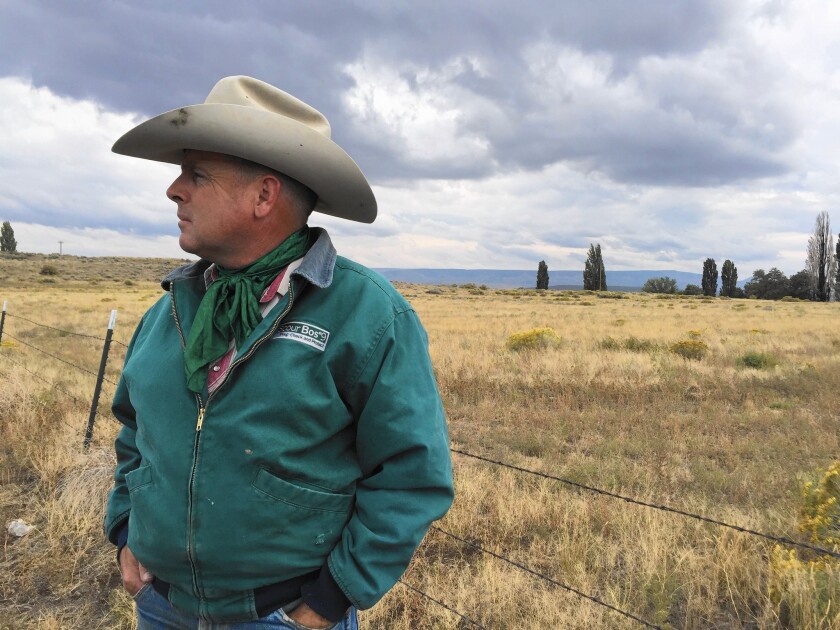 Reporting from ADEL, Ore. —
The greater sage grouse works hard for love.
When male birds emerge each spring in clearings called leks, they strut and cluck and puff their strange chests. They flare their tail feathers, do combat with competitors, whatever it takes to win the heart of one of those sweet little hens who seem to be barely paying attention.
When the females finally choose a partner, they briskly get down to business before disappearing again into the mysterious world they came from — the West's vast aesthetic afterthought, the Sagebrush Sea.
The sea and the greater sage grouse weave around peaks and cities, across 165 million arid acres and 11 states from Northern California to North Dakota. Yet both the bird population and its habitat are shrinking.
After more than a century of urbanization, drilling for oil and gas, mining, farming, ranching, drought, disease and wildfire, the greater sage grouse has declined so dramatically — from millions of birds decades ago to as few as 200,000 now — that the federal government will soon decide whether to protect it under the Endangered Species Act.
Scientists say the bird's odd mating ritual is an indicator of a healthy Western landscape. As the sage grouse goes, they say, so go hundreds of other species that depend on sagebrush and the creatures it shelters and feeds, including elk, mule deer and golden eagles.
"In the West, you still have big, wide-open ecosystems with all their native wildlife, and we're losing that now," said Erik Molvar, a wildlife biologist who leads sage grouse issues for the nonprofit WildEarth Guardians. "By protecting the sage grouse, we're able to save that wildlife heritage. That's not just of national importance, it's of global importance."
In a region where controversial decisions to protect spotted owls, salmon and other species have all but institutionalized tension among environmental groups and various resource industries, the pending decision regarding the sage grouse has predictably stirred anger and accusations. Yet those earlier fights over owls and salmon have also informed a different kind of response: conservation for the sake of self-preservation.
Interested in the stories shaping California? Sign up for the free Essential California newsletter >>
Ranchers, Republican governors, oil and gas drilling companies, wind energy developers, environmentalists and the federal government itself have to varying degrees joined in a race to protect the sage grouse in the hope of heading off an endangered species listing that could cause them even bigger headaches.
They are reducing the footprints of drilling wells and surface mines by using more angled drilling, revising construction and road-building plans, changing the way wildfires are fought to protect habitat and trying to reduce the spread of cheatgrass, an invasive plant that can make the sage grouse's habitat more vulnerable to fire.
The various parties do not always agree on priorities — or on the causes and extent of the declines — and plenty of environmental groups say the work does not go far enough. But many say a listing could spur intractable legal battles and congressional fights and disrupt communities and businesses, whether they are rooted in the multibillion-dollar drilling fields of Wyoming or remote ranchlands here in southeastern Oregon.
"Society has realized that the Endangered Species Act has the power to change things," said John O'Keeffe, whose family first raised sheep and then cattle here for a century. "We want stable communities. We want a stable ecological community — and we want sage grouse on it into the future."
O'Keeffe, who will take office late this year as president of the Oregon Cattlemen's Assn., has joined an effort led by the federal government that limits grazing on public lands where sage grouse live. Among the benefits he receives in return: The government is helping pay to cut down thousands of juniper trees that have spread across the area, damaging both grazing land and grouse habitat.
"A key piece of the strategy," O'Keeffe said, "is to do it ahead of a listing."
SIGN UP for the free Great Reads newsletter >>
Bob Budd, who oversees sage grouse protection for the governor's office in Wyoming, which is home to the largest number of sage grouse but also to intense energy development that threatens the bird's habitat, said many states and private industries have devoted millions of dollars to sage grouse to ward off a listing.
A listing would prompt stark new restrictions on development, he said, limiting the financial incentive for states and private companies to do conservation work.
"If you list something and you don't have the people and frankly the funding and other things to do the management, have you really done the bird a favor?" Budd asked. "That might be different if you're talking about a fish that exists in one body of water. But you're talking about something that stretches across millions of acres."
Much of the recent effort to improve conditions for the bird is being led by the Bureau of Land Management, which this week is expected to finalize rules for protecting the bird in various states. In the past, the bureau boasted of converting sagebrush into grassy pastures. Some refer to the federal agency derisively as the "Bureau of Livestock and Mining."
Ken Rait, director of U.S. public lands for the Pew Charitable Trusts, an environmental group, said the bureau's work to protect sage grouse "really is a very significant move."
"Has the agency turned the corner?" he said. "We'll see how they do with the implementation of this. It's too early to say."
There is a growing sense, though no certainty, that the bird will not be listed — at least for now.
On Tuesday, Rait plans to join Interior Secretary Sally Jewell in Colorado for what the Interior Department is calling a "historic conservation announcement." Jewell oversees both the BLM and the U.S. Fish and Wildlife Service, which is responsible for making the listing decision.
Jewell has been criticized by politicians and industry leaders who say the plans BLM is developing are too restrictive even as some environmental groups say they do not go far enough — and that they support too much fossil-fuel development.
Jewell has made clear that she hopes scientists within her department do not list the sage grouse.
"If we work together, I'm optimistic we will have a 'not warranted' listing, meaning the states will retain management, and ongoing development will be able to continue," Jewell told an audience at the Aspen Institute in July.
"And at the end of day, despite the fact that we will get sued — I'm used to it, we get handed about three lawsuits a week — I believe that because of this hard work, it will stand up to legal scrutiny and show a path that changes the future of conservation and the future of how we work together."
ALSO
Statewide tax credits for seismic retrofitting face a hurdle on Gov. Brown's desk
Rural radio station offers a calming voice amid Valley fire confusion
New prescription drugs can help patients, but their high prices elicit ire
---
Must-read stories from the L.A. Times
Get the day's top news with our Today's Headlines newsletter, sent every weekday morning.
You may occasionally receive promotional content from the Los Angeles Times.