The South's new divide: Blue cities and red states
reporting from CHARLOTTE, N.C. —
At first, Rick Scot was hesitant to trade in West Hollywood for a new home in North Carolina. Working as a vice president at a Fortune 500 company in a state with a low cost of living was tempting, yet he wondered: What would it be like to be an openly gay man living in the South?
Friends assured him that this rapidly growing Southern city was a progressive, affirming place for gays and lesbians. So he and his husband, Jeffrey, bought a home in a quiet suburb and settled down. Only afterward did they find they'd landed on a fault line in the deepening divide across the South over LGBT discrimination.
"I have friends and colleagues who won't come here," Scot, 47, said last week at a town hall meeting on North Carolina's controversial new law, House Bill 2, that prevents cities from enacting their own anti-discrimination laws. It also restricts transgender bathroom access throughout the state.
Charlotte is one of a growing number of liberal Southern cities that finds itself locked in a bitter political standoff with state governments increasingly dominated by Republicans. Throughout the nation's most conservative region, socially progressive pockets — urban hubs such as Charlotte that seek to liberalize laws on LGBT rights and other issues — are clashing with predominantly rural state governments that heed the traditional religious values shared by the bulk of their citizens.
"The South is still the Bible Belt, but the gulf between urban and rural interests is deepening," said Michael Bitzer, a professor of political science at Catawba College, a liberal arts college in Salisbury, N.C.
After a wave of national defeats — most notably last year's U.S. Supreme Court decision affirming same-sex marriage — social conservatives have regrouped to the state level. Meanwhile, Democrats and lesbian and gay advocacy groups are increasingly looking to cities to serve as laboratories for social change.
The skirmishes are unavoidable: Liberal-minded cities pass local laws only to have Republican state leaders override them.
The pushback extends beyond the struggle for LGBT equality. In Alabama, legislators blocked Birmingham from raising its minimum wage. In Texas, the state prohibited Denton from outlawing fracking. In Tennessee, a state law prevents Nashville, Memphis and other cities from banning guns in local parks.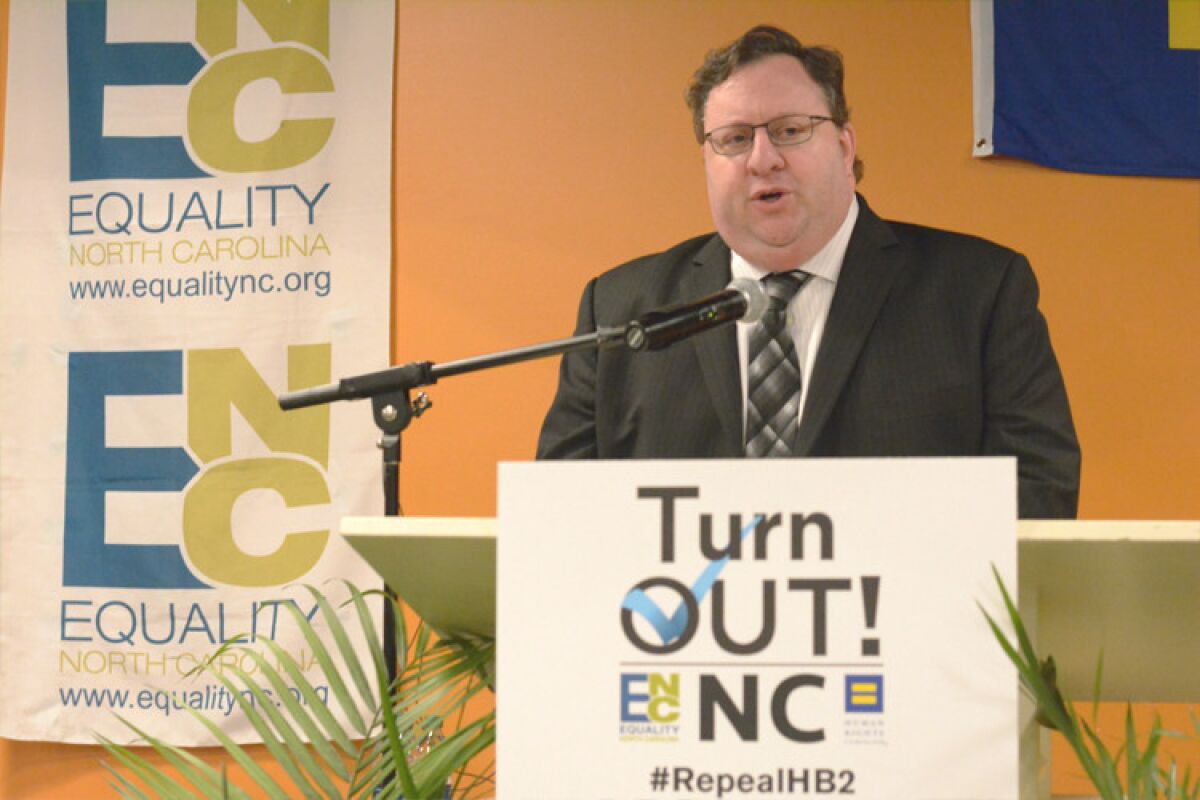 "It makes you feel you don't have any power over your local governance," said Jennifer Roberts, Charlotte's Democratic mayor, who was elected last November on a platform that included extending LGBT protections.
The escalating conflict is driven partly by the explosion of the region's urban populations. Fourteen of the nation's 20 fastest-growing metro areas between 2010 and 2015 were in the South, according to the Institute for Southern Studies. In North Carolina, the number of residents who were born outside the state doubled from 24% to 48% between 1970 and 2011.
Yet as the South becomes more diverse, Republicans have come to wield greater dominance at the state level, many becoming near one-party governments.
"In many states, the legislature is more conservative now than the state itself," said John Geer, a professor of political science at Vanderbilt University in Nashville.
The tension is most striking in North Carolina, often seen as the South's most progressive state. After President Obama won here by a 0.32% margin in 2008, Republicans went on to win House and Senate majorities in 2010, gaining control of both chambers for the first time since Reconstruction.
Now, the state has sparred with Asheville over control of its water system, transferred control of the day-to-day running of Charlotte's airport to a new authority, redrawn Greensboro's council district lines and passed a law that prevents municipalities from becoming "sanctuary cities" for immigrants in the country illegally.
Most significantly, legislators redrew congressional districts to disproportionately benefit Republicans, squeezing Democratic voters into a small number of districts.
When Charlotte, the state's largest city and a major banking center that prides itself on being a start-up hotbed, approved expanding nondiscrimination protections to sexual orientation and gender identity, the counterattack by the state was lightning quick — and so were the repercussions.
Days after Gov. Pat McCrory signed HB2, overriding Charlotte, PayPal canceled plans to open an operations center here that would have created 400 jobs. A host of organizations, including the Southern Sociological Society and the Assn. for Library Service to Children, have pulled conventions from the city. Cirque du Soleil, Bruce Springsteen and Pearl Jam all canceled shows. The NBA has not ruled out relocating its 2017 All-Star Game.
States' interference in local affairs has national ramifications, Mayor Roberts argued.
"Cities are the engine of growth of our country," she said. "If we have states keep reining us back in from trying to be in the 21st Century and on the cutting edge, it's not good policy for our country."
Still, a substantial number of North Carolina residents, and many of those in surrounding states, disagree.
Many Republicans, and even some Democrats, resent the idea of affirming what they disapprove of, said Charles Bullock, a political science professor at the University of Georgia. "It's hard for a lot of folks to accept change — especially with an issue like LGBT acceptance, where traditionalists can point to the Bible and say, 'This is what we interpret as sin.'"
The factors in the growing debate are both economic and demographic.
National corporations locating in low cost-of-living cities in the South often are taking a lead on LGBT issues — amassing diversity teams and extending protections to transgender employees within the workplace. Those outside the state exert a pressure of a different kind, through boycotts.
The divide has been drawn more sharply as Southerners, as is the case with many Americans, cluster to an increasing degree in communities of the like-minded. Such "sorting," experts note, has led to unprecedented hyper-partisanship.
Often when a Charlotte resident encounters someone who lives just 25 miles away, Bitzer said, they barely use the same language. "It's two different worlds," he said. "They don't know how to speak to each other."
Even within the city, many remain uncomfortable with, or perplexed by, LGBT groups' focus on recognition.
Downtown, just a few blocks from City Hall, Markale Reed, 21, an African American cook, said he was uneasy with laws that allowed people to use public restrooms corresponding to their gender identity. He said he did not think it was a civil rights issue akin to black protesters' lunch counter sit-ins.
"It's different," he said, shaking his head. "They feel entitled, but they are choosing to be transgender. It's all about their mental perception of themselves."
There was unity, at least, at Charlotte's town hall meeting as businessmen in suits and trans women in high heels streamed into the lobby of a luxury downtown hotel, past mirrored walls and a wood-paneled bar serving charcuterie plates, craft beers and wines from Napa Valley.
No one spoke in favor of HB2.
Outside the restrooms, a makeshift sign proclaimed "All Genders Welcome."
A woman strolled into a room with a bank of urinals, faltered for a second, and then shrugged and entered a cubicle. Next door, a man struggled not to flinch as he encountered a row of women washing hands and touching up makeup.
After the meeting, the sign was removed. The restrooms reverted — for the time being — to "Men" and "Women."
Jarvie is a special correspondent.
ALSO
Appeals court overturns Virginia school's transgender bathroom rule
Long Beach barbershop refuses to cut a transgender man's hair, lawsuit alleges
L.A. City Council votes to stop doing business with North Carolina and Mississippi over LGBT laws
Must-read stories from the L.A. Times
Get the day's top news with our Today's Headlines newsletter, sent every weekday morning.
You may occasionally receive promotional content from the Los Angeles Times.