Powerful snowstorm blasts East Coast; officials warn residents about ice as temperatures drop
New York city employee Ronney Wade shovels snow in Time Square on Tuesday morning.
(Carolyn Cole / Los Angeles Times)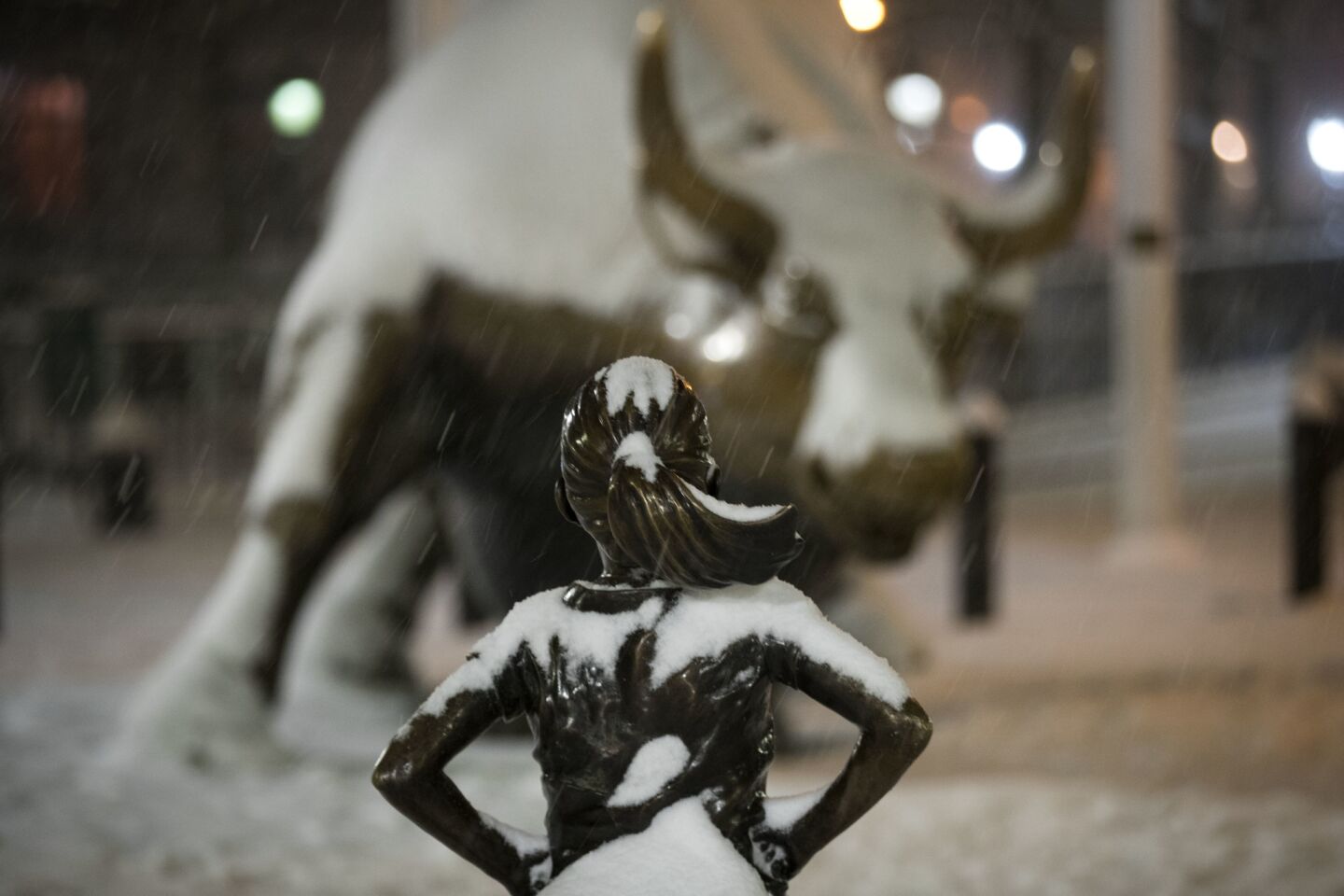 The "Fearless Girl" statue stands opposite the "Charging Bull" in the early morning hours in New York City on Tuesday.
(Drew Angerer / Getty Images)
Graham Kenny, left, and Kelly Dineen, of Ireland, take a picture of themselves in Times Square during a mid-March snowstorm.
(Carolyn Cole / Los Angeles Times)
A late snowstorm dumps half a foot of snow in Manhattan.
(Carolyn Cole / Los Angeles Times)
A late snowstorm dumps half a foot of snow in Manhattan.
(Carolyn Cole / Los Angeles Times)
People walk their dogs in the sleet and snow in New York City.
(Spencer Platt / Getty Images)
The Josephine Shaw Lowell Memorial Fountain in Bryant Park in Manhattan is covered in ice as the temperatures take a mid-March plunge.
(Timothy A. Clary / AFP/Getty Images)
A pedestrian protects herself from the rain while crossing the street near the National Mall in Washington, D.C., as snow blankets the surrounding ground.
(Shawn Thew / EPA)
Swan and paddle boats are docked with a coating of snow and ice at the Tidal Basin in Washington, D.C.
(Shawn Thew / EPA)
Men shovel a sidewalk in the Roxborough area of Philadelphia following a mid-March snowstorm that blanketed the Northeast.
(Mark Makela / Getty Images)
Johnny Demalavezi walks through the snow in the Roxborough area of Philadelphia on Tuesday. Much of the Northeast is under a state of emergency as a blizzard is expected to bring over a foot of snow and high winds to the area.
(Mark Makela / Getty Images)
A dog plays in the snow while its owners talk in front of the Washington Square Arch in New York City.
(Jason Szenes / EPA)
A man walks in falling snow after winter weather strikes New York City as part of a major storm system moving into the Northeast that may bring as much as 24 inches of snow to some areas.
(Andrew Gombert / EPA)
Two women make their way across a snow-covered street in New York City. The blizzard warning issued for New York City and Boston was downgraded to a winter storm warning after the storm's track shifted.
(Jason Szenes / EPA)
A woman trudges through the sleet and snow in New York City during a mid-March storm.
(Spencer Platt / Getty Images)
Reporting from New York —
Just when the crocuses started to bloom with only a week before the calendar marks the start of spring, the Northeast was paralyzed Tuesday with a wet dollop of snow, sleet and rain.
The winter storm didn't live up to its advance hype as an epic blizzard, but it nevertheless left much of the country a slushy, slippery mess.
Schools were closed from Maine to northern Virginia. Federal government offices in Washington opened with a three-hour delay so that workers would avoid the dangerous commute. Nearly 7,000 flights were canceled nationwide, according to FlightAware, an aviation and data services firm.
As the day wore on, the storm track shifted slightly, and snow switched to sleet in Philadelphia and New York. Blizzard warnings were lifted in some places along the East Coast, and forecasts of a foot or more of snow were cut in half.
Officials also warned that slush would turn to ice as night falls and temperatures drop.
"The worst of the storm has passed and our snow accumulation totals have been downgraded, but we are urging New Yorkers to stay off the roads to allow our sanitation department to clear,'' New York Mayor Bill de Blasio said in the early afternoon.
Still, people posted pictures to social media showing empty shelves at grocery stores and bodegas all across the Northeast as residents stocked up on food and toiletries and hunkered down. Some posted images of efforts to begin digging out with shovels and blowers.
"The weather is weird,'' said Chris Edwards, 33, a waiter at Rock 'n Roll Barbecue, a restaurant on the outskirts of Buffalo, N.Y. "Last week it was 70 degrees and I was wearing shorts, playing 'Pokemon Go' outside. Now it's 20 degrees, snowing and blowing everywhere.''
An estimated 70 million Americans experienced consequences related to the storm, and many businesses gave employees the option of working from home.
In Boston, John Beck, deputy director of ArtsBoston, was advising theaters about whether to cancel shows this evening while juggling care for his 4 ½-year-old son who was home from school.
"My son loves snow days. He is watching the movie 'Moana,' which he has already seen seven times. Then he'll help me shovel the snow,'' said Beck.
Transportation systems — such as Amtrak and New Jersey Transit — reduced services much of Tuesday as snow and sleet blanketed tracks.
In Massachusetts and other portions of New England, the forecast called for 12 to 18 inches of snow. As of Tuesday afternoon, Suffolk County — where Boston is located — had received about 4.5 inches, according to the National Weather Service.
"If people need to get somewhere, we would urge them to take public transportation, and they need to recognize and understand they may get up and look out the window and not see much," Massachusetts Gov. Charlie Baker said.
The state of Connecticut took some of the most serious measures, issuing a statewide travel ban on all but essential outings. Violators were subject to a $92 fine.
The Massachusetts Emergency Management Agency reported about 62,000 people without power.
In Virginia and Pennsylvania, power was knocked out to nearly 100,000 people.
Philadelphia Mayor Jim Kenney asked that the public do its part.
"Even if you get your car out of the street and the other primary and secondary streets aren't plowed, you're not going anywhere, so rather than clog up plowing operations, walk to the supermarket," Kenney said.
Even so, many schools were set to reopen Wednesday and flights were being rescheduled as the storm settled down.
In preparation for the storm, President Trump had visited with District of Columbia Mayor Muriel Bowser and Washington Metropolitan Area Transit Authority Chief Executive Paul Wiedefeld to discuss storm preparations.
WMATA trains saw minimal delays as many people remained home. By Tuesday evening, between 2 and 4 inches of snow had fallen in the Washington area, weather service officials said.
Wind gusts in the area were about 30 mph. Last week, the region saw temperatures climb into the 60s.
As the temperatures dipped into the mid-30s with light rains, Bowser warned residents to not only be cautious when traveling the roads, but to also take special care of pets.
"You wouldn't want to be stuck in the cold," she said on Twitter. "Temperatures will continue to fall, so bring . . . your furry friends inside."
Times staff writers Lee reported from Los Angeles and Demick from New York.
ALSO
Defense lawyers say Mexican drug kingpin Joaquin 'El Chapo' Guzman's health has deteriorated
Documentary reignites controversy over Michael Brown's actions before Ferguson shooting
Utah on the verge of the toughest drunk-driving standard in the U.S. – .05%
---
UPDATES:
4:20 p.m.: This article was updated with changing conditions and new warnings by officials.
11:45 a.m.: This article was updated with the latest on services and reaction to the storm.
9:55 a.m.: This article was updated throughout with Times staff reporting.
8:05 a.m.: This article was updated with the latest snowfall measures and witness accounts.
This article was originally published at 5 a.m.
---
Must-read stories from the L.A. Times
Get the day's top news with our Today's Headlines newsletter, sent every weekday morning.
You may occasionally receive promotional content from the Los Angeles Times.