Mourners remember Tulsa man killed by police officer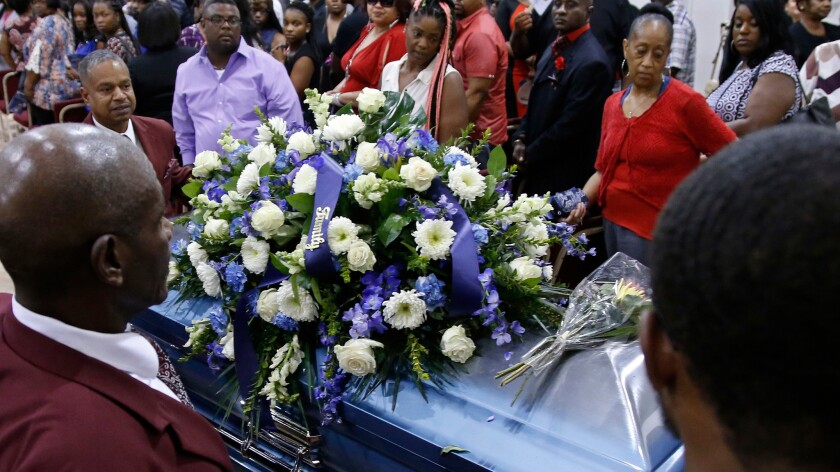 Reporting from tulsa, okla. —
As music reverberated through the walls, hundreds of people packed into a large Baptist church Saturday evening to mourn the death of Terence Crutcher, an unarmed black man shot to death by a white police officer.
"It could have been me," said family friend and attorney DeMario Solomon-Simmons. He listed off the names of black people who have been killed during encounters with police in recent years: Michael Brown, Sandra Bland, Eric Garner, Alton Sterling.
"And Terence Crutcher. Killed while needing help," he said. "It could have been me."
Solomon-Simmons noted the similarities between himself and Crutcher.
"Just like Terence, I'm 40. Just like Terence, I'm bald-headed. And just like Terence, some people think I'm a bad dude," he said.
Tulsa Police Officer Betty Shelby, 42, told investigators she feared for her life and thought Crutcher was going to kill her when she shot him in the chest.
But on Thursday, just six days after the shooting, prosecutors charged Shelby with first-degree manslaughter, saying a review of videos, 911 calls, witness interviews and other evidence showed that her actions were "unreasonable."
Authorities say Shelby was on her way to a domestic-violence call when she encountered Crutcher on the road standing outside his vehicle. Shelby found no weapons on the driver's side of the vehicle, but as Crutcher started to walk toward her, authorities say, he would not respond to the officer's questions.
Shelby fired her gun at the same time another officer fired his Taser. Shelby, who is white, turned herself in to authorities hours after the manslaughter charges were filed and was released less than 30 minutes later on a $50,000 bond.
The service for Crutcher was attended by family and friends, but also by people who didn't know him or his relatives but yet felt obliged to attend.
"A brother of mine has been shot unjustly," said Edward Johnson, a 66-year-old African American.
He said that the fear some white people have of black men must be overcome — that bridges need to be built between white and black communities. "Come in and talk to the community, and not just when a crime is committed," Johnson said.
Of Shelby, he said, "Anything that gets her off the streets to think about what she did — to take her away from her family like she took him away from his family."
The service at Antioch Baptist Church included singing, Scripture reading, prayers and reflection on a man who was remembered for his passion for his children and music. Dozens of people stood outside in an overflow area, unable to fit into the worship area filled with an estimated 750 people.
University of Tulsa assistant men's basketball coach Shea Seals, who grew up playing football and basketball with Crutcher, said Crutcher's death is being mourned by an entire city.
"I feel very fortunate to have spent 40 years with him, but I'm devastated because it should have been 40 more," he said. Later he added, addressing his late friend: "You may be gone now, but you're never going to be forgotten."
Tulsa Mayor Dewey Bartlett spoke briefly during the ceremony at the request of Tiffany Crutcher, Terence Crutcher's twin sister.
"Too many people have died in this community. Way too many. And we must stand up and say no more," Bartlett said.
The incident has ignited emotions in Oklahoma's second-largest city, the site of a deadly race riot by white mobs that burned down the city's black community nearly 100 years ago.
But the protests and vigils that have become a regular occurrence since the release of police videos showing the shooting death of Crutcher have remained peaceful. Those in attendance are often holding BlackLivesMatter signs and chanting, and others are seen holding crosses or Bibles and praying. There were no protesters at Saturday's service.
Among the mourners at the funeral was Evelyn Wooten, 70, who said she has known the Crutcher family for decades. She and her sister, Eddye Barre, 67, were dressed in purple, preparing to sing in a gospel choir at the funeral.
Wooten said the peaceful nature of the community's response to his death has been "tremendous."
"This is different than other atrocities," she said, obliquely referring to the civil unrest, sometimes including rioting, that has erupted after the deaths of other blacks at the hands of police. But in Tulsa, she said, "it appears to me there is more God and Jesus involved."
She believed justice would be served because "God's word does not lie. God does not lie."
Eaton is a special correspondent.
ALSO
Suspect arrested in deadly Washington state mall shooting, authorities say
Keith Lamont Scott: A troubled man whose death ignited a city
Friends family salute American who died fighting Islamic State in Syria
---
Must-read stories from the L.A. Times
Get all the day's most vital news with our Today's Headlines newsletter, sent every weekday morning.
You may occasionally receive promotional content from the Los Angeles Times.