Texas board recommends clemency for son who plotted to kill family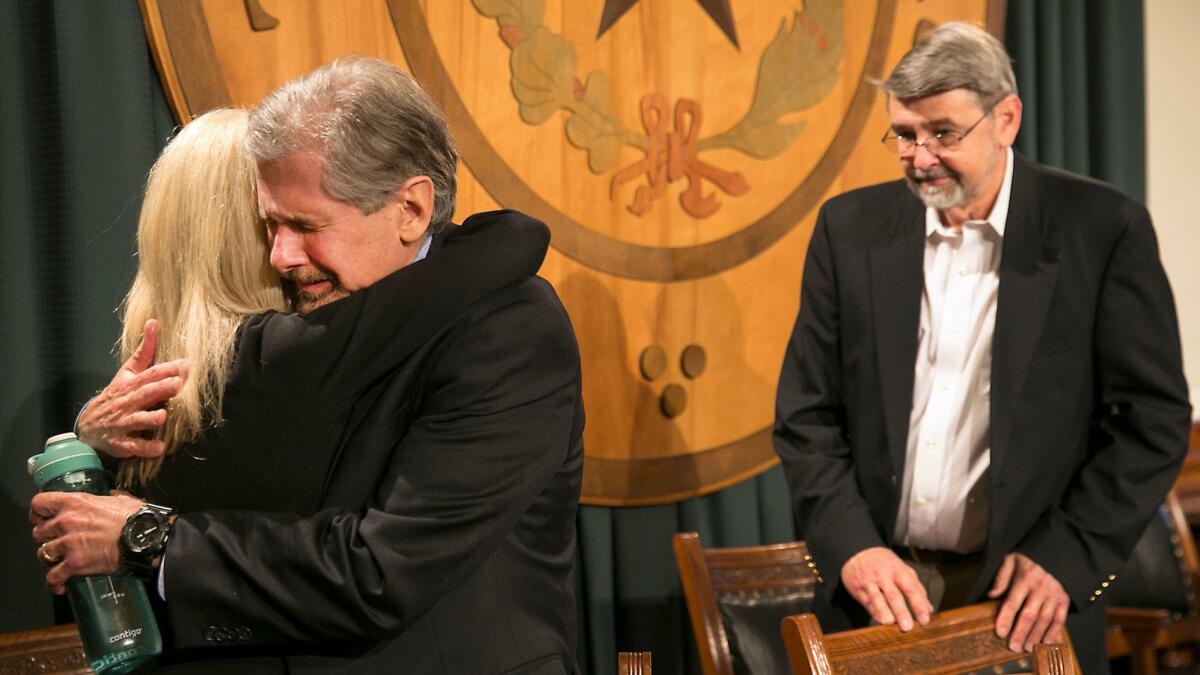 Reporting from Houston —
In a surprising, unanimous vote, the Texas Board of Pardons and Paroles has recommended the governor grant clemency to death row inmate Thomas "Bart" Whitaker, fulfilling years of appeals from Whitaker's father, who survived the attack that killed his wife and younger son.
Kent Whitaker, the father, said after the 7-0 vote that "God was in this. He softened hearts."
Now it's up to Republican Gov. Greg Abbott whether Whitaker will be executed Thursday, or have his sentence commuted to life in prison.
Kent Whitaker, 69, said he wants Abbott to know that his family is "grateful that the parole board actually listened, and they did the right thing. They truly considered it and made the right choice."
Abbott's office did not immediately respond to a request for comment on the clemency vote.
Kent Whitaker plans to visit his son in prison Wednesday morning to discuss the news. Whitaker is scheduled to be put to death at 6 p.m. Thursday, unless the governor announces otherwise.
"He could wait until 5:59 Thursday afternoon if he wanted to," Kent Whitaker said of the governor. "Hopefully he will realize there's no point in that and all it's doing is keeping us on pins and needles."
Bart Whitaker, 38, was convicted in 2007 of plotting the murder of his mother, Tricia Whitaker, 51, and brother, Kevin Whitaker, 19. The two were shot, along with Kent Whitaker, by an accomplice after arriving home from a family dinner in suburban Houston in 2003.
Kent Whitaker forgave his son, opposed prosecutors seeking the death penalty at trial and advocated for his sentence to be commuted to life. He helped craft the clemency petition and was in Austin on Tuesday when the results were released. Whitaker, who has since remarried, tearfully hugged his wife, Tanya, at the news.
Afterward, he accompanied attorney Keith Hampton to the office of the governor's general counsel, hoping for a meeting. Hampton said they were ushered out, and are unsure what the governor will do.
It is rare for the board to recommend clemency, and Texas governors have generally refused to grant it in the past even when the board voted overwhelmingly in favor.
In 2004, Gov. Rick Perry, also a Republican, rejected a 6-1 vote to grant clemency based on mental illness to Kelsey Patterson, convicted of a 1992 double murder in eastern Texas. Patterson, 50, was executed a day later.
But no Texas governor has rejected a unanimous vote for clemency since the U.S. Supreme Court reinstated the death penalty in 1976, Hampton said.
Hampton also represented death row inmate Kenneth Foster. The board voted 6 to 1 for clemency for Foster, which Perry approved just hours before the scheduled execution.
Board Chairman David Gutierrez and other members declined to comment on this week's vote through spokesman Timothy McDonnell.
In Texas, board members don't confer about clemency: They fax their votes to the state individually. Condemned inmates and their families can request to meet a member of the board, but it's not guaranteed.
Earlier this month, board members met separately with both Kent and Bart Whitaker. Kent Whitaker told them his son had been a model prisoner for 11 years, and that he had confessed and reformed. He said he thinks those meetings made a difference.
But prosecutors disagreed with his assessment of his son. Fred Felcman, who helped convict Bart Whitaker, said the death penalty was the will of not only the jury, but of the community.
Felcman argued at trial that Whitaker killed his family in hopes of recouping a million-dollar inheritance. He had two accomplices — the gunman, who pleaded guilty in exchange for a life sentence, and a getaway driver, who got 15 years in prison.
Felcman, first assistant district attorney in Fort Bend County outside Houston, told the Texas Tribune that the board voted based on a father's forgiveness, ignoring other victims and testimony from psychiatrists and investigators. He did not return calls for comment Tuesday.
"I'm trying to figure out why [the board members] think they should commute this, and why the governor should even give it a second thought," Felcman told the Tribune.
molly.hennessy-fiske@latimes.com
Sign up for Essential California for the L.A. Times biggest news, features and recommendations in your inbox six days a week.
You may occasionally receive promotional content from the Los Angeles Times.