A senator stumped a Trump judicial nominee with basic legal questions. Here are the answers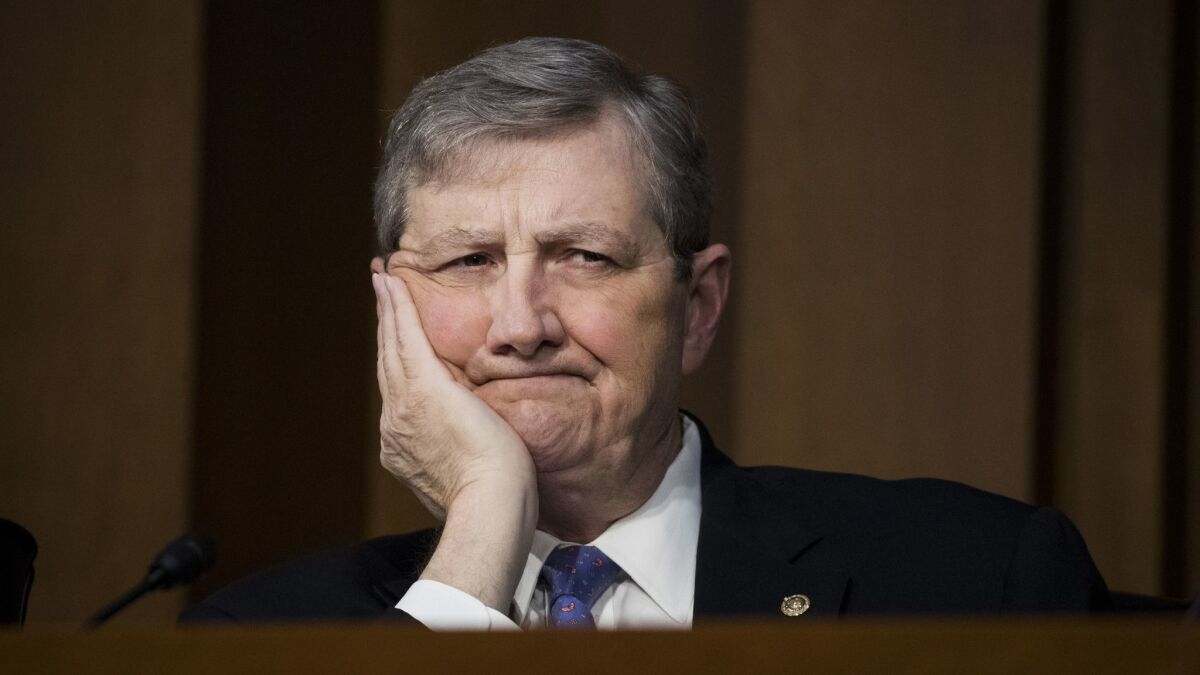 The questions appeared basic, slam-dunks for any federal judicial nominee. But this week Matthew Petersen, President Trump's nominee to serve on the bench of the U.S. District Court for the District of Columbia, stumbled — badly — when asked questions by a member of the Senate Judiciary Committee.
Petersen's blunders came in the same week that the White House announced it would not pursue the nominations of two district court judges after criticism for a lack of experience and controversial comments by one of the nominees about transgender children. Petersen, a member of the Federal Election Commission, has no judicial experience.
Video of the questioning by Sen. John Kennedy (R-La.) has been viewed on Twitter more than 4.4 million times.
"Have you ever tried a jury trial?" Kennedy asked at Wednesday's hearing.
"I have not," Petersen said.
"State or federal court?"
Then Kennedy began to ask pointed questions about law. Here's a look at some of the questions Kennedy asked Petersen and how Petersen could have answered, according to definitions provided by the Legal Information Institute at Cornell University.
"Can you tell me what is the Daubert standard is?" Petersen said he did not have it "readily at my disposal."
Definition: Standard used by a trial judge to make a preliminary assessment of whether an expert's scientific testimony is based on reasoning or methodology that is scientifically valid and can properly be applied to the facts at issue.
"Do you know what a motion in limine is?" Petersen said he had not done a "deep dive" on the issue.
Definition: A pretrial motion asking that certain evidence be found inadmissible, and that it not be referred to or offered at trial.
"Do you know what the Younger abstention doctrine is?" Petersen said he had "heard of it."
Definition: A federal court's decision not to exercise jurisdiction over a case. The usual goal of abstention is the avoidance of needless conflict with a state court.
"How about the Pullman abstention doctrine?" Petersen: "I heard of it."
Definition: Similar to "Younger." See above.
And, with that, Kennedy's five minutes of questioning were up.
ALSO
Roy Moore accusers feel vindicated by his Senate defeat
Suspect in Charlottesville car attack faces upgraded charge of first-degree murder
A Kentucky lawmaker accused of molestation commits suicide. Now his widow wants his seat
Must-read stories from the L.A. Times
Get the day's top news with our Today's Headlines newsletter, sent every weekday morning.
You may occasionally receive promotional content from the Los Angeles Times.