At two of the nation's most historic black churches, sermons reflect on Martin Luther King and take sharp aim at Trump
The Rev. Raphael G. Warnock had not planned to mention the words "Donald Trump."
It was the day before the Rev. Martin Luther King Jr.'s birthday, and Warnock was going to focus elsewhere.
But after the president was said to call African countries, El Salvador and Haiti "shithole" places last week, Warnock changed his mind.
He went all in. Trump is "a willfully ignorant, racist, xenophobic, narcissistic con man," he said to a largely black crowd of more than 1,000 that came to celebrate King at Atlanta's Ebenezer Baptist Church. All races, he said, must stand up to the president and those he denigrates.
More than 2,000 miles away in Los Angeles on Sunday morning, the Rev. J. Edgar Boyd was met with murmurs of disapproval when he urged his mostly African American congregation to pray for Trump at First African Methodist Episcopal Church.
But when Boyd asked God to hold Trump accountable for "his words, his deeds and his actions," the crowd applauded.
'Shithole' and other racist things Trump has said — so far »
Trump's words last week during a meeting on immigration have been widely condemned by world leaders and Republicans and Democrats at home. The president and some Republicans who were present have denied that he said them. But others have confirmed them, and they have particularly hit a nerve among African Americans, a group that has consistently shown low support for Trump and has been regularly insulted by the racially insensitive words that the president tends to casually mutter.
On the Sunday before Martin Luther King Jr. Day, a time that typically rivals Christmas and Easter services at many black churches across America, sermons often reflect broadly on the quest for justice in black communities today in following the King tradition.
But in two of the nation's most historic congregations — a California community of 19,000 that's among the nation's largest black churches and the Georgia house of worship whose name is synonymous with King — the focus became laser sharp. Nearly a year into Trump's presidency, it was time to take stock of black communities' needs and challenges in a nation many felt was getting worse, not better, for them.
Trump shouldn't get people down, pastors said. His words should instead spur them to fight on.
"Some of us came on immigrant ships, others of us came on slave ships, but we're all in the same boat," Warnock told more than a thousand congregants — some dressed in long fur coats, others in vivid, patterned shirts and robes — who packed the wooden pews of Ebenezer's airy modern sanctuary.
Most of those who filled the room were African Americans whose ancestors, in most cases, came to the U.S. on slave ships from what's now Nigeria, Angola, Ghana and Gambia.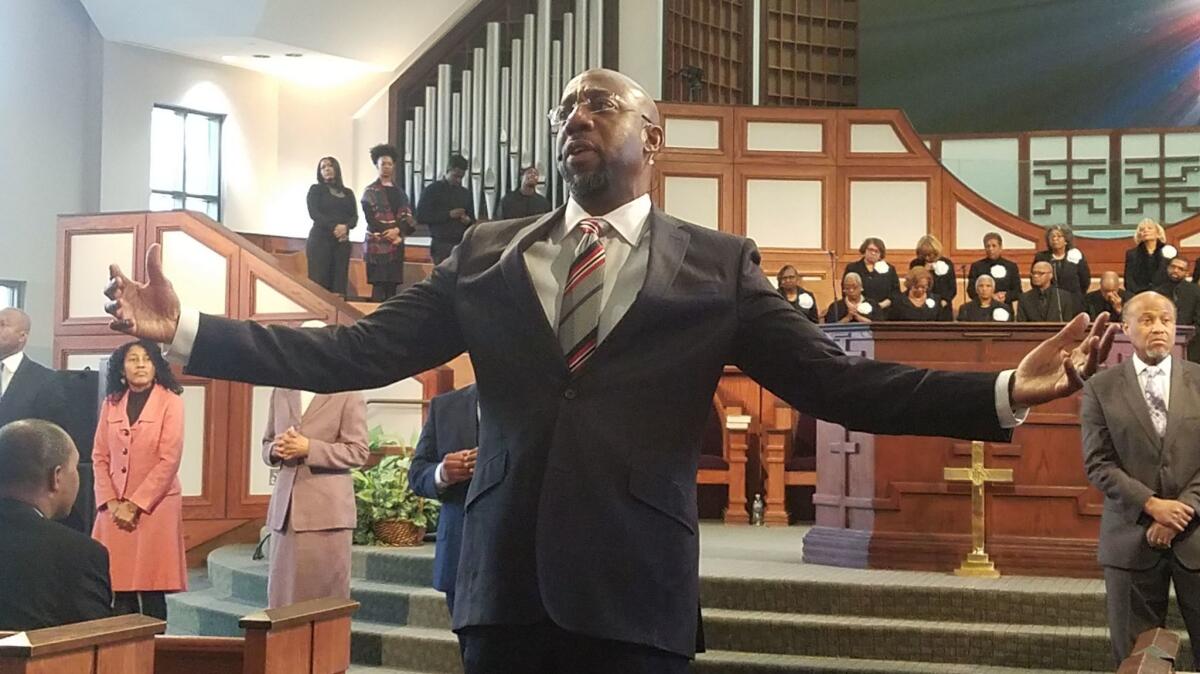 "We will not allow the politics of division to get in the way of the vision of a shared humanity, the vision of what Dr. King called the beloved community, the vision of one nation under God," Warnock said.
The service, just across the street from the modest brick church where King delivered his first and last sermon, began with members of the church's drama ministry wearing "I AM A MAN" sandwich boards and reading excerpts from King's final speech, "I've Been to the Mountaintop."
It ended with the congregation linking arms and singing "We Shall Overcome."
The crowd clapped, said "Amen," and stood up as Warnock delivered a rousing, wide-ranging sermon peppered with references to the Bible and King's speeches, and historical accounts of colonialism and slavery. That wasn't unusual; what was new were references to statements from Trump.
The stories are well-known, and also hard to count. The president kicked off his campaign by calling Mexicans "rapists." He vowed to ban Muslim immigration into the U.S., and immigration advocates say he achieved partial success with his travel bans. He railed against black athletes who don't stand for the national anthem in protest against social injustice. He described white supremacists as "very fine people." He suggested Puerto Ricans were lazy when they requested more assistance from the federal government after a hurricane devastated the island. And he reportedly dismissed dozens of countries, and one entire continent, as essentially worthless. (On Sunday, while in Palm Beach, Fla., Trump declared, "I am not a racist" in response to a journalist's question about the incident.)
Archie Shackles, 65, who attends First AME in Los Angeles, said it was "really hypocritical" for Trump to commemorate King after the remarks he had made.
Shackles grew up in Texas during segregation and recalls having to step off the sidewalk to let white people go by. Trump, he said, wants to put African Americans in an even lower place than that.
"He'd love to take us back all the way to slavery," said Shackles, a librarian and member of the church choir.
At First AME, the Rev. Charolyn Jones offered inspiration from the Jews who were held captive in Babylon and followed God's advice to build houses, grow food and raise families. African Americans should turn anger at Trump into action, she said.
When people are "constantly subjected to racist, vile, offensive and divisive" remarks, they should continue to hope and look to the future, whether by speaking out against racism or by running for public office, Jones said.
At Ebenezer, Warnock reminded congregants "of some 2,000 Bible verses that tell us to care for the poor and the widows, the immigrants in our midst."
Warnock criticized the "large sectors of the American church and their shameful complicity, even their active role" in putting Trump in the Oval Office. White evangelicals remain one of the president's strongest groups of supporters, although recent polls have shown some weakening of that support.
He condemned politicians who make "mild, pious pronouncements" in King's honor while resisting his ultimate message of love and social justice. Trump signed a routine proclamation declaring the King holiday on Friday, a day after his remarks during the immigration meeting.
"You cannot celebrate the dream if you will not liberate the 'Dreamers,'" Warnock said. "Give these 800,000 young people who are in our colleges and in our neighborhoods a path to dignified citizenship," he said, alluding to the president's vacillating positions on the Deferred Action for Childhood Arrivals immigration program.
"Dr. King said a person who has not found something he's willing to die for is not fit to live," Warnock told congregants. "Dr. King said the ultimate measure of a man is not where he stands in moments of comfort and convenience, but in time of challenge and controversy."
Outside Ebenezer, a steady flow of locals and tourists braved the bitter cold to walk around the Martin Luther King Jr. National Historic Site — upgraded to a national historic park last week in a new act signed by Trump.
After watching a 30-minute video on King's life and legacy, Quiyana Shipp, a 22-year-old supply specialist in the U.S. Army, said she appreciated civil rights pioneers' impact on modern-day America. Growing up in Suwanee, Ga., a suburban area of metro Atlanta, Shipp said she had not experienced overt discrimination. Yet she felt many Americans were not used to seeing educated black women.
"I'm told I'm so well-spoken — as if that's unusual," she said. "We've come a long way, but we still have a way to go."
Back inside Ebenezer, Veronika Jackson, a 65-year-old musician from Decatur, scribbled notes throughout the service.
A descendant of West African slaves, Jackson was born in Birmingham, Ala. As a young girl, her school principal's daughter was killed when members of the Ku Klux Klan planted a bomb in the basement of the 16th Street Baptist Church.
While Jackson had not been entirely surprised by Trump's remarks — "I already knew what kind of man he is," she said — they left her disheartened.
But as she left the sanctuary, passing an obelisk bell tower built in homage to the ancient Stele of Axum in modern-day Ethiopia, she said she felt fired up by the sermon.
"I'm lifted up as a black woman in my culture," she said. "I'm walking with my head up."
ALSO
For black Americans, Trump's 'shithole' comment was an insult to their histories
Trump administration forced to renew DACA permits as furor over the president's immigration slur persists
Former Arizona Sheriff Joe Arpaio is back. So too are Latino voters who helped oust him
Staff writer Chang reported from Los Angeles and Kaleem from New York. Special correspondent Jarvie reported from Atlanta.
Sign up for Essential California for the L.A. Times biggest news, features and recommendations in your inbox six days a week.
You may occasionally receive promotional content from the Los Angeles Times.