After a vulgar tweet directed at Parkland survivor, advertisers bail and a conservative TV host resigns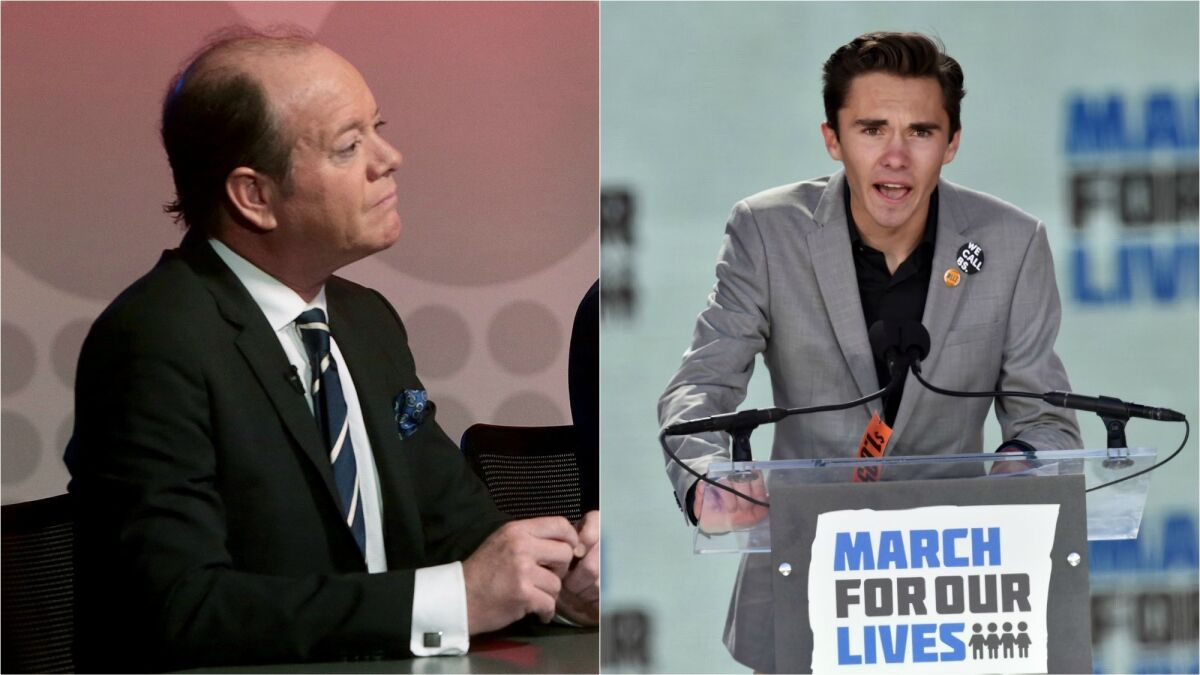 Reporting from St. Louis —
A conservative commentator who sent a violent and vulgar tweet saying he would use "a hot poker" to sexually assault a 17-year-old survivor of a Florida high school shooting has resigned from a St. Louis TV station after several advertisers withdrew from his show.
KDNL-TV has canceled "The Allman Report" and accepted Jamie Allman's resignation, according to a brief statement from Ronn Torossian, a spokesman for the Sinclair Broadcast Group, which operates the TV station. Before the show's launch in January 2015, KDNL-TV touted it as a nontraditional newscast with a conservative spin.

For the record:
9:55 a.m. April 11, 2018An earlier version of this article said Laura Ingraham had taken a leave from her television show after criticizing school shooting survivor David Hogg. She was on vacation, not leave.
Allman hasn't responded to messages from the Associated Press seeking comment. He was absent Monday from his show on KFTK-FM. The radio station's owner, Emmis Communications, did not immediately respond to an email Tuesday asking about Allman's status.
Several businesses pulled advertising from Allman's shows after he sent the March 26 tweet targeting David Hogg. Allman's Twitter account was "locked" shortly after he sent the tweet, restricting access to his account, but a screenshot of it has been widely circulated on social media.
Hogg has strongly advocated for stricter gun control since 17 people were killed in the Feb. 14 mass shooting at his school in Parkland, Fla. The teenager's willingness to take on the cause has made him a target for some conservatives.
Fox News Channel's Laura Ingraham apologized via social media for her tweet that Hogg had "whined" about not getting in to some colleges where he had applied. Ingraham hasn't discussed that episode specifically but promised upcoming stories about conservatives who she says are fighting attempts to silence them. She returned to her program Monday night after a weeklong vacation and denounced a "Stalinist" effort by liberals to stifle the free speech of conservatives.
Hogg, meanwhile, has said it's "time to love thy neighbor, not mudsling at children."
Their social media spat came to symbolize the debate over how youthful advocates for gun safety should be treated by political opponents. Another student, Emma Gonzalez, has been falsely depicted in a doctored photo tearing up the Constitution.
State Rep. Stacey Newman (D-Richmond Heights) led calls for a boycott by Allman's sponsors after the tweet.
"We've had people all over Missouri [and] all over the country weighing in on this. ... It's heartwarming to know that tons of people throughout the state understand this is not acceptable," Newman told the St. Louis Post-Dispatch on Monday. "Even though we hadn't asked for his removal or resignation, [Sinclair] took it upon themselves. People know where the line is."
Sinclair is a conservative-leaning company that owns nearly 200 local TV stations, making it one of the largest such companies in the U.S.
President Trump last week defended the company after a video showing dozens of Sinclair news anchors reading a script expressing concern about "fake stories" and "one-sided news stories plaguing the country" appeared on TV news reports and circulated online. Trump said rival TV stations were merely "worried about the competition and quality of Sinclair Broadcast."
Sinclair also has pushed for regulation of the broadcast industry to be eased and is trying to buy Tribune Media in a move that would dramatically increase the company's reach.
Allman served a six-month stint in 2004 and 2005 as chief spokesman for then-St. Louis Archbishop Raymond Burke and executive director of communications for the archdiocese. Archdiocese spokesman Gabe Jones didn't immediately respond to a phone call and email message seeking comment.
---
Must-read stories from the L.A. Times
Get the day's top news with our Today's Headlines newsletter, sent every weekday morning.
You may occasionally receive promotional content from the Los Angeles Times.