Preet Bharara of New York says he was fired after refusing to resign as U.S. attorney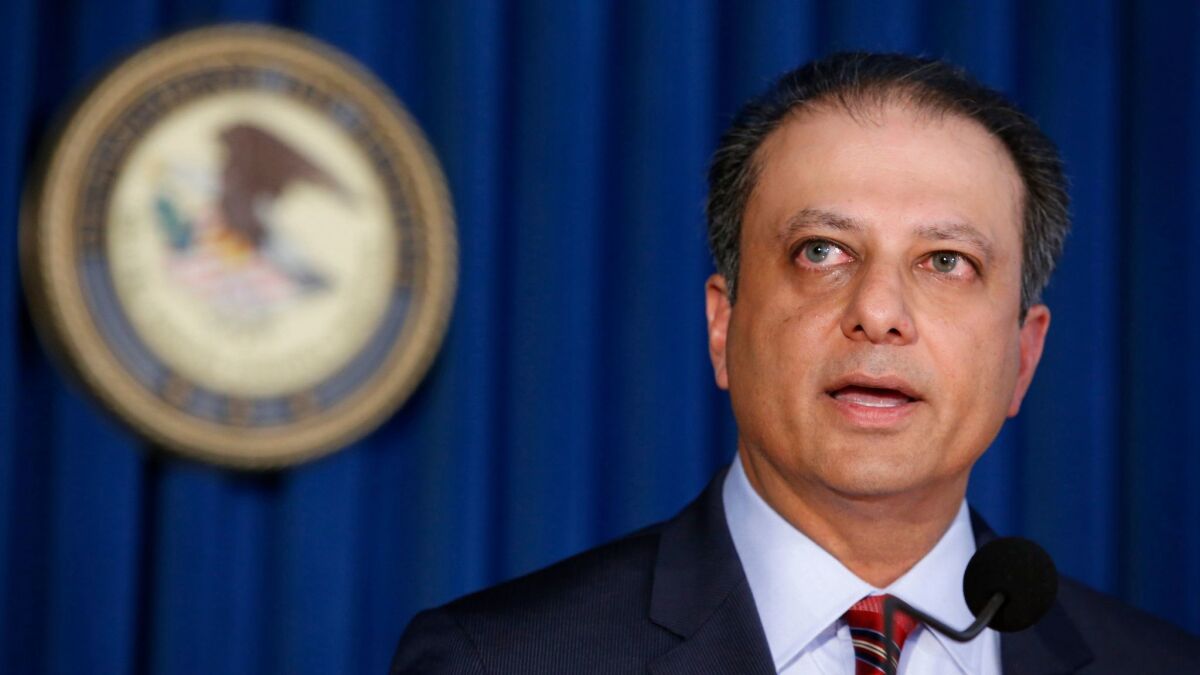 Reporting from NEW YORK —
Did Preet Bharara resign or get fired?
He says it was the latter.
On Saturday, the outspoken U.S. attorney from the Southern District of New York said he was fired after refusing to resign, as requested a day earlier by Atty. Gen. Jeff Sessions. Sessions sought the resignation of dozens of U.S. attorneys appointed by President Obama.
"Moments ago I was fired. Being the US Attorney in SDNY will forever be the greatest honor of my professional life," tweeted Bharara, who had served since 2009.
In November, Bharara, 48, had visited with President-elect Donald Trump in New York. After the meeting, Bharara told reporters Trump had asked him to remain in his post under the new administration.
"The president-elect asked, presumably because he's a New Yorker and is aware of the great work that our office has done over the past seven years, asked to meet with me to discuss whether or not I'd be prepared to stay on as the United States attorney to do the work as we have done it, independently, without fear or favor for the last seven years," he said at the time.
Yet the order from Sessions on Friday affected 46 U.S. attorneys nationwide, including Bharara. (Forty-seven others have already stepped aside.) In total, 93 U.S. attorneys are the top federal prosecutors in 94 districts. (Guam and the Northern Mariana Islands share a federal prosecutor.)
The departure of Bharara was viewed as a loss by Norm Eisen, a former White House ethics czar and head of Citizens for Responsibility and Ethics in Washington, or CREW.
"The White House was obviously concerned about the investigative power of the U.S. attorneys. I think they woke up to the fact that there are all of these independent U.S. attorneys with investigative powers and subpoena power and they saw that as a large potential threat, not just for Trump but for his staff who are riddled with conflicts of interest,'' Eisen said. "Preet was the most influential U.S. attorney in the country, and the Trump Organization is in his district.''
The call for the U.S. attorneys to resign came just two days after a trio of government watchdogs — including CREW — sent a letter to Bharara's office asking for an investigation of whether Trump was illegally receiving benefits from foreign governments.
"We call on you as the United States attorney for the jurisdiction where the Trump Organization is located to exercise your responsibility to investigate and take appropriate action to ensure that the Trump Organization and related Trump business enterprises do not receive payments and financial benefits from foreign governments that benefit President Trump."
It is not unusual for a new administration to seek the dismissal of political appointees, particularly those of a different party.
A spokeswoman for Sessions, Sarah Isgur Flores, said in a statement that Sessions sought the resignations "to ensure a smooth transition" to the Trump administration.
In March 1993, then-Atty. Gen. Janet Reno sought the resignations of U.S. attorneys appointed by President George H.W. Bush, a move that sparked intense criticism from conservative commentators.
Still, attorneys general under Obama and President George W. Bush generally tried to stagger departures over a few months.
During his tenure, Bharara earned a reputation as a crusader against corruption.
In 2015, Bharara led the case against former New York Assembly Speaker Sheldon Silver, a Democrat, who was convicted of charges that he traded favors in exchange for $5 million and then lied about it. Bharara and his team said Silver passed tax-abatement and rent-control legislation that favored developers while some of New York's biggest developers hired a small law firm that secretly sent $700,000 in fees to the then-speaker. He was sentenced to 12 years in prison.
Last year, Bharara's office began investigating New York Mayor Bill de Blasio. The investigation centers on whether De Blasio or members of his administration traded beneficial city action for donations to his 2013 mayoral campaign. No charges have been filed.
Prior to becoming the U.S. attorney, Bharara served as an assistant U.S. attorney in New York, where he prosecuted a wide range of cases involving organized crime, racketeering, securities fraud, money laundering, and narcotics trafficking, according to the Justice Department website.
Bharara had a high profile in New York, but also obtained an odd fame in Turkey last year after announcing that a grand jury had indicted a controversial Turkish Iranian businessman on suspicion of violating U.S. sanctions on Iran. Shortly after the announcement, Bharara gained almost 250,000 followers on Twitter, most of them Turkish.
Twitter: @kurtisalee
Twitter: @BarbaraDemick
Lee reported from Los Angeles and Demick from New York. Staff writer Del Quentin Wilber in Washington contributed to this report.
ALSO
The troubled, covert agency responsible for moving the nation's most lethal cargo
At the nation's only Latino mosque, Trump's immigration policies have 'changed everything'
Elected as the anti-Apraio, new Phoenix sheriff finds himself at center of nation's immigration debate
---
Must-read stories from the L.A. Times
Get the day's top news with our Today's Headlines newsletter, sent every weekday morning.
You may occasionally receive promotional content from the Los Angeles Times.