'Get out of the country': The rhetoric behind shootings targeting Indians in two states
Reporting from Seattle —
Deep Rai was working on his car outside his suburban Seattle home when he was shot and wounded. Srinivas Kuchibhotla and his friend Alok Madasani were having drinks at a neighborhood bar in Kansas when bullets began flying.
The two incidents occurred almost 1,800 miles and nine days apart. But it's the similarities of the two suspected hate crimes that have the FBI and local authorities worried.
All three victims were men of Indian origin — one of them a Sikh who had a beard and wore a turban.
And the two apparently unconnected shooters used similar words to reflect their motives, shouting at the victims variations of "Get out of the country!" before opening fire.
Kuchibhotla, 32, died from wounds suffered at Austin's Bar and Grill in Olathe, a city about 20 miles southwest of Kansas City, on Feb. 22. Madasani, 32, was wounded but lived to provide details about the gunman, who was tracked down a day later in Missouri.
Rai, 39, a U.S. citizen who is Sikh, also survived being shot Friday night in Kent, Wash. A man walked up Rai's driveway, got into an argument with the homeowner and then pulled a gun, firing a bullet into the victim's arm. He has not been apprehended.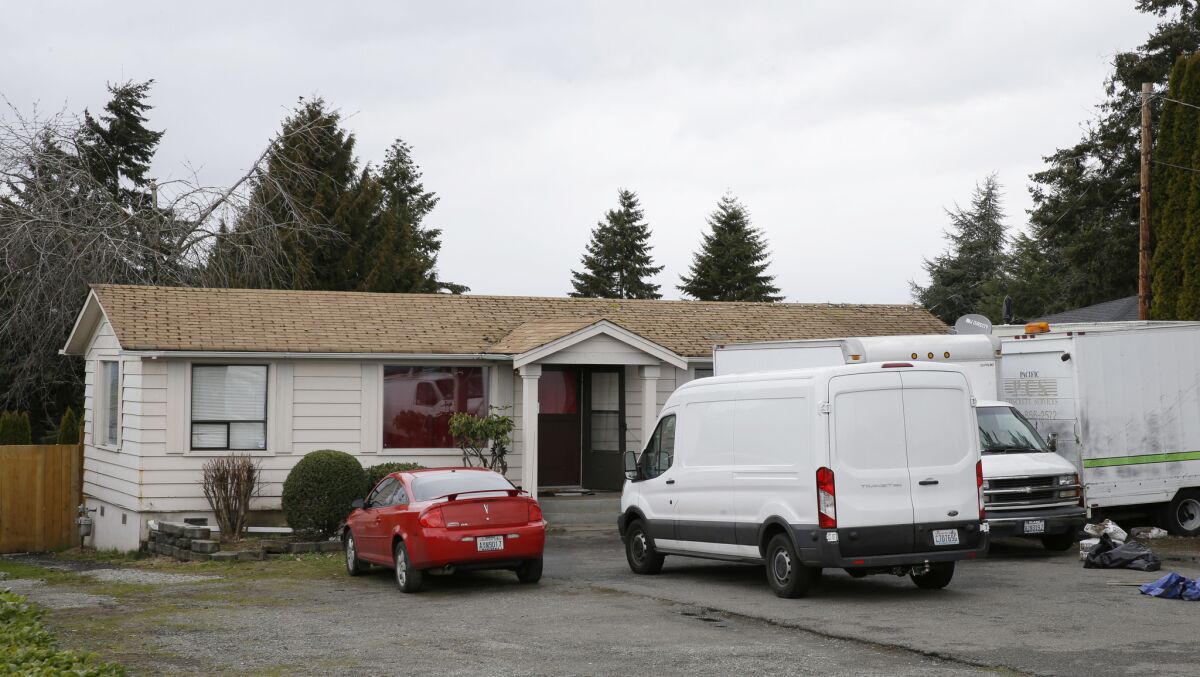 Witnesses said the shooter shouted, "Get out of our country!" before firing. (Some heard it as "Go back to your own country!")
"To think that this could happen in our community," Kent Police Chief Ken Thomas said Saturday, "was very surprising and extremely disappointing."
Rep. Pramila Jayapal (D-Wash.), the first Indian American woman elected to Congress, said in a statement Sunday that the recent attacks "bear a stark resemblance to those that followed 9/11." She urged the Trump administration "not only to investigate this shooting as a hate crime, but to take bold steps to fight hate-based violence in our communities."
The gunmen's leave-the-country threats have shaken some people in the Indian American and Indian expatriate community who fear that they reflect a xenophobia energized by President Trump's efforts to restrict immigration.
"While we appreciate the efforts of state and local officials to respond to attacks like this, we need our national leaders to make hate-crime prevention a top priority," said Rajdeep Singh of the New York-based Sikh Coalition. "Tone matters in our political discourse, because this is a matter of life or death for millions of Americans who are worried about losing loved ones to hate."
The coalition released a statement comparing the two shootings, saying they followed "the larger national pattern of hate violence directed at minority communities across the United States in the wake of the presidential election."
Kansas shooting shocks an Indian city where 'every other house' has someone in America »
Jasmit Singh, a Seattle-area Sikh leader, said about 50,000 Sikhs lived in Washington state, most of them in Kent and in nearby Renton and Auburn.
Investigating the incident as an anti-Sikh hate crime is crucial, he said. "In the past — in Bush, Obama time — there was swift action and communication saying that this is unacceptable," he told CNN. "We aren't seeing any response from this administration."
Trump did condemn the Kansas shooting as a hate crime, although not until a week after it occurred.
Witnesses said the suspect in that attack asked the two Indian computer engineers if they were in the U.S. legally, and they replied that they were employed by a local technology firm and had H-1B skilled-worker visas. The suspect, who later said in a 911 recording that he thought the two were Iranian, left the bar, returned with a gun and began shooting, reportedly declaring, "Get out of my country!"
Adam Purinton, 51, has been charged with three counts of murder or attempted murder (a third man was slightly injured).
Anderson is a special correspondent.
ALSO
Facing big political hurdles, House Republicans ready an ambitious legislative push to repeal Obamacare
Man arrested in St. Louis in connection with threats against Jewish community centers
A Muslim father and son engrave the headstones at one of India's oldest Jewish cemeteries
---
Must-read stories from the L.A. Times
Get the day's top news with our Today's Headlines newsletter, sent every weekday morning.
You may occasionally receive promotional content from the Los Angeles Times.