CDC confirms a case of Zika transmission via sex in Texas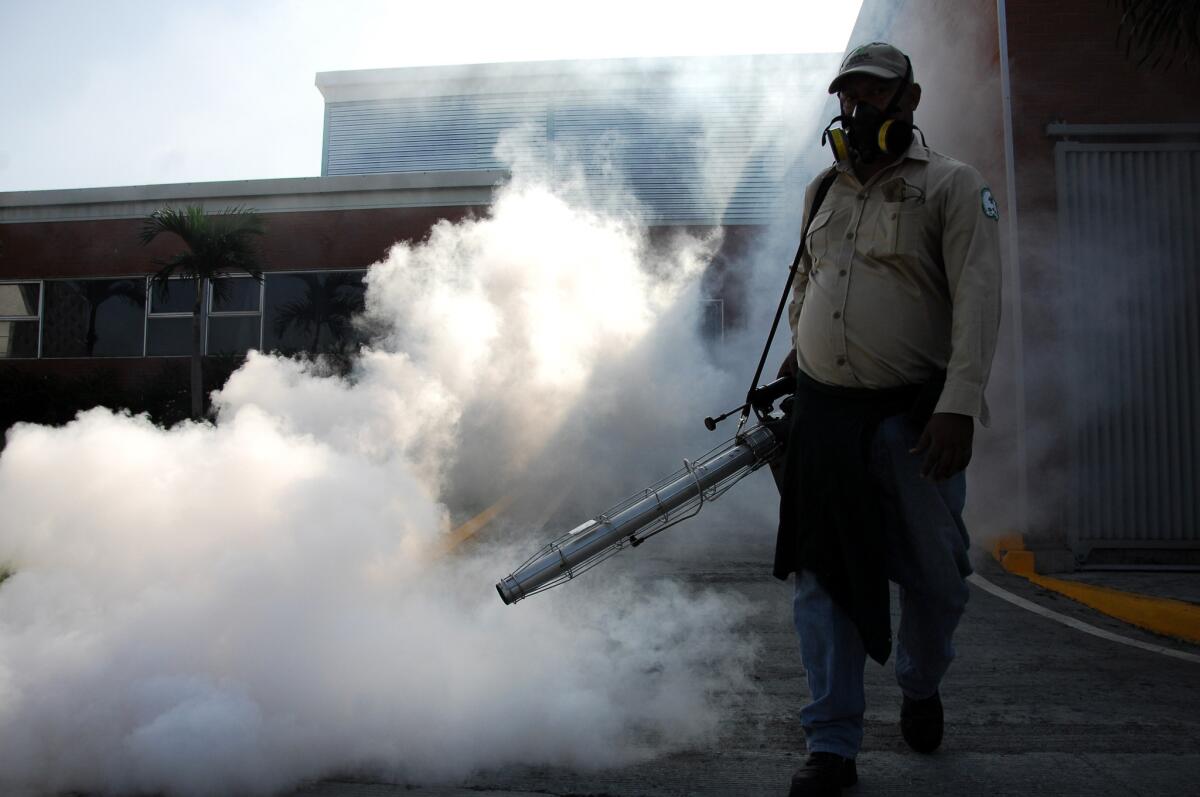 Reporting From Houston —
Texas officials on Tuesday reported the first case of the Zika virus being sexually transmitted in the U.S. by an infected traveler returning from South America since the disease's rapid spread there over the last year.
It was the first case of transmission on U.S. soil, and the announcement came a day after the World Health Organization declared that the explosive growth of the primarily mosquito-borne Zika virus constitutes an international public health emergency.
A Dallas patient contracted Zika after having sex with a traveler who had returned from Venezuela, one of the countries coping with Zika, according to Dallas County Health and Human Services officials. Officials would not disclose information about the pair, citing medical confidentiality.
There have been no deaths connected to Zika, and symptoms of infection — including rashes, joint pain and reddened eyes — are usually mild and last for several days or a week, experts say. There is concern, however, that the virus may be causing a surge in babies born in Brazil with abnormally small heads and brains.
California officials had confirmed two cases of the Zika virus in those who were infected while traveling abroad in 2015. There were three cases in California in 2014 and one in 2013, officials said last week.
Officials said the numbers will be updated at a Friday briefing, and could rise. They would not say where cases were reported, but Los Angeles County officials--who plan to hold a briefing Wednesday--said last week that a young girl had been diagnosed with Zika in the county.
The rare cases of sexual transmission of Zika in the past have been through the semen of an infected man, according to the Centers for Disease Control and Prevention. The virus was found in a man's semen in Tahiti, and a Colorado researcher reportedly transmitted the virus to his wife after returning from a trip to Senegal in 2008.
The CDC released a statement Tuesday saying that in the Dallas case "there was no risk to a developing fetus."
There are no reports of Zika being transmitted by mosquitoes in Dallas County. The half a dozen other cases of Zika reported in Texas were in the Houston area and related to overseas travel, officials said.
"We're working closely with our partners to gather more information about the virus and this transmission in Dallas and to determine whether any additional public health interventions are needed," said Dr. John Hellerstedt, commissioner of the Texas Department of State Health Services.
Officials were already on alert about Zika, sending potential cases to the CDC for testing as they did in the Dallas case and trying to raise public awareness.
"With this sexual piece, that makes it more concerning because now there's another mode of transmission other than mosquito bites," said Dr. Christopher Perkins, medical director of the Dallas County Health and Human Services.
Now officials are emphasizing that those traveling abroad in areas where Zika is prevalent should not just protect themselves against mosquitoes, but also use condoms and remember that the majority of those infected with the Zika virus won't have symptoms.
Two years ago, Dallas residents panicked after a West African visitor died from Ebola and two nurses who treated him contracted the deadly disease. Both nurses recovered.
But Perkins said he doesn't foresee similar hysteria associated with Zika, because residents are accustomed to protecting themselves against mosquito-borne diseases, such as West Nile virus, and will probably heed the alerts concerning practicing safe sex with those who have traveled to Zika-stricken regions.
"Our citizens are savvy enough to understand" the warnings, Perkins said.
Follow me on Twitter for the latest in national news: @mollyhf
MORE ON THE ZIKA VIRUS:
First Zika virus case confirmed in L.A. County
Olympic leaders say Zika virus won't put damper on Summer Games
Global health agency's declaration signals new phase in battle against Zika virus
Sign up for Essential California for the L.A. Times biggest news, features and recommendations in your inbox six days a week.
You may occasionally receive promotional content from the Los Angeles Times.