First Zika virus case confirmed in L.A. County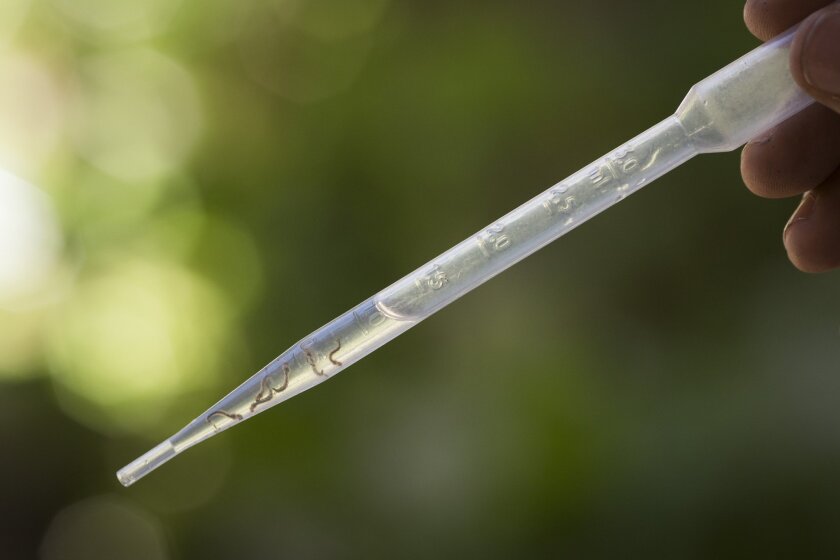 A young girl from Los Angeles County who traveled to El Salvador was infected with the Zika virus, officials said Tuesday.
The infection, which usually has no symptoms, worries public health experts because it appears to be linked to a recent spike of a serious birth defect in Brazil.
Officials said that travelers should take precautions when visiting other countries, and that some people should postpone their trips abroad.
L.A. County health officials said the girl had traveled to El Salvador in late November, where she probably contracted the illness. She has recovered.
Discuss this story on our Facebook page >>
Zika is a mosquito-borne illness that, before 2015, occurred only in Africa, Southeast Asia and the Pacific Islands. But last year, an outbreak was reported in Brazil, and cases of the infection have since been detected in 20 countries in the Americas.
Zika isn't contagious. It can be transmitted only if a mosquito bites a person who has the virus in their blood, and then bites another person.
Most people with the Zika virus don't experience symptoms. If symptoms do develop, they include fever, rash, joint pain and red eyes.
Starting last year in Brazil, an unusually high number of babies there -- in the thousands -- have been born with microcephaly, a condition in which the head is abnormally small. Experts suspect the birth defect could be linked to the country's Zika outbreak.
In El Salvador, Colombia and Ecuador, officials have even advised women to not get pregnant.
So far, no one is believed to have contracted the Zika virus in the United States. According to the California Public Health Department, a few cases of Zika have been confirmed in the state but all were in people who became infected while abroad.
But officials from the World Health Organization said Monday that Zika cases will probably soon be acquired in the United States.
The mosquitoes that transmit the virus are not native to California, but have been found here in the last few years. In total, they've been detected in 12 of the state's 58 counties, officials say.
The Asian tiger and the yellow fever mosquitoes -- Aedes albopictus and Aedes aegypti, respectively -- are about half the size of normal mosquitoes and have black-and-white stripes. Unlike mosquitoes more common to California, which usually come out in the evening, these mosquitoes bite during the daytime.
An infestation in L.A. County is believed to have started in 2011 in the San Gabriel Valley, and last year spread west into Silver Lake and east to Riverside and Montclair. They've now been detected in Montebello and Pico Rivera as well as Anaheim and Mission Viejo.
The Centers for Disease Control and Prevention recommends that women who are pregnant consider postponing travel to places where the Zika virus transmission is ongoing, and that women who are trying to become pregnant talk to their doctors about the risk of infection.
"Zika is one of several mosquito-borne diseases that may infect travelers, including chikungunya and dengue," Dr. Jeffrey Gunzenhauser, interim health officer for Los Angeles County, said in a statement. "Avoid mosquito bites, especially when visiting places known to have these diseases."
Public health officials say that people who live in or visit areas with infestations should use bug spray and wear long-sleeved shirts and pants. They also advise clearing out pots or cracks in cement that might be collecting water in backyards, where mosquitoes can breed.
Follow @skarlamangla on Twitter for more health news.
ALSO
Is El Niño wimping out in Southern California? Not quite
Bizarre birth defect is on the rise, and researchers are baffled
Federal panel recommends general physicians screen all adults for depression
---
The stories shaping California
Get up to speed with our Essential California newsletter, sent six days a week.
You may occasionally receive promotional content from the Los Angeles Times.