8 confirmed dead in huge Washington mudslide; others still missing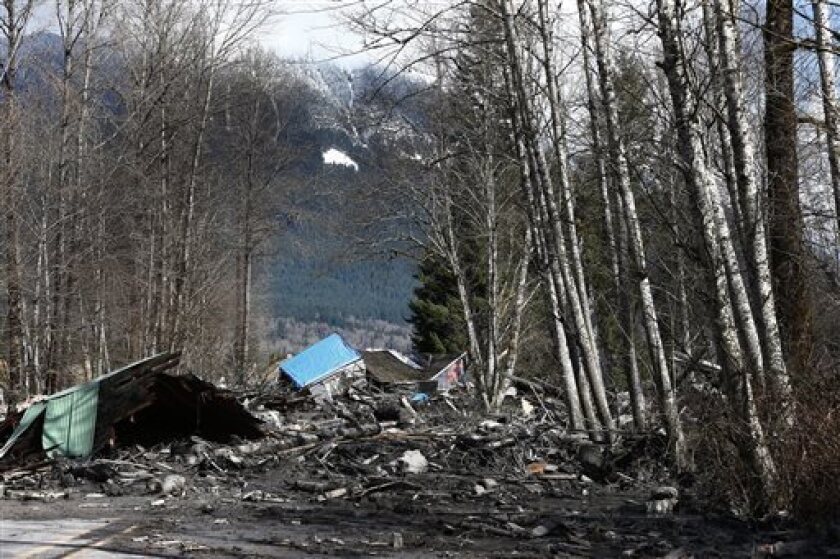 ARLINGTON, Wash. -- At least eight people were confirmed dead in a mudslide Sunday night after rescuers had reported "no signs of life" amid the square mile of destruction.
About 18 others remained unaccounted for, with officials warning that the number was fluid.
A slurry of mud and debris smashed across a highway and into rural homes just east of the town of Oso on Saturday, officials said. Voices could be heard in the debris field late Saturday, but rescuers had to back off because their own lives were in peril.
They were able to resume searching Sunday. By afternoon, they found their first body of the day, mired in mud. The remains were not expected to be recovered for "quite a bit of time," Snohomish County Fire District 21 Chief Travis Hots told reporters.
By evening, officials had raised the confirmed death toll to eight. Details were to be released later.
Although it's common during the confusion after disasters for missing people to turn up safe, officials fear that the death toll from Saturday's mudslide along the Stillaguamish River will continue to rise. "I get a sense we're going to have some hard news here," Washington Gov. Jay Inslee said at a Sunday afternoon news conference.
At least 12 victims were hospitalized Saturday -- one of whom died -- and seven remained hospitalized Sunday afternoon, including five in serious condition or worse, hospital officials told the Los Angeles Times.
One was a 6-month-old boy who was in critical condition at Harborview Medical Center in Seattle. He was the first victim flown from the disaster site.
"Basically the people were swept away, pinned up against things, covered," Harborview spokeswoman Elizabeth Hunter told The Times, adding that most of the mudslide wounds were "crushing injuries."
Rescuers resumed their searches by foot Sunday; officials had initially deemed the deluge of mud and debris too dangerous to wade into. Late Saturday, officials said, firefighters got stuck in mud up to their armpits and had to be rescued by rope.
After two geologists surveyed the square mile of slurry and wreckage by helicopter Sunday, officials determined the risk was low enough to resume foot searches, said Hots, the fire chief.
During a Sunday afternoon news conference, Hots described the number of 18 missing as "fluid" and "growing."
Among those missing are Reed Miller's son, Joseph, 47. Miller had been standing in the grocery checkout line in Arlington on Saturday when ambulances began to scream by.
"The grocery lady said there was a big mudslide in Oso, and to call her back when I got home OK," Miller, 75, recounted Sunday. "I never got there. Nope."
His home was among those damaged or destroyed by the mudslide. Officials said up to 30 homes may have been affected.
The devastation "reminds me very much of the devastation I saw in Mt. St. Helens 34 years ago," Snohomish County Executive John Lovick told reporters, referring to the 1980 volcanic eruption in the state.
Officials said no more voices had been heard amid the wreckage since rescuers reported hearing signs of life Saturday night.
As worries mounted Sunday, a stream of people made their way to the shelter set up in Arlington.
Caroline Neal was among them. She had come looking for word of her father, a plumber who was servicing a hot water tank for a woman who had just moved to Oso.
The woman is missing, as is the cable worker who was working on her home at the same time. And Neal's father, Stephen, 52, is nowhere to be found.
"He thinks fast on his feet," said Neal, clutching photos of her father. "If he had any warning, he would have done everything he could to stay safe."
The mudslide also partially dammed the Stillaguamish River, causing concern about flooding downstream. Those worries lessened Sunday as the river began to carve a path through the slurry.
Officials were turning their concerns toward State Route 530, a crucial rural highway with a segment about a mile long that is now covered in water and mud about 10 to 15 feet deep, Steve Thompson, the public works director of Snohomish County, told reporters.
The loss of the highway has isolated the community of Darrington, population 1,359, about 12 miles east of the slide, and officials said they didn't know when the road might be rebuilt.
Officials were hoping to open a scenic route that might give rural residents an alternate way to Washington's populous Pacific coast.
Pearce reported from Los Angeles and La Ganga from Arlington.
---
Must-read stories from the L.A. Times
Get all the day's most vital news with our Today's Headlines newsletter, sent every weekday morning.
You may occasionally receive promotional content from the Los Angeles Times.