Bales on Afghan village massacre: 'Sir, I intended to kill them'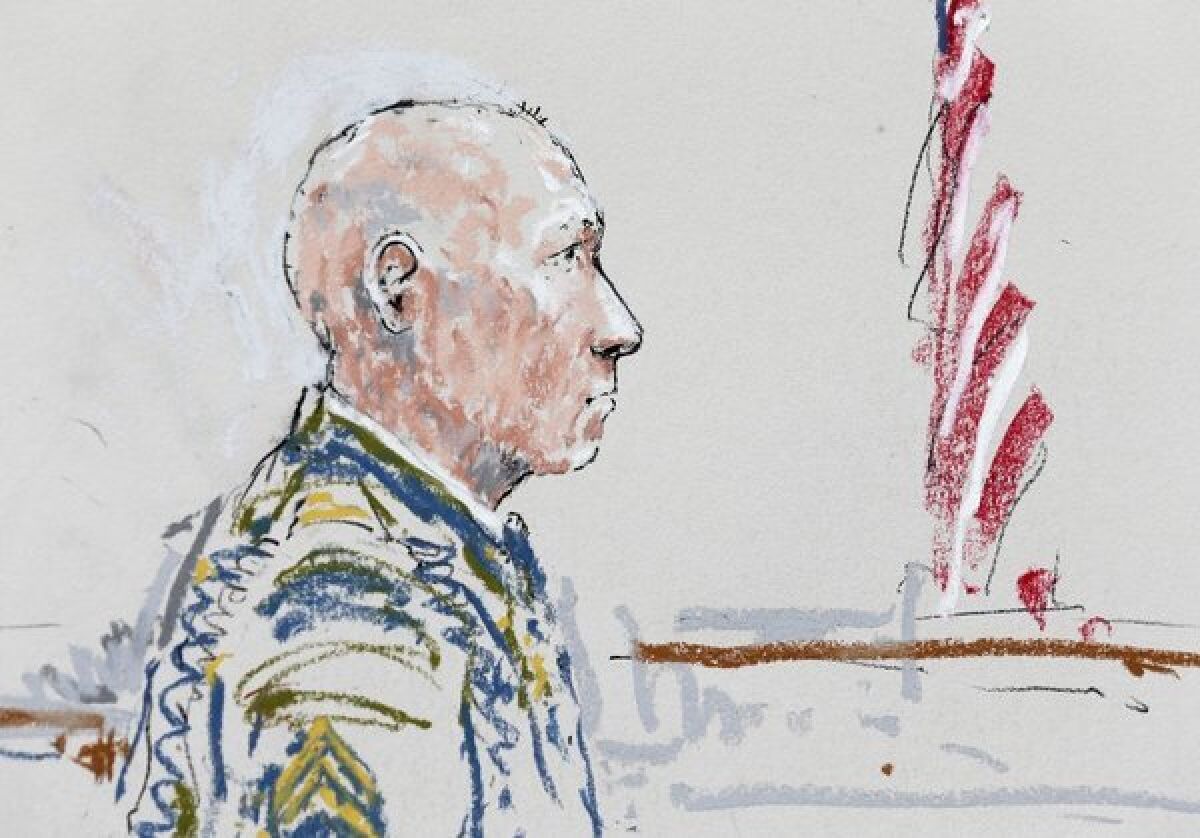 The U.S. Army staff sergeant accused of slaughtering 16 Afghan civilians in two villages pleaded guilty Wednesday in a move expected to spare him from the death penalty.
And when a military judge asked Robert Bales, 39, why he slaughtered the men, women and children outside Camp Belambay in southern Afghanistan on March 11, 2012, Bales gave his first and only public explanation for the attack.
"Sir, as far as why: I've asked that question a million times since then," said Bales, according to the Associated Press. "There's not a good reason in this world for why I did the horrible things I did."
Bales appeared in military uniform at Joint Base Lewis-McChord outside Seattle, where his military tribunal is being held.
Part of his plea deal with prosecutors involved a requirement that he give an account of the killings and of burning the villagers' bodies before returning to base with bloodstained clothing.
His initial recollection of the slaughter, which was recalled to the court and to the Los Angeles Times in vivid detail by the survivors, poured out in cold legalese.
"I left the VSP [Village Stability Platform at Belambay] and went to the nearby village of Alkozai," Bales told the judge, Col. Jeffery Nance, according to the AP. "While inside a compound in Alkozai, I observed a female I now know to be Na'ikmarga. I formed the intent to kill Na'ikmarga, and I did kill Na'ikmarga by shooting her with a firearm. This act was without legal justification, sir."
According to KOMO-TV, Nance asked Bales, "Did you go there expecting to find them there?"
"Sir, I expected someone to be there," Bales said, adding, "Sir, I intended to kill them."
Nance pressed Bales on his motives when Bales did not initially offer them, and tried to pin down the staff sergeant on whether he burned the bodies. Bales said he remembered seeing a kerosene lantern and having matches in his pocket but didn't remember setting the fire himself.
The judge pressed Bales on whether he set the bodies on fire with the lantern, according to the AP, to which Bales replied, "It's the only thing that makes sense, sir."
Six more residents were wounded in the attack, which Bales' attorneys had previously argued was fueled by steroids, alcohol and Bales' post-traumatic stress disorder.
The deal to avoid the death penalty may disappoint some of the victims' family members, who previously told the Los Angeles Times that Bales should be executed. (U.S. military prosecutors initially sought the death penalty.)
"Hang him. That's what I want. Hang him from the neck; let him dangle," Mohammed Wazir said in a 2012 interview. "Let him sit in front of us. Let him look in our eyes. And we will look in his eyes."
Wazir had returned from out of town with his youngest son to find his mother, wife, six other children, brother, sister-in-law and nephew dead.
"If your child dies, what would you expect? Money? No," said Wazir, who denied taking the compensation that the U.S. government offered to the victims of the massacre. "Will you expect prison? We don't want prison.... If the court doesn't go the way we want, we will not accept the decision of the court."
According to the Seattle Times, the tribunal's judge, Nance, was reviewing Bales' plea Wednesday morning to make sure Bales understood the consequences of the plea.
The session broke for a recess and was expected to resume in the afternoon.
ALSO:
Searchers dig frantically amid Philadelphia building collapse
Jill Kelley sues FBI, Pentagon over David Petraeus sex scandal
Bradley Manning was 'very political,' Army team leader testifies
---
Must-read stories from the L.A. Times
Get the day's top news with our Today's Headlines newsletter, sent every weekday morning.
You may occasionally receive promotional content from the Los Angeles Times.