What we know: Colorado's floods, by the numbers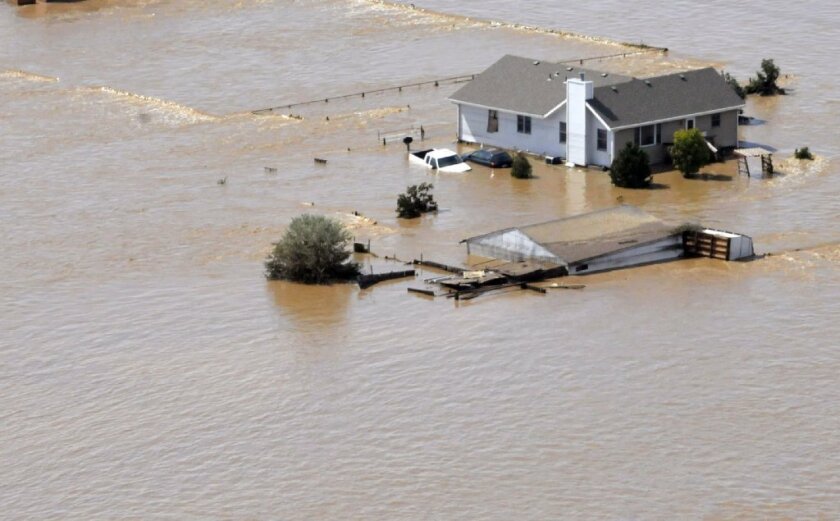 Wretched weather continued to hamper rescue efforts in Colorado on Sunday as officials released damage estimates illustrating the magnitude of the disaster.
By the numbers, here's some analysis of what we know about Colorado's floods, along with what we don't.
Number of fatalities: 5
This is the official statewide figure reported by the Colorado Office of Emergency Management as of Sunday evening, but some state officials have hinted that they expect the death toll to rise.
A more informal total of six presumed dead was circulating around the media on Sunday. Larimer County officials said an 80-year-old woman reportedly had been swept away by the floodwaters. If confirmed, she would be the disaster's sixth victim.
But until every river and ruin has been searched, it may not be clear how many people have died.
PHOTO GALLERY: #COfloods devastate Front Range communities: https://t.co/kO4P0XZTLu LIVE BLOG: https://t.co/p4RPfpTotp pic.twitter.com/Y904TLjbHM— The Denver Post (@denverpost) September 14, 2013
Number of people unaccounted for: 1,253
This figure, again from the Colorado Office of Emergency Management, was "approximate and changing throughout the day" -- a reflection of the confusing and chaotic conditions.
It's not unusual for the number of missing to plunge in the days after a disaster as displaced residents -- some of whom are not always aware that they were considered "missing" -- get in touch with officials or loved ones.
But what's unusual about Colorado's floods is that this figure has continued to rise in recent days instead of dropping.
Read more of The Times' coverage of the Colorado floods here
In an interview with the Los Angeles Times on Sunday, John Schulz -- a public information officer for the Larimer County Sheriff's Office -- theorized that the early numbers of the missing were probably artifically low. Law enforcement officials were not really taking names or people were not making reports because the disaster was unfolding and changing so quickly, he said.
As time goes on, more and more people are getting concerned that they still have not heard from friends and relatives, Schulz said; the list may be growing because one missing person's name might have been submitted multiple times, but there is also a sense of panic. Additionally, rain is still falling and flooding has swallowed more and more land, trapping more people.
#Firestone police chief at Weld CR13 north of town. Bridge intact on other side, river diverted around it. #COFloods pic.twitter.com/KsWIY0qotQ— CBSDenver (@CBSDenver) September 15, 2013
Number of people evacuated: 11,700
This is another number from state officials that may rise as emergency officials and Colorado National Guard and U.S. Army personnel continue to rescue more stranded residents.
After a disaster, it's common for evacuees to stay with family and friends. But people have needed extra help in Colorado, with state officials reporting Sunday that they had 1,872 evacuees staying in 26 shelters across the state.
Number of structures destroyed: 1,502
Number of structures damaged: 17,494

#coflood Here is a look at some of the road damage on US 36 north of Lyons. pic.twitter.com/Kt2zYHkwJa— CDOT (@ColoradoDOT) September 15, 2013
Number of bridges destroyed: 30
That figure is from the Colorado Department of Transportation, according to the Denver Post, with officials adding that another 20 bridges have been seriously damaged. Joshua Laipply, a CDOT bridge engineer, told the Post that the count may continue to rise.
The bridge washouts have made for some of the disaster's most compelling photos and some of its biggest frustrations.
With evacuations more dependent on helicopters, that means rescues are more at the mercy of the weather: When inclement weather continued on Sunday, 20 military helicopters supporting the relief effort were largely grounded, Colorado National Guard spokeswoman Cheresa Theiral told The Times.
State transportation officials urged travelers to avoid all unnecessary travel on highways and interstates in Boulder, Larimer, Jefferson and Clear Creek counties because the roads may have been damaged or destroyed.
85 Denver 5th graders & teachers stranded 4 days near Lyons probably never imagined this'd be their ride home. pic.twitter.com/2s6EwOjZxX— CBSDenver (@CBSDenver) September 15, 2013
Area affected: 15 counties, inundating at least 2,380 square miles
Of these counties, Larimer and Boulder counties appear to have been the worst-hit. On Sunday, federal officials announced that a total of 15 counties had received presidential emergency disaster declarations, adding to the federal support already being delivered to the state.
About 600 Colorado National Guard and active-duty U.S. Army personnel were assisting local emergency officials with relief efforts, officials said. Federal rescuers had saved 2,100 stranded residents along with 500 pets by air and more by ground over the course of the disaster, guard spokeswoman Theiral said.
And, she said, you can expect those numbers to rise.
MT @HeatherCBS4: Check out this viewer pic of flooded Cabela's parking lot at 144th/I-25. #cofloods pic.twitter.com/Cm4MYsRuNo— CBSDenver (@CBSDenver) September 15, 2013
Special correspondent Jenny Deam contributed to this report from Fort Collins, Colo. Pearce reported from Los Angeles.
---
Must-read stories from the L.A. Times
Get all the day's most vital news with our Today's Headlines newsletter, sent every weekday morning.
You may occasionally receive promotional content from the Los Angeles Times.