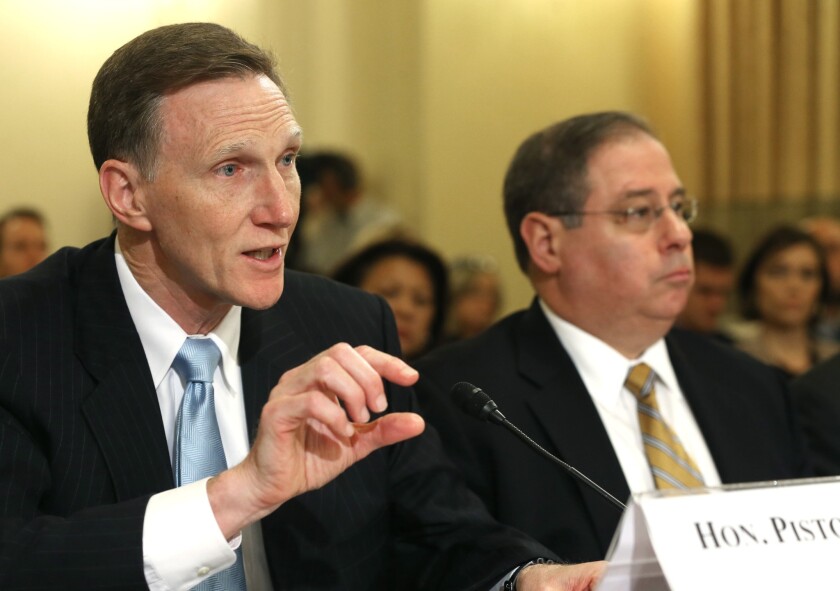 WASHINGTON — The Transportation Security Administration, already under a harsh spotlight due to the shooting attack this month at Los Angeles International Airport, has spent nearly a billion dollars in recent years on a passenger behavior-monitoring program that has not been scientifically proved effective, a key government watchdog agency announced Thursday.
The report from the Government Accountability Office was released just as Washington lawmakers and TSA officials squared off on Capitol Hill over whether the agency's so-called SPOT program for monitoring people was too expensive and of little value, and whether it should continue for another three years to help officers identify suspicious people like the gunman who killed a TSA agent on Nov. 1.
"The TSA has limited information to evaluate this program," Stephen M. Lord, a GAO managing director, told a House Homeland Security subcommittee. "They hope it works. But from the GAO's point of view, the program should not be based on hope and faith."
But TSA Administrator John S. Pistole strongly defended the program and urged its expansion for another three years, even though more than $900 million has already been spent and it failed to stop the LAX gunman before he opened fire in Terminal 3. Paul Anthony Ciancia has been charged with murder in the attack that left a TSA agent dead.
Pistole said another three years would help iron out problems with the program. "I don't want to take away a layer of security that may identify the next attack," he said.
But Rep. Bennie Thompson of Mississippi, the ranking Democrat on the Homeland Security Committee, said no more taxpayer money should be spent on the program. "We cannot continue to fund programs with the hope that they will work," he said.
Launched in 2007, the Screening of Passengers by Observation Techniques, or SPOT, deploys about 3,000 behavior-detection officers to 176 of 450 airports in the United States that are served by the TSA.
The GAO concluded that the available evidence did not show that behavioral indicators could help identify people who might pose a risk, and that the measures used were probably no better than chance.
Researchers at GAO also stated that a Department of Homeland Security study to validate the SPOT program was flawed, inconclusive and used improper controls. They further noted that the TSA and behavior detection officers admitted that behavioral indicators were subjective.
The GAO recommended that Congress consider the lack of scientific proof that behavioral observation is effective when making future funding decisions.
ALSO:
White supremacist takes DNA test, finds out he's part black
Mum's the word as police investigate stabbing of 'Junior' Gotti
Ryan Ferguson a free man after newspaper murder case collapses
Serrano reported from Washington, Weikel from Los Angeles.
---