Body found by searchers seeking 70-year-old hiker on Mt. Rainier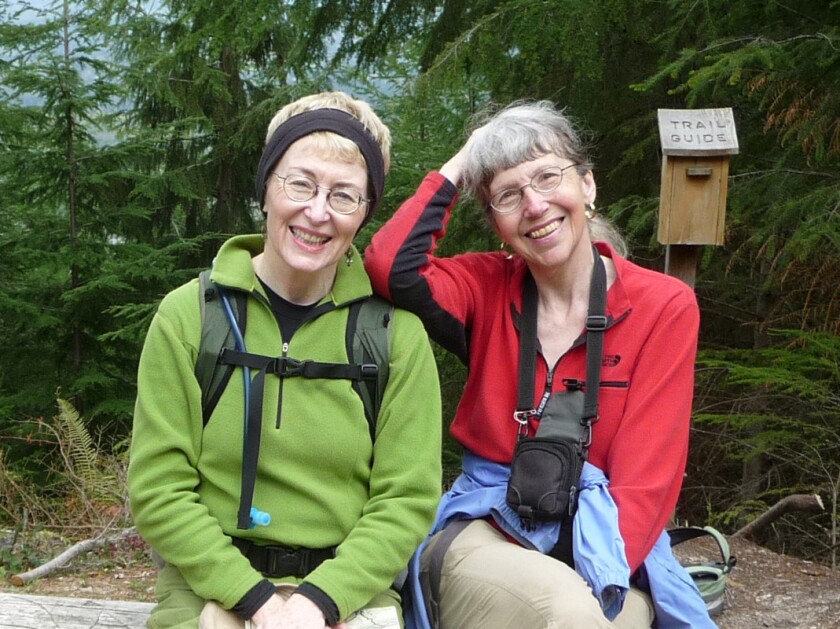 A three-day search for a veteran Seattle hiker and outdoors journalist who vanished in Mt. Rainier National Park was suspended Saturday after a female body was discovered around 3 p.m., the National Park Service said.
"The victim was discovered off-trail near the eastern branch of Boundary Creek in rough, steep terrain. The area is difficult to access and not commonly traveled," according to a statement released late Saturday by park spokeswoman Patti Wold.
Park officials said identification would be established by the coroner, but the discovery led them to suspend the search for Karen Sykes, 70, who had been missing for three days.
Sykes and a hiking partner were on the Owyhigh Lakes Trail on Wednesday night when they found that melting snow had cut off their path, according to a news release from the park.
Sykes went ahead but her partner believed the snow had made hiking the eight-mile trail too difficult and stayed behind, a park spokeswoman said.
"Ms. Sykes is a very strong hiker and she wanted to go ahead and her hiking partner had chosen not to hike on the snow, so they agreed to meet each other back at the same point," spokeswoman Mimi Gorman told the Los Angeles Times.
Her partner reported Sykes missing about 10:45 p.m. Wednesday. Wold said she was carrying enough survival gear for one night.
Sykes, a marathon runner and longtime outdoors writer, had been working on an article about the Owyhigh Lakes Trail, Wold told The Times.
The hike is not considered difficult in the summer, when the paths are clear, but the melting snow could have made the terrain much more dangerous, Wold said.
"She's an outdoor journalist. She's been in the park many times doing stories here and in the surrounding areas; she's quite experienced," Wold said. "But if you're going hiking on snow, it's a much more complicated hike."
Hikers can "punch through" soft snow and get injured -- as one member of the search team did, Wold said.
The search area was in "steep, rugged terrain," Wold said.
Rainier's website includes this alert: "Melting snow bridges and high streamflows create hazards for hikers, skiers, and snowshoers. Be aware of hidden -- and potentially fatal -- hazards created by snow bridges and high streamflows on Mount Rainier."
Six climbers trying to reach Mt. Rainier's summit disappeared in late May and are presumed dead.
Follow @JamesQueallyLAT for breaking news
---
Must-read stories from the L.A. Times
Get all the day's most vital news with our Today's Headlines newsletter, sent every weekday morning.
You may occasionally receive promotional content from the Los Angeles Times.