5 days of school shootings, lockdowns, scares jolt U.S. campuses
Police investigate a car, left, at the athletic center of Widener University in Chester, Pa., after a student was shot Monday.
(Robert J. Gurecki / Associated Press)
Police handcuff Cody Cousins, 23, after a deadly shooting at Purdue University in West Lafayette, Ind. Officials said Wednesday that the electrical engineering building where authorities say Cousins shot 21-year-old Andrew Boldt was reopened.
(Carl Abernathy / Associated Press)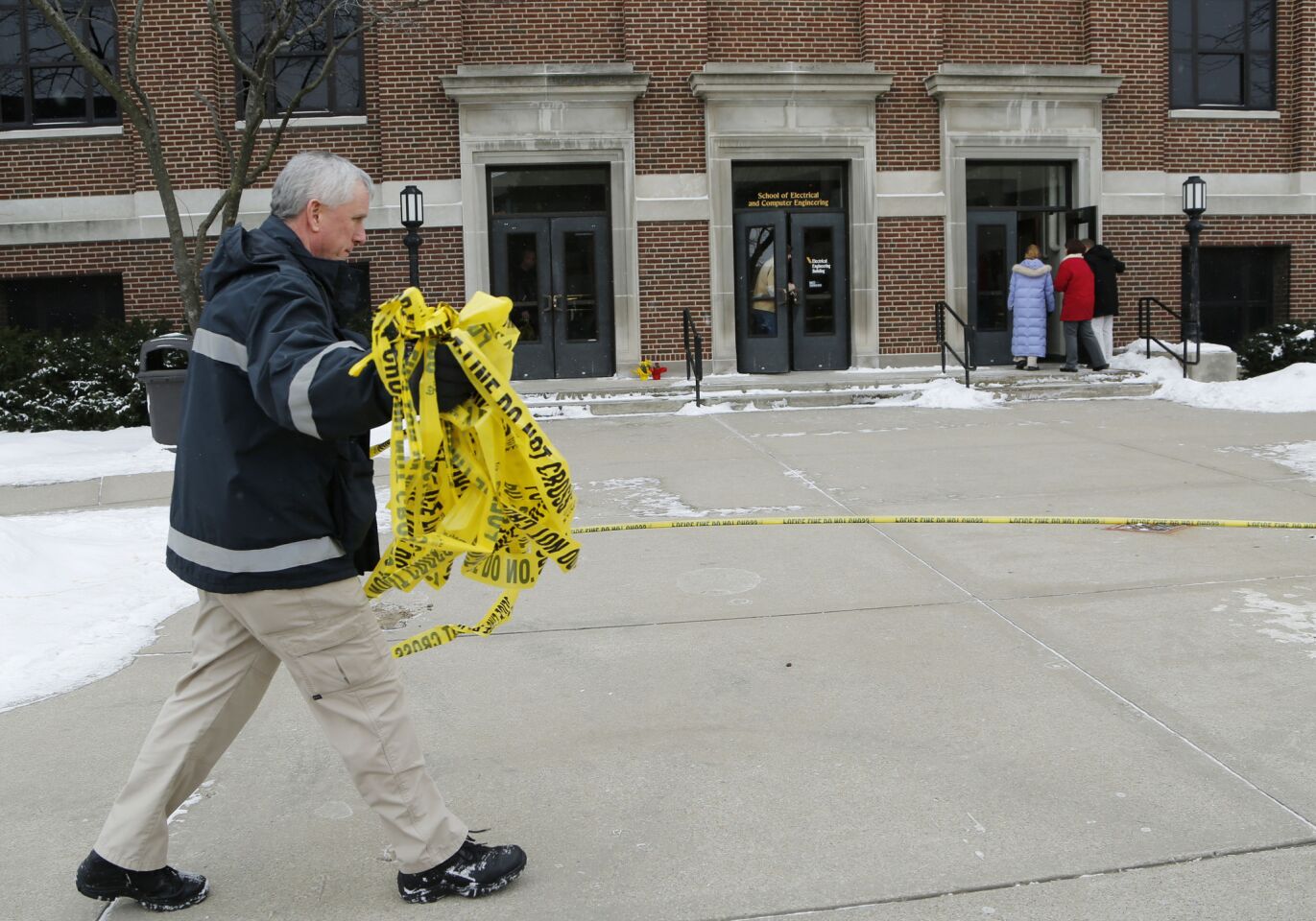 Kevin Luse of the Purdue University Fire Department collects police tape at the electrical engineering building a day after a shooting took place on campus Tuesday.
(John Terhune / Associated Press)
Police officers approach Gould Hall at the University of Oklahoma in Norman, Okla., as the area was closed following reports of gunfire Wednesday. The campus was locked down after a faculty member reported hearing gunshots, but the school's president said it appeared the incident was a false alarm perhaps tied to construction equipment being used nearby.
(Sue Ogrocki / Associated Press)
A student leaves Columbine High School after a lockout was lifted Thursday. The school, where a shooting left 13 people dead in 1999, went on high security alert this week after receiving a series of threatening phone calls, law enforcement said.
(Ed Andrieski / Associated Press)
Every day this week a shooting, lockdown or scare jolted five campuses across the nation.
5) Friday: South Carolina State University was locked down for several hours Friday afternoon after a fatal shooting outside a dormitory left one student dead. Authorities are searching for at least four suspects off campus, University Police Chief Mernard Clarkson told reporters.
4) Thursday: Columbine High School, where 12 students were killed in a 1999 shooting, was placed on "lockout" for several hours as police investigated telephone threats made to the school, in Littleton, Colo.
The lockout, which was lifted several hours later, prevented anyone from entering or leaving the school but classes remained in session.
3) Wednesday: A reported shooting at the University of Oklahoma prompted a campus lockdown, emergency text alerts to students and a police response. Authorities determined there was no sign that shots were fired and no reported injuries in what turned out to be a false alarm.
2) Tuesday: At Purdue University in West Lafayette, Ind., Andrew Boldt, 21, a teaching assistant, was stabbed and shot to death in an engineering building classroom. Cody Cousins, 23, a fellow TA, has been charged with murder in the killing.

1) Monday: At Widener University, a small college near Philadelphia, a student was shot and injured Monday evening near the campus athletic center.
University spokesman Dan Hanson told the Los Angeles Times in an email that "all indications are that this was not a random act of violence."
Over the last year, high schools, middle schools and even elementary schools have been crime scenes. Many students who arrive at college campuses today are familiar with lockdown drills, Times staff writers Molly Hennessy-Fiske and Matt Pearce reported.
Under federal law, police must notify campus communities of possible threats, sometimes before investigators have time to learn whether the threats are credible.
ALSO:
Alert lifted at Columbine High School
What's at issue in Texas battle over brain-dead pregnant woman
25 dead pilot whales found off Florida: 5 things to help understand it
Twitter: @saba_h
---
Must-read stories from the L.A. Times
Get the day's top news with our Today's Headlines newsletter, sent every weekday morning.
You may occasionally receive promotional content from the Los Angeles Times.