Russia launches airstrikes in Syria amid U.S. concern about targets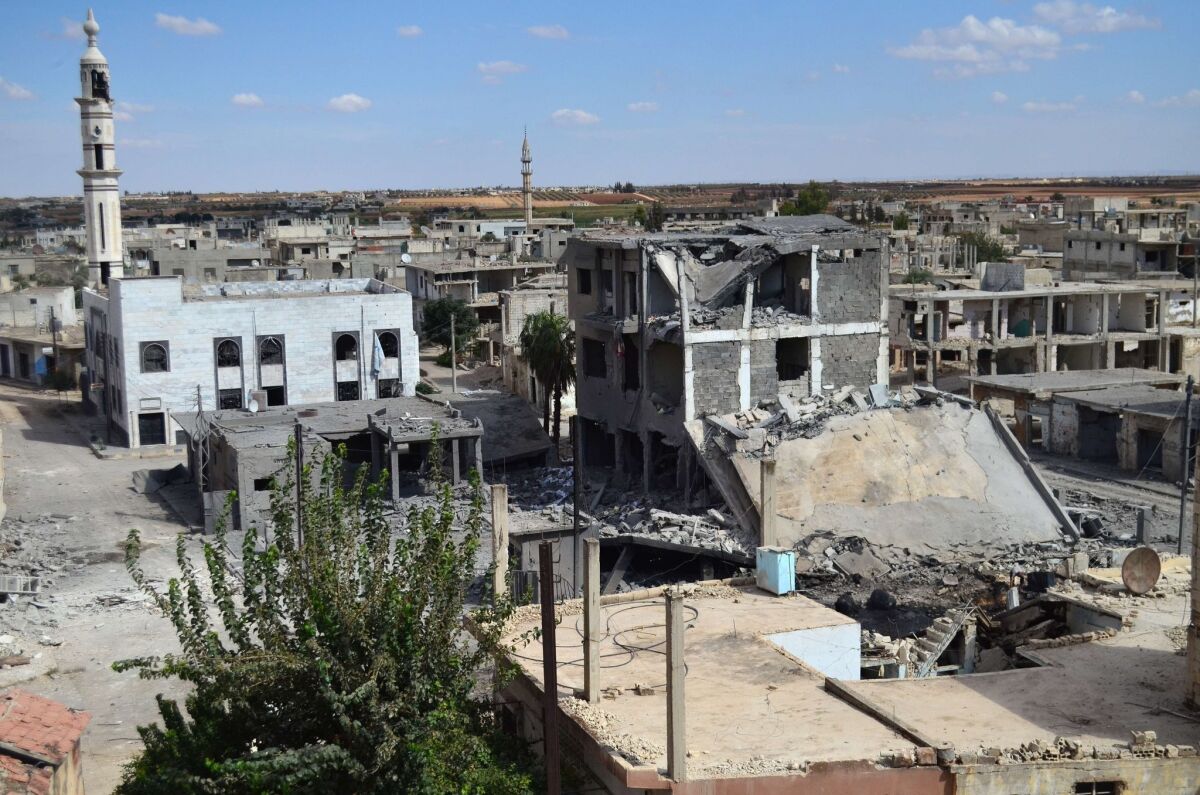 Reporting from Beirut —
Russian warplanes launched their first airstrikes Wednesday against opposition targets in Syria, signaling a new and uncertain turn in the long conflict there.
Russian officials said the attacks in support of President Bashar Assad's government targeted positions of Islamic State, the Al Qaeda breakaway faction that has seized control of vast areas of Syria and neighboring Iraq.
However, Syrian opposition activists said the areas hit were in the hands of other rebel factions, including some fighting under the banner of the Free Syrian Army, a loose grouping that has received aid from Washington and its allies in the Persian Gulf and Turkey.
Rebel-held pockets north of the city of Homs struck by the Russian warplanes are also reportedly strongholds for a number of hard-line Islamist militias, including Al Nusra Front, the official Al Qaeda affiliate in Syria, and Ahrar al Sham, which also has Al Qaeda connections.
In New York, Secretary of State John F. Kerry said Washington would not object to Russian action targeting Islamic State or Al Qaeda-linked factions. But Washington would have "grave concerns," Kerry said, if the Russian strikes were aimed at other opposition groups.
The aerial strikes represent the latest effort by the Kremlin to flex its muscles on the global geopolitical stage. Syria is Moscow's chief Arab ally in the Middle East.
In a televised address, Russian President Vladimir Putin said that his forces were supporting the Syrian military "in its legitimate fight with terrorist groups."
The Syrian government routinely refers to all its armed opponents as "terrorists." Washington maintains that moderate rebels with a democratic agenda are among the insurgents fighting to topple Assad, though extremists now dominate opposition forces.
Syrian state media reported that Russian military planes, operating in cooperation with the Syrian air force, attacked seven areas housing Islamic State "dens" north of Homs, "achieving direct hits and inflicting heavy losses upon the terrorist organization."
Pro-government media indicated that the targets included opposition-held bastions in Homs, Hama and Latakia provinces, suggesting a renewed effort to destroy rebels dug in close to loyalist strongholds in strategic western and central Syria.
U.S. officials described the Russian offensive less as an onslaught against Islamic State than an effort to shore up the faltering defenses of Assad, a longtime ally whose forces are thinly stretched.
"We are seeing the Russians ramp up their support for President Assad," White House Press Secretary Josh Earnest told reporters in Washington. "It's clear they've made a significant military investment now in further propping him up."
Russian officials say they are keen to prevent any more Libya- or Iraq-type scenarios in which secular Arab strongmen are deposed via Western-led intervention and the result is chaos and the creation of breeding grounds for terrorism.
More than 2,000 Russian citizens are reported to have joined Islamic State in Syria. Russian officials have voiced fears that some could return home to spearhead attacks and spur militant recruitment in the Caucasus and elsewhere.
Putin has called for a broad international coalition to fight Islamic State, including the participation of the United States and other Western countries already waging airstrikes against the militants. The Kremlin leader has insisted, however, that Assad be involved in the anti-terrorism campaign and that any foreign interventions be subject to the approval of the Syrian leader, whom he has described as a bulwark against terrorism.
The Obama administration insists Assad must leave office, though the White House says he could remain for an undetermined period of "managed transition." The question of Assad's fate has been an obstacle in previous diplomatic efforts to solve the Syrian crisis.
An hour before the strikes began Wednesday, a three-star Russian general arrived at the U.S. Embassy in Baghdad to advise officials that Russian warplanes would begin launching attacks in Syria, said a U.S. defense official who was not authorized to speak publicly on the matter.
Russia requested that U.S. aircraft avoid Syrian airspace during the missions, according to John Kirby, a U.S. State Department spokesman.
A U.S.-led coalition has been carrying out airstrikes against Islamic State targets in Syria and Iraq for more than a year. But the U.S.-led effort has not coordinated with the forces of Assad. The Obama administration and its allies have called on the Syrian leader to step down and have aided various armed groups seeking his overthrow.
But Putin made it clear in an address before the United Nations in New York this week that Moscow's aim is to assist Assad's beleaguered government and army, which is facing manpower shortages in the punishing conflict that began in 2011.
U.S. counter-terrorism officials are concerned that Russia's airstrikes in Syria will unify militant groups there as well as energize Islamic State's recruitment in the Caucasus, North Africa and the Middle East, causing militants to temporarily set aside their differences to fight together against the Assad government and its Russian backer.
Intelligence analysts have already seen Islamic State include not just Russian-language content in recruitment videos and pamphlets, but also imagery from Russia's brutal wars in Afghanistan and Chechnya to further draw Russian-speaking Muslims to join the fight. Many modern terrorist groups trace their roots to the battles against the former Soviet Union in Afghanistan.
"There's no doubt extremists will look to amplify their recruiting pitches to would-be foreign fighters by capitalizing on Russia's expanded role in Syria," a U.S. counter-terrorism official said, speaking on condition of anonymity in discussing internal assessments. "Depending on the scope of Moscow's actions in Syria, it could also help energize jihadi efforts both inside and outside Syria."
Despite or perhaps because of such concerns, Russian officials insisted Wednesday that their airstrikes hit Islamic militants.
The Russian strikes targeted Islamic State military equipment, communication centers, vehicles, weapons and fuel depots, a military spokesman in Moscow said.
The airstrikes came two days after Putin and President Obama met in New York about coordinating military efforts against Islamic State. Officials at the Pentagon view Russia's decision to carry out the strikes as a rebuke to those talks.
"It bypasses every bit of legitimate discussion we've had so far," said an official who was not authorized to speak publicly on the matter. "We were in the process of working out the particulars of the agreement."
A pro-opposition monitoring group, the Syrian Observatory for Human Rights, reported Wednesday that at least 27 people had been killed, including five women and six children, in airstrikes in the opposition-held towns of Rastan and Talbiseh, as well as in the village of Zafaraaneh, all north of Homs. But the group did not specify whether Syrian or Russian warplanes had struck the area. Syria's air force routinely strikes rebel-held areas.
The U.S. military was aware of reports of civilian casualties as a result of the Russian attacks but had not been able to confirm them because there are limited aerial surveillance assets in the city, officials said.
On social media, pro-opposition Syrian activists were quickly denouncing the "Russian invasion" and condemning Moscow's support of Assad.
Syrian state media reported Wednesday that Russia's stepped-up military involvement "came at the request of the Syrian government."
And Russian authorities have described their military efforts in Syria as a response to an official invitation from Assad's government for assistance. Moscow says this is in contrast to the "illegal" U.S.-led air campaign in Syria, which was undertaken absent a request or permission from the Syrian government and which, in the view of Moscow and Damascus, violates Syrian sovereignty.
Earlier Wednesday, Putin asked for and received parliamentary approval to use Russian armed forces in Syria in the fight against Islamic State, the Kremlin's chief of staff told journalists.
"The operation's military goal is exclusively air support of the Syrian armed forces in their fight against ISIL," Sergei Ivanov said, according to the Tass news agency, referring to the Islamist extremist group by a common acronym.
Russia deployed warplanes, helicopters, tanks and naval forces to western Syria in recent weeks in a move that Western leaders feared might signal the Kremlin's intent to deploy forces to protect Assad's government.
However, Putin told the U.N. General Assembly on Monday that Russia has ruled out the use of ground forces in Syria and was gearing up for action against the extremists.
Times staff writer McDonnell and special correspondent Bulos reported from Beirut and staff writer Hennigan from Washington. Staff writers Carol J. Williams in Moscow, Brian Bennett in Washington and Paul Richter at the United Nations contributed to this report.
Follow McDonnell on Twitter at @mcdneville for the latest news out of the Middle East
MORE WORLD COVERAGE
Editorial: Why the U.S. needs to dance with the Russian bear in Syria
Obama and Putin confront a common foe in Syria as reluctant allies
Russian analysts cast Putin as rescuing Syria from Western bungling
Must-read stories from the L.A. Times
Get the day's top news with our Today's Headlines newsletter, sent every weekday morning.
You may occasionally receive promotional content from the Los Angeles Times.