House Republicans are torn over who should be speaker, and few want the job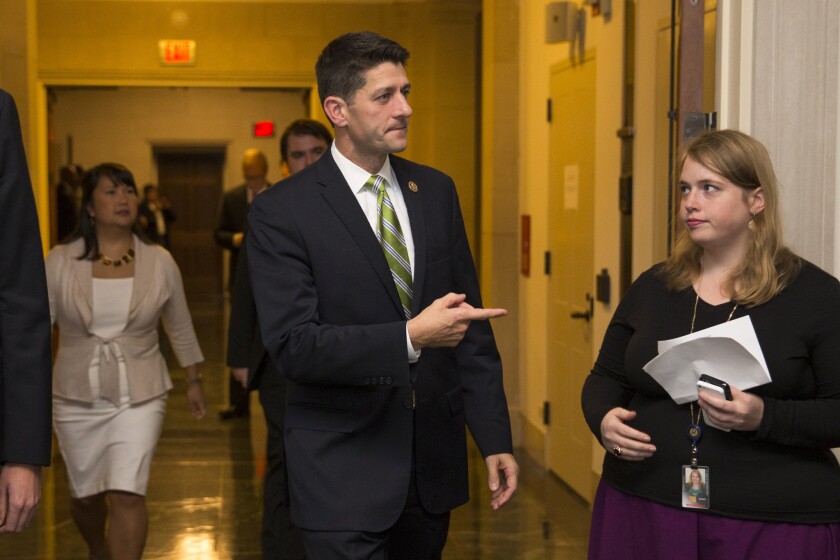 Reporting from Washington —
Speaker of the House of Representatives may be second in line to the presidency, but it has become one of the least attractive perches of power in Washington.
The shock of House Majority Leader Kevin McCarthy's withdrawal from the speaker's election Thursday has wrought even more chaos for a body already plagued by dysfunction. As lawmakers searched for viable replacements, there was little consensus about who should step into the leadership role. Fewer still would admit to wanting the job.
"It's not on my to-do list," said Rep. Marsha Blackburn, a Tennessee Republican.
"It's a thankless task," said Rep. Joe L. Barton, a Texas Republican. "It's a killer."
The fight to replace Speaker John A. Boehner of Ohio demonstrated why the forces that prompted him to announce his retirement two weeks ago have not subsided. In fact, the Republican rebels who hounded Boehner's speakership, believing he was too timid in confronting the White House, have only grown bolder. McCarthy said he was simply unable to unite the party.
NEWSLETTER: Get the day's top headlines from Times Editor Davan Maharaj >>
Many lawmakers said they believed more candidates would emerge, but so far there are only two in the race: Reps. Daniel Webster of Florida and Jason Chaffetz of Utah. Neither has thus far amassed majority support, and both appear to be long shots. Boehner, who had planned to step down Oct. 30, said he would remain in the job until a replacement is found.
Faced with a leadership vacuum, some Republicans are hoping to recruit Rep. Paul D. Ryan of Wisconsin, the former GOP vice presidential candidate, and Boehner and Ryan spoke on Thursday. But Ryan has repeatedly said he is not interested.
"Kevin McCarthy is the best person to lead the House, and so I'm disappointed in this decision," Ryan said in a statement. "While I am grateful for the encouragement I've received, I will not be a candidate."
Leaders of the influential House Freedom Caucus, a conservative bloc that opposed McCarthy and helped force out Boehner, said they would regroup to assess their options. Many members said that they would not necessarily stick with Wednesday's endorsement of Webster and that all options are open as they try to choose a leader.
More moderate Republicans, though, said it was time for deep soul-searching in the GOP to decide whether the party wants to continue allowing a minority of its most conservative members to have such power.
Rep. Charlie Dent of Pennsylvania, who was backing McCarthy, said he warned fellow Republicans that "those who wanted to take down John Boehner will frag the next guy, and that's what we saw just happened.... I'm not going to support anyone running for speaker who is going to appease the rejectionist wing of this party."
The next speaker's challenge will be "simply to unite a divided Republican caucus," White House Press Secretary Josh Earnest said. Someone will have to step forward to either "tame the forces of that small but vocal group of extreme ideologues or buck up the mainstream, or at least more mainstream, majority within the House Republican conference," he said.
House Republicans have a robust majority, but the divisions fracture them into camps that are often at odds. One side wants to show the GOP can govern by working with Democrats to pass big-ticket items, such as an immigration overhaul. The other believes that by fighting they can undo some of President Obama's policies.
The divide has played out repeatedly in recent years on items that are normally not very controversial, including a standoff over a farm bill.
Boehner has suffered numerous embarrassments when he has tried to negotiate with the White House over large spending bills, only to see his rank and file kill the deals. The pinnacle came in 2013, when the government partially shut down for more than two weeks because lawmakers could not agree on a bill to fund it.
Some were calling for Boehner's replacement to be an interim leader who could try to stabilize the party on a temporary basis. Others wanted a permanent speaker who could try to move the party ahead more forcefully before the 2016 election.
"An interim will not give us the opportunity to cast that big, bold vision that we need," said Rep. Bill Flores, a Texas Republican. "Interims are caretakers. Caretakers tend to do safe things. The electorate put us here on November of 2014 to take big steps, and we need to find a leader that will help us take those steps."
But some said an interim leader might be the only way to avoid the type of ugly infighting that has afflicted Republican lawmakers for the last five years.
"I just think it's important that we get this behind us," said Rep. Greg Walden of Oregon, who chairs the National Republican Congressional Committee. Walden did not campaign for the job, but said he would consider taking it on a temporary basis.
"We're all trying to absorb what just happened," he said. "I don't think anybody got up this morning and thought Kevin McCarthy was going to withdraw."
Last week Boehner tried to draft Rep. Trey Gowdy, a popular conservative from South Carolina, to run for majority leader, but Gowdy rebuffed the overture. His name could emerge again.
Other Republicans mentioned as potential caretaker candidates, though unlikely, include Rep. John Kline, a retiring Minnesotan, and Rep. Tom Cole, an Oklahoman who is close to Boehner.
The decision has become so fraught that some Republicans, not altogether seriously, have suggested picking someone beyond the House to tame the institution. The constitution does not require the speaker to serve in the House. Former Secretary of State Colin Powell got one vote for the job in January's election, as did Rand Paul, the Kentucky senator.
Whoever takes over will face pressure from multiple factions. Rep. Raul R. Labrador, an Idaho Republican and member of the House Freedom Caucus that helped force out Boehner, signaled that his group would push even harder against the mainstream.
"We have decided that we are better when we are unified," he said.
Many mainstream Republicans are furious with the group's clout and have pledged to fight back.
"We can't have 30 people hijack the party and blackmail the Congress," said Rep. Peter T. King, a New York Republican who has been one of the most vocal opponents of his party's dissident wing. "We can't be surrendering."
King smiled when asked if any sane person would want the job, but was adamant that his party needs to show it can govern.
"This is a serious position," he said. "This is a constitutional office. This is not a political office. This is the No. 2 in line to be president of the United States."
noah.bierman @latimes.com
lisa.mascaro@latimes.com
ALSO:
With new equal-pay act, will Jennifer Lawrence get paid like Bradley Cooper?
'Meet Gavin:' Newsom pitches private Train concert to raise money for 2018 bid
Marco Rubio's childhood in Las Vegas shaped as well as tempered his politics
---
Life is stressful. Our weekly mental wellness newsletter can help.
You may occasionally receive promotional content from the Los Angeles Times.