Eric H. Holder Jr., U.S. attorney general, is stepping down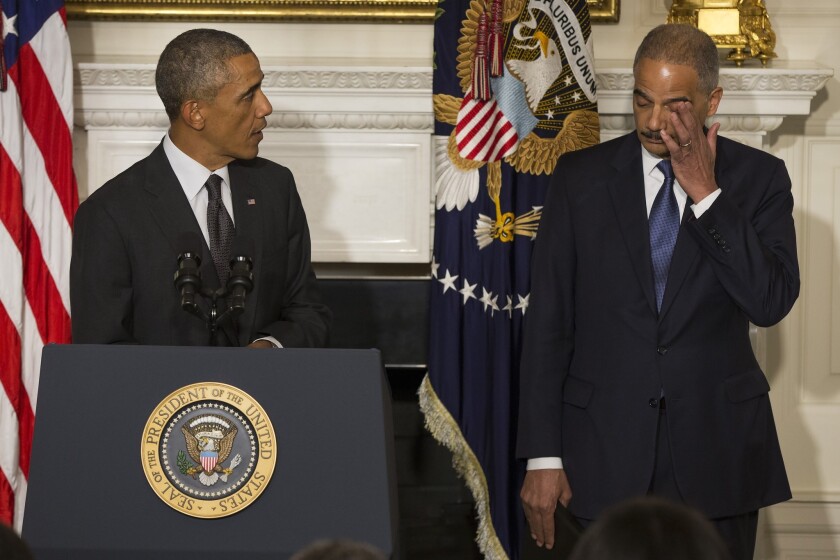 Atty. Gen. Eric H. Holder Jr., the first African American to fill the nation's top law enforcement post, announced Thursday he was stepping down, ending a nearly six-year tenure as one of the Obama administration's most progressive voices and polarizing figures.
Holder, 63, leaves an impressive legacy on civil rights and criminal justice reforms, but one that took shape relatively late in his tumultuous term, which was initially dominated by political battles and a contempt citation from Congress. The former federal prosecutor and close friend of President Obama becomes one of the last original members of the Cabinet to resign.
At an emotional gathering in the White House State Dining Room, Holder, who came of age during the 1960s civil rights struggle, invoked his boyhood hero, former U.S. Atty. Gen. Robert F. Kennedy, and called his time at the Justice Department the "greatest honor of my professional life."
"I hope I have done honor to your legacy, Mr. President," Holder said, choking up while recalling the support of his parents. "I will leave the Department of Justice, but I will never, ever leave the work."
A formal announcement about Holder's replacement is not expected until early next week. Holder has agreed to stay on until a nominee is confirmed.
Names already being tossed around inside the White House and the halls of Congress include Solicitor Gen. Donald Verrilli Jr.; Preet Bharara, the U.S. attorney in New York who handles bank fraud and terrorism cases; Janet Napolitano, former Homeland Security secretary; former White House Counsel Kathryn Ruemmler; Deputy Atty. Gen. James Cole, the No. 2 official in the Justice Department; and Mary Jo White, a former U.S. attorney in New York who now leads the Securities and Exchange Commission.
Two other potential successors, Massachusetts Gov. Deval Patrick and California Atty. Gen. Kamala Harris, said Thursday they had no plans to take the job.
The likely battle over Holder's replacement sets the stage for a partisan power struggle that is likely to extend into the post-election lame-duck session of Congress or beyond. The administration hopes to win a quick confirmation from the Democratic-controlled Senate in the coming months, but some Republicans — who are betting they will seize control of the Senate in the November election — are already calling for the confirmation to be pushed into next year.
Holder, who had hinted for months that he was planning to leave, came to the Justice Department in the winter of 2009 as the 82nd attorney general, a figure well-versed in the difficult, sometimes delicate, task of running a sprawling law enforcement agency after earlier serving as deputy attorney general in the Clinton administration.
He pleased Democrats by reinvigorating the Justice Department's efforts on civil rights, same-sex marriage, voting protections and prosecution of abusive police officers.
"When the history books are written he will absolutely go down as one of the best attorney generals when it comes to civil rights, up there next to [Robert] Kennedy" said Leslie Proll, director of the Washington office of the NAACP Legal Defense and Educational Fund. "It was not only his policies but his talking about race that was important."
Yet Holder also disappointed some progressives who expected more from the nation's first African American attorney general. For much of Obama's first term, Holder was rarely seen or heard, and many thought his leadership style was lacking.
"We've had profound disagreements with the attorney general on national security issues," said ACLU Executive Director Anthony D. Romero, after praising Holder's civil rights record. "During his tenure, DOJ approved the drone killing of an American far away from any battlefield, approved the NSA's mass surveillance programs, failed to prosecute any of the Bush administration torturers, and presided over more leak prosecutions than all previous Justice Departments combined."
But in the last two years he seemed to find a new energy and purpose, mounting investigations into abusive police departments, moving to shorten prison sentences for some drug offenders, and championing civil rights, gay rights and protections for minority voters.
"His dedication to defending Americans' voting rights, at a time when these constitutional rights are under attack, has been supremely important," said Sen. Patrick J. Leahy (D-Vt.), a staunch supporter and chairman of the Senate Judiciary Committee.
Conservatives were united in their animosity toward Holder, almost from the start. In his first major speech, Holder enraged many when he said the U.S. had become a "nation of cowards" for not dealing with lingering racial tensions.
He was pilloried for the scandal involving a failed gun-trafficking operation on the Southwestern border known as Fast and Furious. A Border Patrol agent was killed with one of the weapons, and Holder was found in contempt of Congress for refusing to turn over documents, a first for a sitting Cabinet member.
Holder also stumbled badly by trying to send Khalid Shaikh Mohammed and four other top Sept. 11, 2001, suspects to a federal trial in New York. He was forced to relinquish the case to a military tribunal at Guantanamo Bay, Cuba, when lawmakers opposed prosecuting the group in U.S. civilian court.
Rep. Darrell Issa (R-Vista), chairman of the House Oversight and Government Reform Committee, issued a caustic statement Thursday sounding almost gleeful at Holder's departure, calling him "the most divisive U.S. attorney general in modern history."
But Obama praised Holder for his "deep and abiding fidelity to one of our most cherished ideals as a people, and that is equal justice under the law. ... He believes, as I do, that justice is not just an abstract theory. …That's why I made him America's lawyer, the people's lawyer."
Holder's departure will leave Obama without one of his closest personal friends in the Cabinet. But Holder also served as a sort of alter ego for Obama, particularly on racial issues, tackling thorny subjects that Obama, as president, could not or would not, and occasionally absorbing the backlash.
Holder was at times more out front on traditional African American issues than the president. While Obama waded in cautiously and tended not to align himself with the issues that had defined previous black politicians, Holder blamed harsh sentencing guidelines for the disproportionate incarceration of young black men and challenged state voting laws viewed as restrictive to minorities.
The contrast was sharpest after the Aug. 9 shooting of Michael Brown in Ferguson, Mo. While Obama's initial reaction was somewhat cautious and reserved, Holder visited the hometown of the young African American killed by a white police officer and launched a civil rights investigation into the case, easing public anger by recalling his personal experiences with racial discrimination.
If Republicans win the Senate majority in November, Democrats will want to swiftly approve a new attorney general as well as dozens of Obama's picks for judges and administrative posts in the final weeks of the year before relinquishing control of the chamber in January.
That will certainly be met with protests by Republicans, especially after Democrats changed historic Senate rules this session to allow a simple majority for confirmation of some nominees, taking away the filibuster-stopping power of the minority. Democrats have a 55-seat majority, including two independents.
But even with Republican opposition, the Democratic-controlled Senate could theoretically push through a nominee in as few as four weeks, about half the time previous confirmations for attorney generals have taken.
A moderate choice by the White House could offer some cushion against the need for a quick confirmation before the new Congress takes office, regardless of which party controls the Senate.
Some Republicans already want to delay a vote until the new Senate is in place.
"The Senate should wait," said Sen. Ted Cruz of Texas, one of the Senate's most conservative Republicans. "Allowing Democratic senators, many of whom will likely have just been defeated at the polls, to confirm Holder's successor would be an abuse of power that should not be countenanced."
Christi Parsons in the Washington bureau and Kathleen Hennessey in New York contributed to this report.
---
Get our Essential Politics newsletter
The latest news, analysis and insights from our politics teams from Sacramento to D.C.
You may occasionally receive promotional content from the Los Angeles Times.