Washington voters OK strict background checks for gun purchases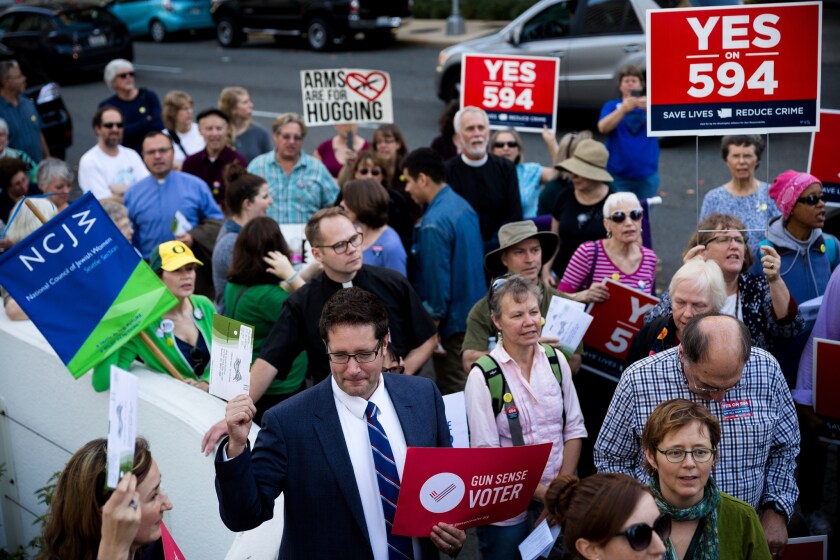 Just weeks after a fatal high school shooting north of Seattle, voters in Washington state on Tuesday were set to approve a measure that would establish one of the nation's toughest background checks for gun purchases.
Initiative 594 was winning handily, supported by more than 60% of voters in nine of the state's 10 largest counties. The initiative requires universal background checks for gun sales and firearms transfers, even as loans or gifts.
The extended background checks would apply to purchases made online and at gun shows. Such checks are now required only when buying from licensed dealers.
"The bottom line is this law will save lives. Washingtonians should sleep better tonight knowing that their state will be a safer place thanks to expanded Brady background checks," said Dan Gross, president of the Brady Campaign to Prevent Gun Violence, which supported the initiative.
Initiative 591, a competing measure that was sponsored by gun rights groups and would have barred an expansion of background checks that go beyond federal standards, was losing statewide in Tuesday's returns, with 56% of voters rejecting it.
Both initiatives pitted gun control advocates -- who pointed to the fatal high school shooting -- against gun rights groups that battled against what they called an statewide erosion of a basic right to bear arms.
Washington was the only state with gun measures on the ballot Tuesday, garnering national attention. The battle proved emotional and expensive.
Billionaire Bill Gates publicly supported stricter gun laws. The campaign drew visits from former Arizona Rep. Gabrielle Giffords, a victim of gun violence.
Former New York Mayor Michael R. Bloomberg's gun violence prevention group joined the effort, while the pro-gun legislation was backed by the National Rifle Assn.
Opinion polls before the election suggested that a majority of voters favored background checks on all firearms sales. The campaign was launched in the wake of an elementary school shooting in Newtown, Conn., two years ago, in which 20 children and six adults were killed; and an attack by a gunman in a theater in Aurora, Colo., in which 12 were killed and dozens wounded.
Gun violence came even closer to home last month when student Jaylen Fryberg took a gun into the Marysville-Pilchuck school cafeteria north of Seattle, killing two classmates and himself.
Seattle Mayor Ed Murray called Tuesday's s vote "a significant commitment to gun safety for all."
"States with universal background checks have fewer women killed in domestic violence situations, fewer law enforcement officers shot and fewer firearm suicides," he said. "As the first state to pass this by popular vote, Washington has sent a message of hope to other states that progress is possible. We can act to prevent gun violence. We can save lives."
Follow @jglionna for national news.
---
Get our Essential Politics newsletter
The latest news, analysis and insights from our politics teams from Sacramento to D.C.
You may occasionally receive promotional content from the Los Angeles Times.