Obamacare meeting goal of reducing number of uninsured, data indicate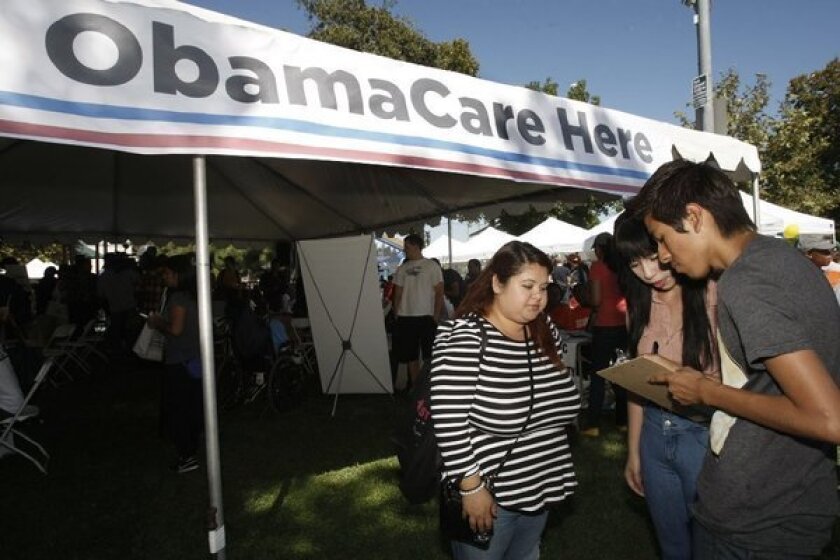 WASHINGTON -- Evidence has begun to resolve one of the odder controversies surrounding Obamacare: The new law appears to be achieving its top goal of reducing the number of Americans who lack health insurance.
The dispute over that question is a strange one because the answer would seem to be fairly obvious: Under the Affordable Care Act, the government will spend hundreds of millions of dollars to subsidize families who decide to buy insurance, a product that the vast majority of Americans value highly. Basic economics would seem to say that those subsidies would have to increase the number of people buying insurance.
But some of the law's most outspoken critics have insisted that's not the case. The vast majority of people buying insurance under Obamacare, they have said, are consumers who already had policies, including many whose previous policies were not renewed because they did not comply with the law's new consumer protections. With definitive data from the U.S. census still far off, partisans have spun large theories from small snippets of information.
Initial data suggested that many who signed up in December already had insurance. Many analysts had predicted that the initial group of people who enrolled in the law's new coverage would be weighted toward consumers with significant medical problems, because those were the people with the greatest incentive to move quickly to get coverage. They would also have had reasons to try to have insurance already, although the new law will significantly increase availability of coverage and cut costs for them.
The question has been: What happens next? As the number of people enrolling under Obamacare goes up, would the percentage of Americans who lack insurance go down?
Two new sets of data indicate that is now happening:
Gallup, which surveyed about 28,000 Americans concerning their health insurance from Jan. 2 to Feb. 28, found that the percentage who say they lack any form of insurance has dropped significantly, from 18% of the U.S. adult population to 15.9%. That would translate to between 4 and 5 million fewer people without insurance.
The huge size of Gallup's sample allows for more precise measurements than the sample of 1,000 to 1,500 used in typical polls.
The survey cannot definitively say that the new law caused the change, but the decline started in the last three months of last year, just as the law took effect, and followed a fairly steady rise that began with the financial crisis late in 2008. The drop was greatest among the group targeted by the new law: families and individuals with household incomes below $36,000 a year, among whom the share lacking insurance has dropped by 2.8 percentage points.
As the unemployment rate has dropped, some people may have gained coverage at work, but Gallup's numbers indicate that employer coverage has ticked downward by about 2 percentage points. Increases have come in the share of Americans buying their own insurance and the share covered by Medicaid, which the new law expanded. Those trends are all consistent with what the new law was expected to do.
The other new piece of data comes from the McKinsey Co., which has conducted four surveys of people who are eligible to sign up for insurance under Obamacare. McKinsey found that 27% of those who signed up on the law's new marketplaces in February were previously uninsured, up from 11% in its earlier surveys.
As the company's analysts noted, the survey can answer only part of the question about how the number of people without insurance has changed. That's because no one yet has good data on how many people have bought coverage directly from insurance companies, rather than from an exchange. People who earn too much to be eligible for government subsidies would be particularly likely to buy directly from an insurer.
With the deadline for enrollment now just over three weeks away, the trends that the Gallup and McKinsey surveys point toward likely will accelerate. The experience of Massachusetts, when it rolled out its statewide insurance plan under then-Gov. Mitt Romney, suggests that a lot of people will wait until the deadline to sign up.
In the meantime, the surveys point to two continued weaknesses for the law's supporters. Gallup's numbers show that Latinos continue to lag behind blacks and non-Latino whites in signing up for coverage, and McKinsey's survey found that more than one-quarter of those who had not yet enrolled for coverage were eligible for subsidies and didn't know it.
Twitter: @DavidLauter
---
Get our Essential Politics newsletter
The latest news, analysis and insights from our politics teams from Sacramento to D.C.
You may occasionally receive promotional content from the Los Angeles Times.