13 Images
Troops Move, Chaos Grows
Jean Khoury and daughter Alya, 2, of Atlanta, pass Lebanese security agents on their way to the Orient Queen cruise ship as they evacuate from war-torn Beirut today. Governments are stepping up the evacuation of their citizens from Lebanon, with many destined for Cyprus.
(Robert Gauthier / LAT)
Joumana Safa and her daughter, Melody, of Acworth, Ga., look out at Beirut's war-tattered skyline from the deck of the Orient Queen.
(Robert Gauthier / LAT)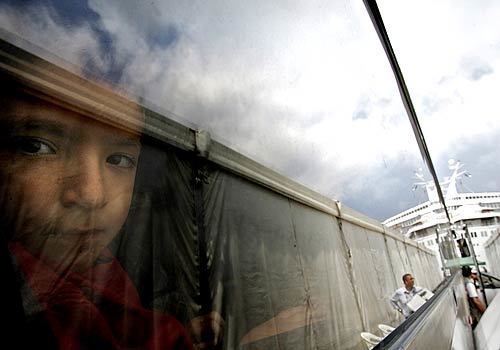 A bus full of families fleeing Beirut waits outside the port terminal.
(Robert Gauthier / LAT)
The amphibious assault ship USS Iwo Jima (front) conducts an underway replenishment with USNS Big Horn at an unspecified location at sea today. Iwo Jima will assist in the evacuation of U.S. citizens from Lebanon.
(Bradley Dawson / US Navy / Getty Images)
German nationals gather to put their names on a waitng list to flee Lebanon on boats charted by Western countries. Thousands of evacuees from the warfare in Lebanon poured into Cyprus today on the first leg of their journey home, while thousands more wait their turn to be taken to safety.
(Hasan Ibrahim / AFP / Getty Images)
Israeli soldiers advance toward southern Lebanon near the northern Israeli village of Avivim. Fierce firefights between Israeli ground troops and Hezbollah militants erupted Wednesday along Lebanon's southwestern border with Israel, leaving two Israeli soldiers dead, the Israeli army said.
(Yaron Kaminsky / AP)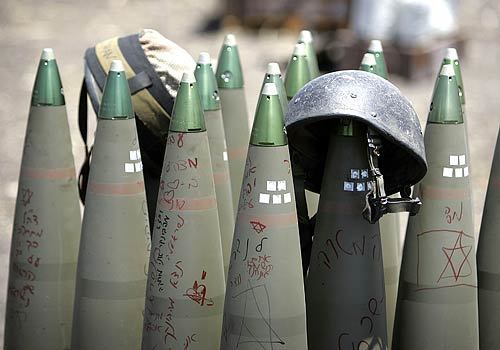 Artillery shells with messages written on them by Israeli soldiers wait to be fired from 155 mm artillery guns. Israeli warplanes carried out a seventh day of air strikes while ground troups pounded Hezbollah targets in South Lebanon from a forward base on the outskirts of the northern Israeli town of Kiryat Shemona.
(Christopher Furlong / Getty Images)
Cypriots fleeing the war in Lebanon argue with a Greek marine commando as they rushed to board a Greek navy boat yesterday at a port in Beirut. At least 55 civilians were killed as Israeli jets and gunboats pummelled towns and villages across Lebanon and tens of thousands of people fled a conflict that both sides defiantly warned would have no limit.
(Patrick Baz / AFP / Getty Images)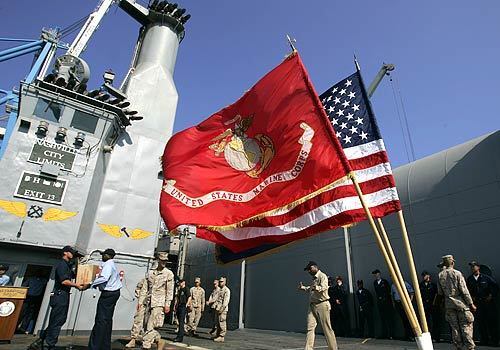 Flags fly on the USS Nashville, docked in Lemesos, Cyprus, as U.S. Marines prepare ahead of a mission to Lebanon to bring back evacuees today.
(Kirsty Wigglesworth / AP)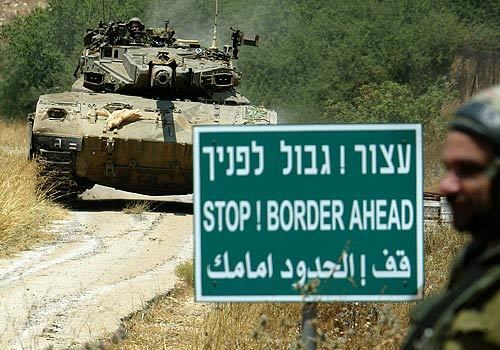 An Israeli tank makes his way back from southern Lebanon to near the northern Israeli village of Avivim today. Israeli troops and Hezbollah militants exchanged heavy gunfire on the Lebanese side of the border and Israelis have been injured, security officials said.
(Meir Azulay / AP)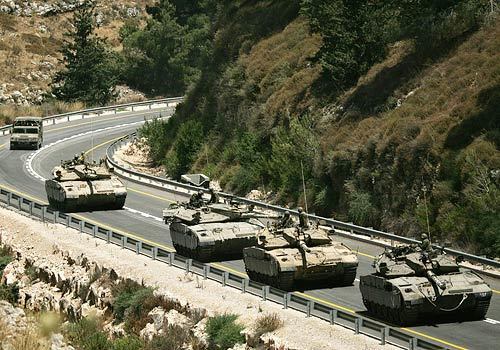 A convoy of Israeli tanks prepares to enter southern Lebanon near the northern Israeli village of Avivim.
(Ariel Schalit / AP)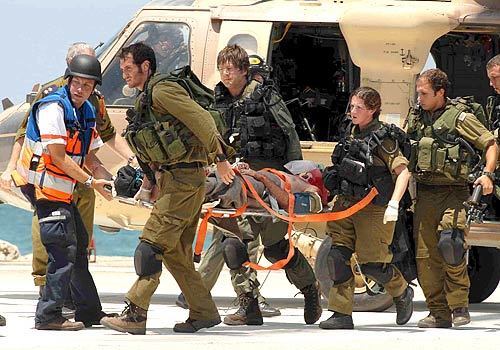 An injured Israeli soldier is rushed to the Rambam hospital in the northern port city of Haifa after Israeli troops clashed with Hezbollah guerrillas today.
(Doron Golanjini / EPA)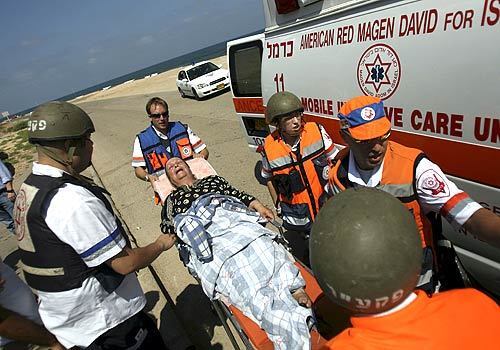 An Israeli woman is carried away by paramedics after a Hezbollah missile strike today in Haifa, Israel. Haifa was struck again by rockets fired from Lebanon, causing several minor injuries, witnesses and medics said. At least 13 Israeli civilians have been killed by Hezbollah rocket attacks in the recent conflict.
(Uriel Sinai / Getty Images)