Microsoft beefs up in battle with Google over search engine market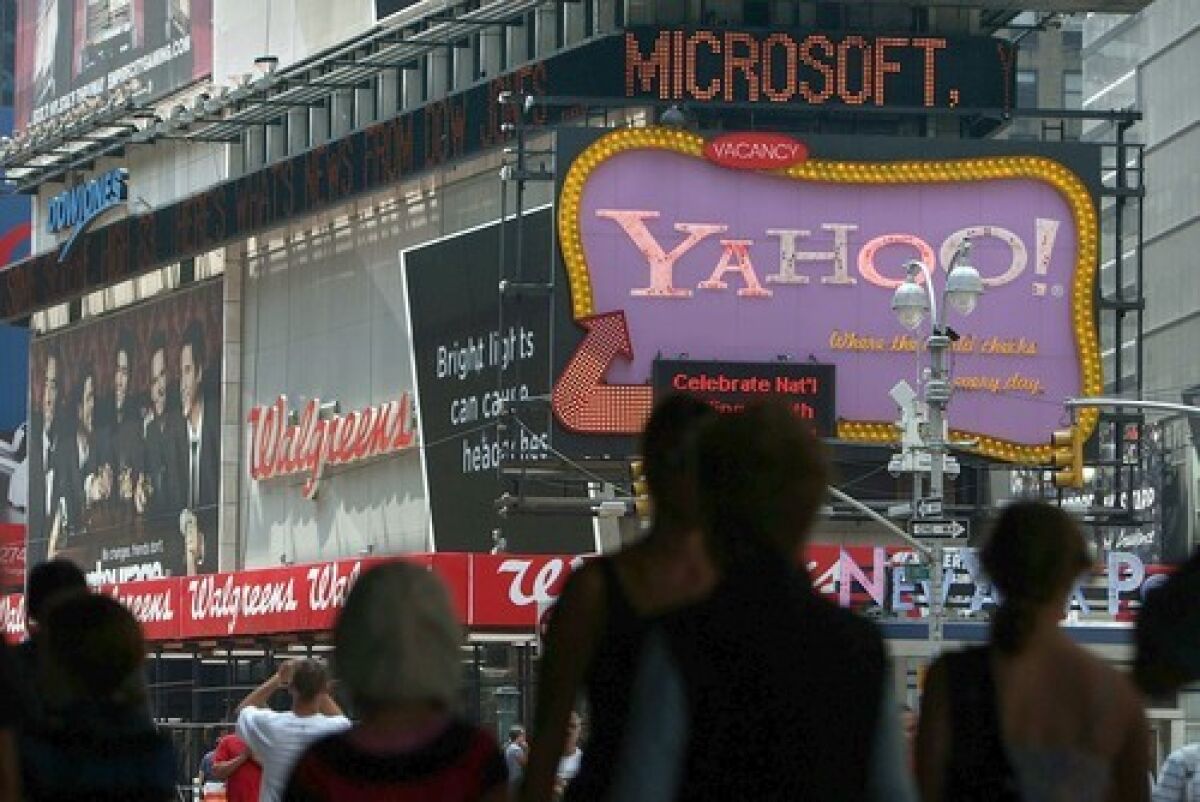 Reporting from Washington and Los Angeles —
After a decade of skirmishes among dozens of Internet search services, only two major players may be left standing on the battlefield: the world's largest search engine, Google Inc., and its newly powerful rival, Microsoft Corp.
The software giant said Wednesday that it was joining forces with Yahoo Inc. to battle Google. The Microsoft-Yahoo alliance faces intense regulatory scrutiny, but should the blockbuster pact go through, "search" will no longer be one of Yahoo's keywords. The Sunnyvale, Calif., company said it was ready to give up on its search engine and take its place alongside forgotten names that once defined the nascent industry: Alta Vista, Excite, HotBot and Lycos.
Instead of using its own search engine, Yahoo's massive network of Web pages would feature Microsoft's Bing, more than tripling Microsoft's reach. That would instantly give the Redmond, Wash., company almost a third of the search engine market, an expansion that could send shock waves through the industry. Two-thirds of Internet search queries in the U.S. are made through Google's dominant engine, according to Web ratings firm ComScore.
"Tectonic would be a good word," said Tim Cadogan, chief executive of OpenX, an online advertising company in Pasadena and former senior Yahoo executive who oversaw the company's search efforts. "It creates a viable competitive force in the search landscape to be able to compete with Google."
But antitrust regulators typically have rejected deals that reduce three major market players to only two. The 10-year agreement would not take effect until antitrust approval was granted, an outcome that executives from the companies said they hoped to get by early next year.
The deal requires approval not only by Washington officials but, most likely, by European regulators as well. Winning those approvals could be difficult, said David Balto, a senior fellow at the Center for American Progress think tank and former federal antitrust official.
"You've got three significant rivals in search, and I think allowing two of them to combine raises serious antitrust questions," Balto said. "Competition is typically improved by having more competitors, not fewer."
The Justice Department is expected to be the agency that reviews the deal, given its deep familiarity with Microsoft because of the government's antitrust case in the 1990s. The department's new antitrust chief, Christine Varney, has vowed to be tougher on mergers and attempts to stifle competition.
A Justice Department spokeswoman said Wednesday that the agency was aware of the pact but would not comment further.
Yahoo and Microsoft said they welcomed scrutiny from regulators and argued that the creation of a rival to Google would stimulate competition.
"This partnership actually increases choice," said Yusuf Mehdi, senior vice president of Microsoft's online audience business group. "It goes from effectively having only one provider of search . . . to now two, because we now have a credible alternative."
Under the agreement, Yahoo would receive 88% of the advertising revenue generated by Bing searches conducted on its websites, an income stream that the company said could amount to about $500 million in annual operating profit. Yahoo also said it could save about $200 million annually from jettisoning its proprietary search business.
Although Hilary Schneider, executive vice president of Yahoo's North America division, declined to say how many Yahoo employees in Burbank and Santa Monica would be affected by the deal, she said some workers in its search business would "need to look for other jobs either within Yahoo or elsewhere."
As of June 30, Yahoo counted 13,000 employees worldwide. It would not break down the number of employees in Burbank who work on Yahoo's search advertising business. Santa Monica houses some of Yahoo's media content operations, including its news, sports, games and entertainment divisions.
Meanwhile, Microsoft said the deal would bolster its newly unveiled Bing search engine, which has had favorable reviews but has been slow to catch on. As part of the deal, Microsoft would have access to Yahoo's storehouse of search technology, and could pick and choose which elements to add to Bing -- including potentially inheriting some of Yahoo's search experts. But some analysts questioned whether the Yahoo elements would boost the attractiveness of Microsoft's offering.
"They've already got a good search engine," said Danny Sullivan, editor in chief of SearchEngineLand.com. "Yahoo's search technology clearly isn't a giant leap forward over Google. Otherwise Yahoo would have more people searching on it."
Investors and analysts tended to agree that Yahoo may have received less-than-stellar terms on the deal.
Some were expecting Yahoo to receive between $1 billion and $2 billion in upfront payments from Microsoft, according to Todd Greenwald, an analyst with Signal Hill, but no such payment materialized.
"There's a feeling that they mortgaged their future and didn't get that much for it," Greenwald said. "We just won't know for three years whether this was really the right move."
Investors were skeptical, and Yahoo shares fell more than 12%, dropping $2.08 to $15.14. Microsoft shares, on the other hand, edged up slightly, gaining 33 cents to $23.80.
"The benefits from the deal take an awful lot longer than most people would have thought," said Larry Haverty, a portfolio manager at Gabelli Funds, which owns Yahoo shares. "It's not a game changer. It didn't match the anticipatory rhetoric from either company."
Last year Microsoft attempted to buy Yahoo for more than $45 billion, an unsolicited bid that Yahoo rejected. But the software firm has long had Yahoo's search business at the top of its wish list, and the two have been in discussions for more than a year.
The two companies are planning to yoke their fates in an effort to steal some of Google's 65% share of the search advertising pie, a market worth nearly $12 billion in the U.S. alone, according to research firm eMarketer.
"I think that it's a strategic mistake for Yahoo," said Karsten Weide, an analyst at IDC. "If Microsoft should fail to keep up with Google in terms of search quality, then Yahoo's ship will sink along with Microsoft."
Google said in a statement that it was "interested to learn more about the deal."
"There has traditionally been a lot of competition online, and our experience is that competition brings about great things for users," the Mountain View, Calif., company said.
If Microsoft and Yahoo complete their deal, the two companies will have to spend considerable time figuring out how to unite two complicated operations, and consumers may not immediately see a huge difference in the way their search engines operate.
But the consolidation could create opportunities for innovative start-ups in the Internet search engine business, Sullivan said. "If there's only two major players, it's easy for the smaller ones to get visibility."
Times staff writer Alex Pham contributed to this report.
---
The stories shaping California
Get up to speed with our Essential California newsletter, sent six days a week.
You may occasionally receive promotional content from the Los Angeles Times.