Underdog Edwards says he won't give up the fight for the White House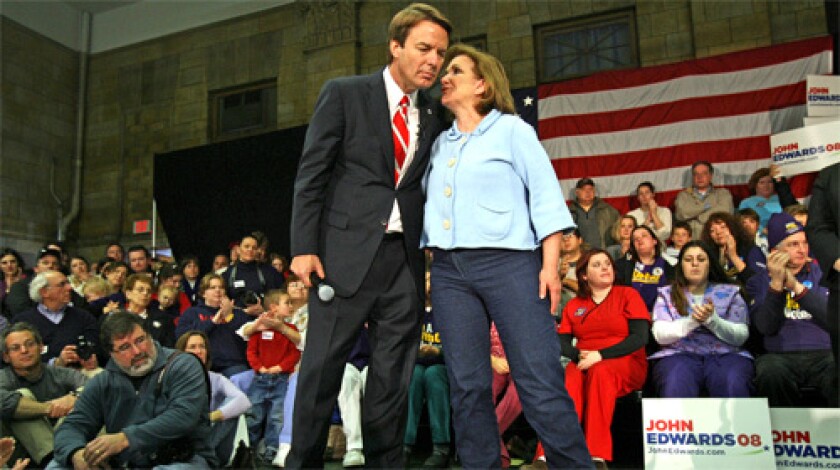 Los Angeles Times Staff Writers
MANCHESTER, N.H. —
John Edwards launched a new television spot and a final, marathon bus tour through this state Sunday, acknowledging he was the underdog but insisting he would not give up a Democratic presidential contest that increasingly centered on Barack Obama and Hillary Rodham Clinton.
The former senator from North Carolina sought to bring added emotional wallop to his message before Tuesday's primary by campaigning with the family of a Northridge teenager who died after her insurance company delayed approval for a liver transplant.
But some observers predicted Edwards would have a difficult time remaining competitive against two better-financed opponents, an opinion that seemed to gain credence Sunday evening when a poll showed Edwards losing ground slightly.
Nevertheless, Edwards pledged to fight on, launching his 36-hour "Marathon for the Middle Class" bus tour in Manchester and saying that he and his wife, Elizabeth, planned to keep telling the stories of middle-class families fighting against what they called "powerful entrenched interests."
The newest participants in the Edwards campaign were the Sarkisyans of the San Fernando Valley, whose 17-year-old daughter, Nataline, died just before Christmas of complications from leukemia. After much debate, the family's insurance company had approved a liver transplant, but she died hours later.
"When I talk about what insurance companies and drug companies are doing to America, this is what I mean," Edwards said to a crowd of about 500 in Manchester, where some were moved to tears by the family's story. "This has real effects on real people's lives."
Grigor Sarkisyan told the audience how he had promised to buy his daughter a white car after she got out of the hospital, but had to buy a white coffin instead. He said he thought he had done everything he was supposed to as a father: working hard, supporting his family and buying health insurance he thought would take care of them if they got sick.
His wife, Hilda Sarkisyan, had heard Edwards' speech Thursday after his second-place finish in the Iowa caucuses and called the candidate's campaign. The family arrived in New Hampshire on Sunday morning.
The couple urged voters to support Edwards, saying he is the lone candidate who will fight for Americans against such powerful interests as insurance companies.
"They cannot tell us who's going to live and who's going to die," Hilda Sarkisyan said.
The late appeals seemed to have currency with at least some of the voters still making up their minds Sunday.
Beth Healy, 54, of Harrisville was so impressed by Edwards' Saturday night debate performance that she went to see him at a town hall Sunday in Keene. She called the Sarkisyans' story "really powerful," and said of Edwards: "He was great; he's got my vote."
Christine Sinotte, 50, of Hooksett had a similar reaction after the Manchester rally: "He has so much passion and seems very sincere."
Edwards' championing the cause of the Sarkisyans and other families struggling with the healthcare system provoked a new round of sparring with the Clinton campaign.
After Saturday's debate, Jay Carson, an aide to the New York senator, said that "in order to be president, you need to do more than read articles about people who need help and talk about them." He added that Clinton was "somebody who's actually going to help people and not use them as talking points."
Edwards responded Sunday that the statement showed the Clinton campaign "doesn't seem to have a conscience."
Edwards finished second, just ahead of Clinton, in the Iowa caucuses, but many political observers thought he had to win in that state to bolster the viability of a campaign that has far less money and lower poll numbers than those of Obama and Clinton.
On the day he arrived in New Hampshire from Iowa, Edwards got no coverage on one evening news program that followed Clinton and Illinois Sen. Obama intently. One Edwards pamphleteer on her lunch break Sunday complained, "It seems like the other two get all the attention."
The Edwards campaign has been arguing that he deserved more credit for beating "one of the $100-million candidates," a reference to Clinton.
"It is going to be a really long, long, grinding campaign," said advisor Joe Trippi. "Iowa didn't end it. I don't think New Hampshire is going to end it."
That flew in the face of opinions of some outside experts, including David Moore, a pollster and senior fellow at the Carsey Institute at the University of New Hampshire. "My sense is that he's probably going to be forced out," Moore said, "that he's probably not going to be able to make a big run out of it."
At his crowded rallies Sunday, Edwards tried to dissuade the audience from thinking a vote for him would be wasted. In a new 60-second television spot that will begin airing today, Edwards pledges to "take the fight to save the middle class all the way to the convention and the White House."
---
The stories shaping California
Get up to speed with our Essential California newsletter, sent six days a week.
You may occasionally receive promotional content from the Los Angeles Times.