GOP rivals veer right on immigration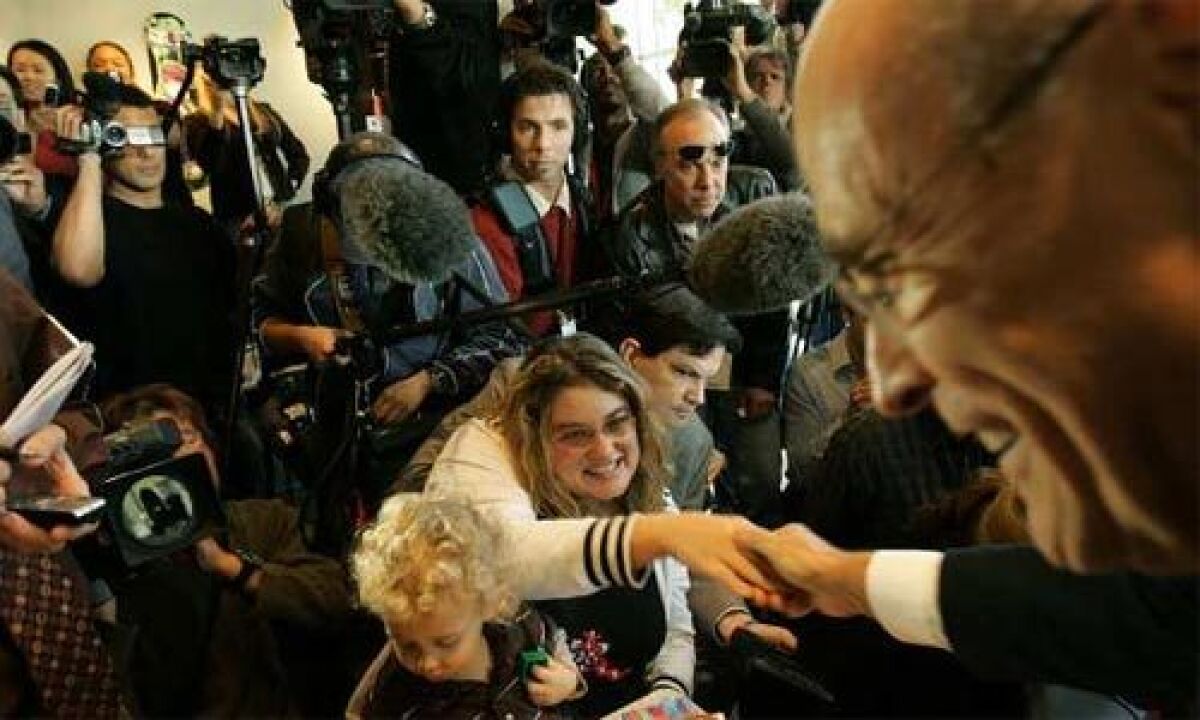 Los Angeles Times Staff Writers
WASHINGTON —
More than any other question, Republican presidential candidates are asking voters to consider a single issue in the weeks before primary voting begins: Who detests illegal immigration the most?
Rudolph W. Giuliani, who as mayor of New York supported policies that benefited illegal immigrants, now says he would have happily swept out all 400,000 in his city if only the federal government had cooperated.
Mitt Romney mailed a new flier to South Carolina voters Tuesday ripping three of his rivals as coddlers of illegal immigrants. And Mike Huckabee, fresh from introducing a newly toughened immigration plan last week, Tuesday accepted the endorsement of a co-founder of the Minuteman Project, the civilian border enforcement movement.
"Americans are very frustrated that they feel like their government has just ignored a problem, let it get worse, spiraled out of control and, by golly, they expect us to fix it," Huckabee said during a stop in Council Bluffs, Iowa, where he was joined by Minuteman co-founder Jim Gilchrist.
Long a point of tension in the Republican race, illegal immigration has surpassed even national security and the economy as the GOP candidates search for advantage in neck-and-neck contests in early-voting states.
Not only are the candidates toughening their own stances and language, they are using the issue to paint each other as out of step with the border-enforcement wishes of conservative voters. Surveys show that in Iowa, New Hampshire and South Carolina, illegal immigration is an issue of significant concern to GOP voters -- more so than some strategists had predicted. A poll published this month in Newsweek magazine showed that 63% of likely Iowa Republican caucus-goers considered a candidate's views on illegal immigration "very important."
"We've known for a while that it was a significant issue, but for it to overshadow Iraq, the economy and healthcare is pretty stunning," said Al Cardenas, a Cuba-born former Florida Republican Party chairman who is advising Romney on immigration issues.
For Romney, the former Massachusetts governor who has been criticized for his once-moderate views on abortion and other social issues, illegal immigration is perhaps his best weapon to use in attacks on his rivals.
The new Romney mail piece in South Carolina follows his campaign's first attack television ad, an Iowa spot that cites Huckabee's support in 2005, while governor of Arkansas, for legislation that would have made in-state college tuition benefits available to the children of illegal immigrants.
But while the Iowa TV ad targets only Huckabee, whose support from evangelical Christians has helped him surge in that state, the South Carolina mailer adds Giuliani and former Tennessee Sen. Fred Thompson to the list. It cites Giuliani's support for welfare benefits for illegal immigrants, among other things, and accuses Thompson of a "do-nothing record" on the issue.
As governor of Massachusetts, the flier notes, Romney opposed driver's licenses for illegal immigrants and ordered state troopers to cooperate with federal officials in detaining illegal immigrants -- though it does not point out that he did so only in the final weeks of his term, as he was preparing to run for president.
Romney's campaign has distributed similar fliers in recent days in New Hampshire as well. But he has also been battling his own record, which includes employing, for work at his Boston home, a landscaping firm that hired illegal immigrants. Romney announced last week that the firm would no longer do work for either him or one of his sons, who lives nearby.
The discovery that illegal immigrants had actually worked at Romney's home prompted Giuliani to chide him for owning a "sanctuary mansion" -- a takeoff of the "sanctuary city" line used often by Romney to describe Giuliani's illegal-immigrant-friendly policies as New York mayor.
But Giuliani, once viewed by immigrant-rights advocates as the politician most sympathetic to their cause, made it clear this week that he will not be outdone in his opposition to illegal immigration. In an interview for "Meet the Next President," a new book by Washington Examiner reporter Bill Sammon, he lamented that the federal government should have deported all the illegal immigrants in his city -- not just the few hundred that were removed during his time in office.
"If they could, I would have turned all the people over," Giuliani said in a book excerpt published Tuesday in the Examiner. "It would have helped me. I would have had a smaller population. I would have had fewer problems."
Still, while Giuliani has sharpened his language, he has left the door open to allowing a path to citizenship for at least some illegal immigrants. But like Arizona Sen. John McCain, the only other Republican who favors citizenship for some of the estimated 12 million people here illegally, he is calling for aggressive tactics to crack down on border incursions before addressing the citizenship issue -- a strategy that immigration advocates say would do little to stem existing problems.
The biggest about-face has come from Huckabee, long admired by the immigrant rights movement for his policies as governor of Arkansas. Now, however, he is toeing the hardest anti-illegal-immigration line of any top-tier candidate, with a new "secure the borders" television ad in Iowa and a plan, announced last week, to require all 12 million people here illegally to leave the country within four months or risk serious punishment.
That plan, which immigration advocates consider a mass deportation, won him the endorsement from Gilchrist, a hero to some of the country's most fervent illegal immigration opponents. Three years ago, Gilchrist founded the Minuteman Project, which encourages private citizens to patrol the border and report incursions to authorities. Gilchrist was ousted from the organization in February amid allegations of financial mismanagement, which he denied .
Huckabee said he was initially skeptical of Gilchrist's organization, but came to understand the group's frustration.
"There are times when I, probably in the early days of the Minuteman, I thought, 'What are these guys doing . . . what are they about?' " he told Gilchrist during their press conference in Iowa. "I confess, I owe you an apology for even questioning why in the world you guys would do it. As all of us have seen, the federal government has failed to secure the borders -- they failed to bring a policy that is good for everybody involved."
By racing to the right on immigration, Republicans could be complicating their political futures in the general election and beyond. Some GOP strategists believe that the rhetoric from conservatives like Rep. Tom Tancredo (R-Colo.), a staunch immigration critic, is damaging the party among Latino voters who had been attracted to the GOP through aggressive outreach in 2004.
Still, while conservatives helped block passage this year of a path to citizenship for illegal immigrants, there are signs that even GOP voters are rejecting the hard-liners: Tancredo, for instance, is running for president, but he stands at 1% in the polls.
Wallsten reported from Washington and Mehta from Council Bluffs, Iowa. Times staff writer Mark Z. Barabak contributed to this report.
---
The stories shaping California
Get up to speed with our Essential California newsletter, sent six days a week.
You may occasionally receive promotional content from the Los Angeles Times.