Newsletter: More fun with pizza and PB&J
After a week of sometimes absurdly high temperatures, you might think you'd want a bowl of cold Korean noodles. You likely do, of course, but you might also be craving a truly good Neapolitan pizza. Because some of us want that all the time too. This week Jonathan Gold heads to Cosa Buona, where he finds a pizzeria that is "not just a chefly take on the idea of a neighborhood pizzeria, it is a neighborhood pizzeria."
In more pizza news, our latest food truck report considers a Neapolitan specialist whose truck houses its own wood-burning oven. (Speaking of heat waves.) In other news, the markets are as loaded with tomatoes as many of the local pizzas. We have a profile of a young cook whose challenges have included not only being slammed on the line but losing his home. And we consider the latest project from Adam Fleischman, the guy who brought us Umami Burger. One more thought: If your solution to summer heat is some good, cold beer, maybe check out these four new brewery tasting rooms.
IN PRAISE OF NEIGHBORHOOD PIES
At Cosa Buona, chef Zach Pollack's newish Echo Park pizzeria, Jonathan finds not only pizza — perhaps unsurprising, given that the location was previously the home of Pizza Buona and that Pollack's history includes not only Alimento but Pizzeria Ortica and Sotto — but mozzarella sticks, chicken parm and an "homage to Franco." That would be Franco Pepe, not that other guy.
AND OF PERIPATETIC PIES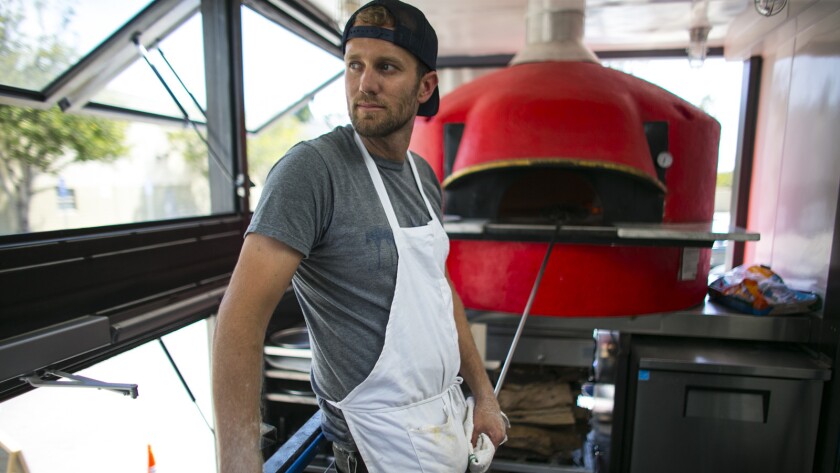 In her latest Food Truck column, Deputy Food Editor Jenn Harris looks inside the new Vivace Pizzeria truck, where chef Eric Vose makes Neapolitan pizza inside a tiny space he shares with a 5,500-pound Acunto Mario pizza oven. Fortunately the thing is heavily insulated, especially during the hot summer months of Los Angeles.
THE LIFE AND TIMES OF A LINE COOK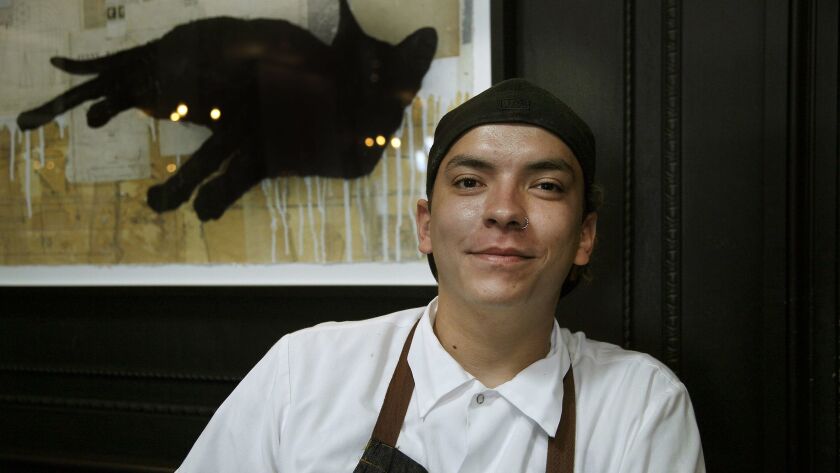 Food writer Javier Cabral tells the story of Lance Thomas, a 25-year-old L.A. native who has spent the last decade working his way through restaurant kitchens, from starting as a fry cook at an Alhambra Wendy's to his current job as a sous chef at the gastropub the Black Cat. His journey is not unlike that of a lot of food-driven folks, though his most recent challenge was a lot harder than a busy night on the line: homelessness.
A REBOOT OF PB&J
If not pizza, then PB&J, or at least that's what Umami Burger founder Adam Fleischman is hoping. Fleishman (who also co-founded 800 Degrees, speaking of pizza), is about to debut his latest project: a counter at Grand Central Market devoted to the peanut butter and jelly sandwich. PBJ.LA, which will open in early August, will have many variations on the classic, crimped and enclosed, packaged and branded — something Fleischman is very good at.
TOMATOMANIA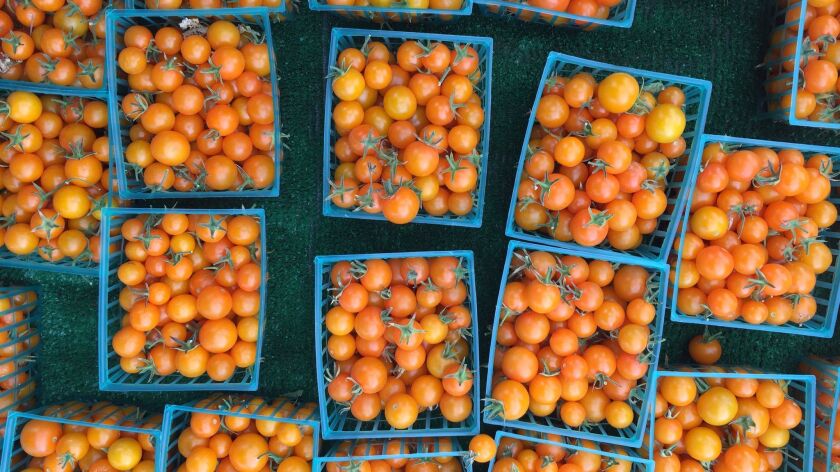 The farmers markets in this town are always fantastic, of course, but summer is maybe the most fun. There's all that stone fruit and squash, but these days some of us pilgrimage to our local market just for the tomatoes. Table after table of heirlooms, as Test Kitchen Director Noelle Carter considers in her latest Market Report column. Plus recipes!
The Taste, our annual Labor Day food festival (this one is three days, not a whole month!) is returning to Paramount Studios. Check out the lineup, the demos and panels, the chefs and bartenders, and of course all the food. Tickets are on sale.
Goldbot: You can now talk to Jonathan Gold any time you want — or at least the robot version of him that lives on Facebook Messenger. You can ask Goldbot for a personal restaurant recommendation based on location, type of food or price. The bot will also deliver Jonathan Gold's latest reviews straight to your device.
The Daily Meal, the food and drink website under the editorial direction of Colman Andrews, is now one of our partners. Check out its 101 best pizzas in America and other stories, recipes and videos.
Jonathan Gold's 101 Best Restaurants, the authoritative annual guide to local dining, is online for subscribers and now features his 2016 Best Restaurants. If you didn't get a copy of the booklet, you can order one online here.
Check us out on Instagram @latimesfood
Check out the thousands of recipes in our Recipe Database.
Feedback? We'd love to hear from you. Email us at food@latimes.com.
---