The guy who brought you Umami Burger wants to reinvent PB&J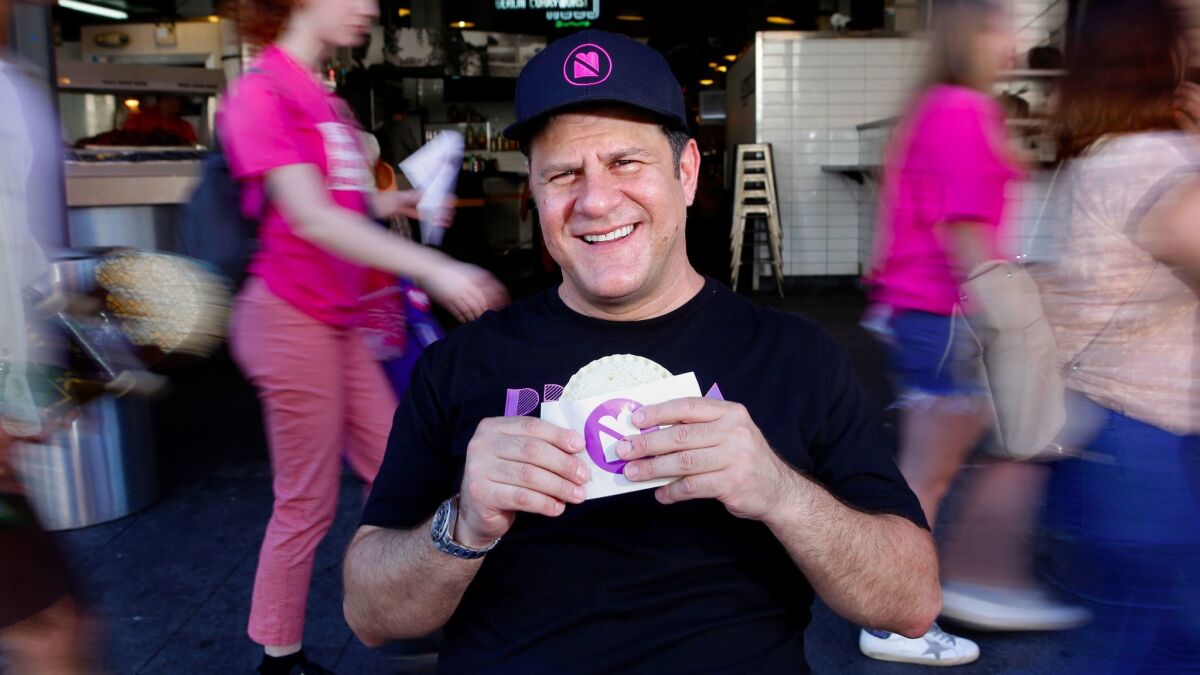 Adam Fleischman, the man who brought us Umami Burger, is holding a peanut butter and jelly sandwich, sitting on a chair in front of downtown Los Angeles' Grand Central Market. It is not the PB&J of your childhood, but rather an enclosed disk that looks remarkably like something from Area 51. The sandwich, and a fleet of others built and branded like them, is Fleischman's latest project: a new empire of nostalgia-driven, high-concept food that will, early next month, arrive in the form of a sleek sandwich at the Grand Central Market stall. First stop, the 100-year-old food court. Then, if all goes according to plan, the world.
That kind of hyperbole is normal in Fleischman's realm, and given the wild success of the burger empire he founded in 2009 — a brand harnessed to a deeply addictive, absurdly flavor-jammed hamburger — it is hard not to play along. Fleischman's talent is that of the pitchman, and what he slides across the counter is meant to be wrapped not just in paper but also in comfort, convenience, even archetype. PBJ.LA, as the nascent sandwich business is called, is a branded delivery mechanism as much as it is a food stall.
"We're trying to create disruptive products," Fleischman says of the sandwiches, which feature a round bread made by a local baker he won't identify, and crimped in a machine Fleischman is equally secretive about — he and his partners designed and patented it. The rounds of bread look like edible Frisbees, the machine a bit like a giant lemon squeezer. What's pressed inside the discs, the recipes also from Fleischman and his partners: house-made nut butters and jams, whose ingredients and flavor profiles fit nicely into today's Southern California farm-to-table ethos. Jams made with rosé and stone fruit; nut butters from pistachios and almonds. There's espresso and organic chocolate, cashew butter and mango chutney, apple jam and Angostura bitters.
"Everyone has their memory of what it is; I think we've been able to elevate it and gourmet-ify it," says Fleischman, your Marcel Proust moment via Don Draper.
The sandwiches, which come packaged in white and purple ("It's kind of like a burrito, everything is locked in there") to be packed or ported, are meant to be simultaneously nostalgic and forward-leaning. If this sounds familiar, that's because it is. Fleischman wants to reinvent PB&J the way he did the hamburger, to rewire and rebrand a basic comfort food. In this case, the mechanism is familiar too: Remember Hot Pockets? Or, more relevantly, Smucker's Uncrustables?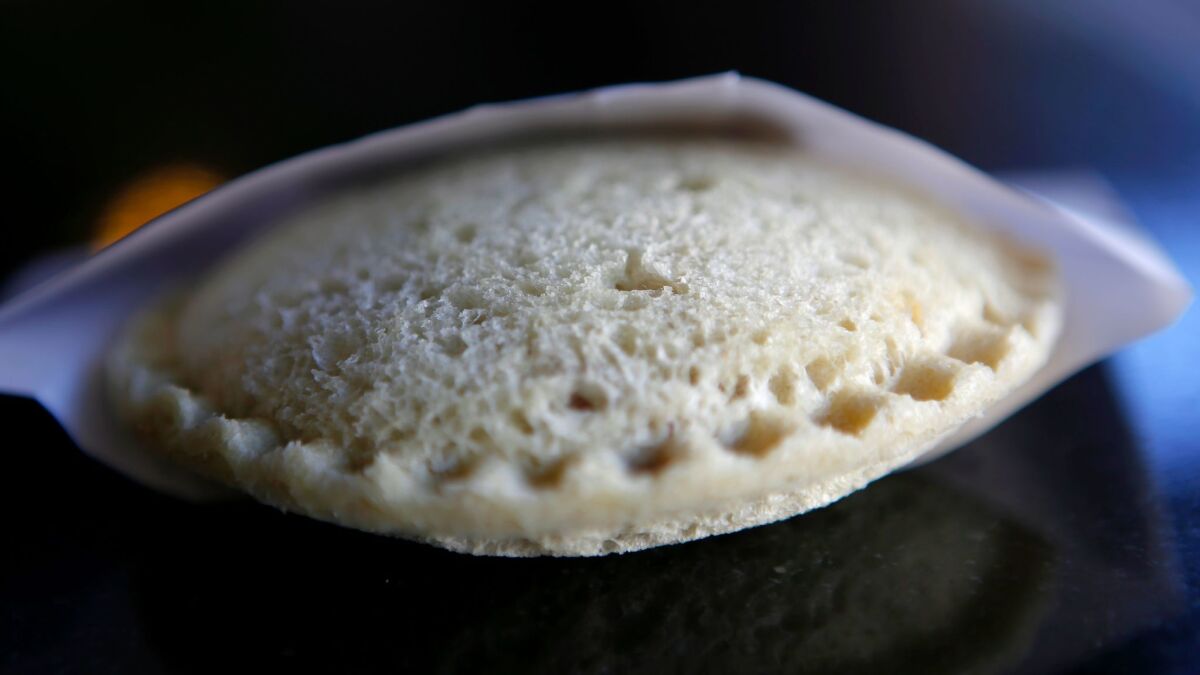 Fleischman's history of big ideas does not just include the hamburger. In addition to Umami Burger, currently 26 restaurants and counting (Fleischman partnered with Sam Nazarian's SBE group in 2011), there is the pizza empire. Fleischman co-founded 800 Degrees — part of the new wave of ingredient-driven, fast-casual restaurants when it opened in 2010 — a pizza chain that boasts 16 restaurants, both in and outside of the U.S. And then there was ChocoChicken, Fleischman's chocolate-and-fried-chicken project, which debuted to mixed reviews in 2014 and has since closed. (Fleischman says he's reviving the project and hopes to reopen the restaurant next year.)
PBJ.LA is only one stall, a 12-seat counter still hidden behind construction panels at Grand Central, in the space between Chiles Secos and DTLA Cheese. ("It's what's happening in food now. Everyone's going small. It's the kiosk model," says Fleischman.) And his partners in the project are not Nazarian and his enormous hospitality company but rather three guys he met at a gym. Fleischman, who likes origin myths (the original Umami Burger was invented, according to Fleischman and the world, one day in his kitchen), says PBJ.LA happened after he met Payvand Salehi, Brad Greenberg and Jimmy Franklin at Sky Sport and Spa in Beverly Hills a few years ago. That none of the men had much of a culinary history wasn't apparently considered an issue. Fleischman himself has a BA in liberal arts from the University of Maryland and worked in finance and wine — he's a self-taught cook — before opening the L.A. wine bars BottleRock and Vinoteque, selling those and using the money to start Umami Burger.
The four men loved the idea of recalibrating the old-school sandwich, and Fleischman eventually took the idea to the folks at Grand Central Market. That food court is a fitting home, as it's been a kind of restaurant incubator for the last century — from Magee's Peanut Butter in 1917 to China Cafe in 1958 (and still operating) to Eggslut in 2013, where the lines have been a near-permanent fixture since it opened.
While he envisions his own lines, Fleischman is planning further outposts of empire: He's working on a coffee project, called the Cold Cocked Coffee Co., to open in L.A.'s Koreatown neighborhood. And he has a cookbook coming out, with the apt title of "Flavor Bombs: Cooking With the Art and Science of Umami."
As for any resemblance between his new sandwich and the hand-held PB&Js produced by a noted jam company, "those are the frozen burgers version," Fleischman says with the certainty of a brand man. "Ours are organic and varied to the max. And fresh and artisanal, of course. And bigger."
ALSO
How being homeless didn't change this Los Angeles cook's dream
The Taste food event returns to Paramount Studios Labor Day weekend
New Vivace Pizzeria truck offers Leopard-spotted pies for Neapolitan pizza fans
---
Get our weekly Tasting Notes newsletter for reviews, news and more.
You may occasionally receive promotional content from the Los Angeles Times.