Where to find Jonathan Gold's favorite cold noodle dishes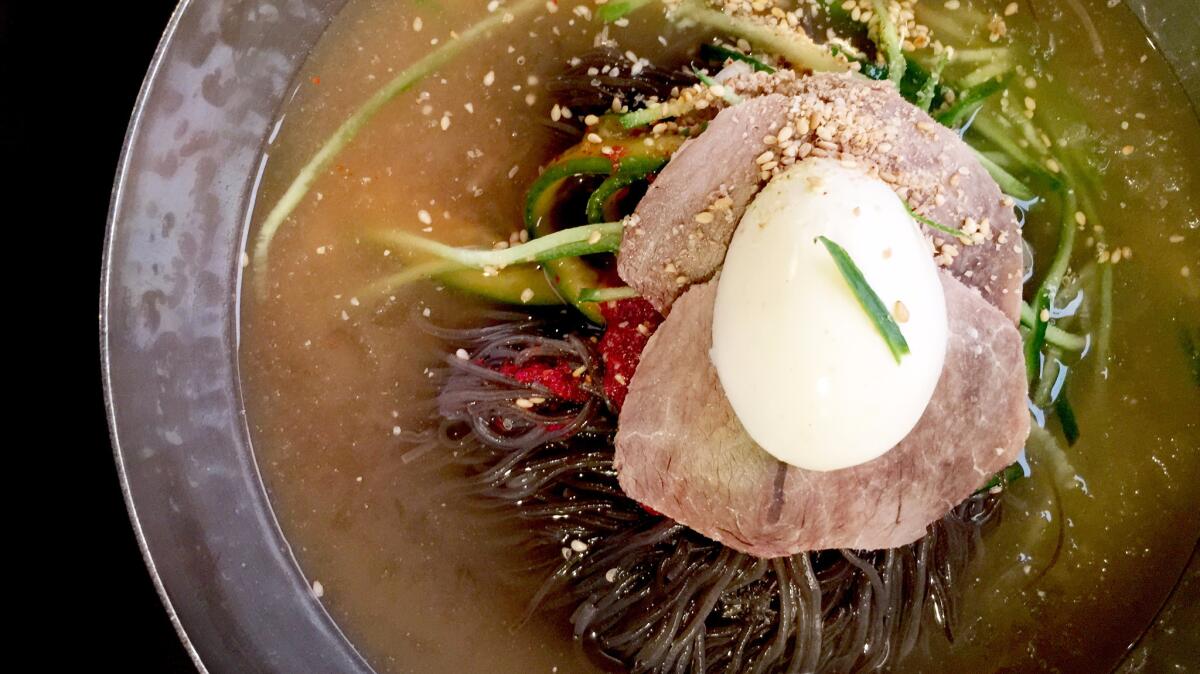 When the weather gets hot, the noodles get cold. And here are some of the coldest.
Yu Chun — How cold is Yu Chun's mool chic naengmyun? So cold that it gives you an ice cream headache. So cold that the tangy beef broth builds up in soft drifts in the middle of the bowl. So cold that the customary beverage is peppery beef broth served in metal mugs, warmed to stave off the frosty chill. There are any number of restaurants in Koreatown well known for their cold noodles, including the Corner Place, whose sugary dongchimi gooksu recipe is better guarded than state secrets seem to be at the moment. But when the temperature leans towards three digits and the asphalt begins to soften, even the thought of Yu Chun's stretchy black noodles can be enough to cool you down.
3185 W. Olympic Blvd., Los Angeles, (323) 382-3815.
See the most-read stories in Life & Style this hour >>
Brodard Chateau— So here we are talking about bun thit nuong. And some of you may be mildly confused about the presence of bun thit nuong here, because while most of the other noodles in the article are specifically chilled, this one just happens not to be hot. You could think of bun thit nuong as cold because you toss the slithery, thin rice vermicelli with roasted peanuts, chopped lettuce and Vietnamese herbs at the table, probably dribbling in chile and sweetened fish sauce, and the dish ends up as more or less a minty, garlicky, basil-intensive noodle salad. There are slices of grilled pork involved – that's the thit nuong – as well as possibly fried spring rolls, grilled shrimp and beef meatballs, if that's your jam. You are probably eating this bun thit nuong at Brodard Chateau because you have decided to begin your meal with the fresh spring rolls called nem nuong cuon – and who could blame you; they're the best! – but the versions of bun thit nuong at Pho 79, Pho Ngoon, Thanh My, Quan Hy, Golden Deli and the Chateau's sister restaurant Brodard are also pretty good. Iced drip coffee at a Vietnamese noodle shop is always a good idea, but times like these call for soda chan, sweetened fresh lemon juice zapped with plenty of ice-cold seltzer.
9100 Trask Ave., Garden Grove, (714) 899-8273.
Shaanxi Gourmet — I'm pretty sure that most Chinese restaurants are prepared to serve you a plate of cold noodles, even if most of them may remind you of those squishy, claylike sesame noodles that New York delivery restaurants tend to throw in for free with a $25 order. There's nothing wrong with them that a packet or two of chile sauce can't fix, but they're probably not the noodles you fell asleep dreaming of last night. But the trembly, translucent cold steamed noodles at Shaanxi Gourmet, liang pi – those are different: subtly enhanced with the flavor of toasted chiles, tossed with crunchy slivered cucumber, sprinkled with a little vinegar, garnished with springy, sauce-soaked cubes of pure gluten … and mysteriously yet profoundly refreshing; satisfying in a dozen different ways. You could pay the extra 35 cents and get some sesame paste thrown in too, but don't bother. You might as well get a spicy lamb burger though. I mean, you're there.
8518 E. Valley Blvd., Rosemead, (626) 288-9886.
Marugame Monzo — Ramen is the hedonist's Japanese noodle, designed for sensation. Soba, gingerly fashioned from buckwheat, is best when it is most austere. Thick, substantial udon is the family noodle, tasting of wheat and salt, suited to wintry broths but also brilliant when served ice-cold. Marugame Monzo is that udon place a couple of doors down from Daikokuya in Little Tokyo, always full but never crowded, with the udon master always visible working his dough behind a glass window in the back. Daikokuya's cold summer ramen is good, delicious even. But served as austere zaru udon, cold, with a dipping sauce of soy, broth and grated radish, Monzo's admirable noodles taste admirably of themselves. The cold udon is at its best as bukkake udon — do not look this up on the Internet. You moisten the noodles with a drizzle of cool broth, but the flavor comes mostly from the sharpness of the garnish: pickled plum with a bare shiso leaf or two and a sac of seasoned roe. It is the clean, crisp taste of Japanese summer.
329 E. 1st St., Little Tokyo, (213) 346-9762.
Mian — Remember what I was saying about cold sesame noodles a few paragraphs back? I take that back – some of them are pretty great. And while it is well known that Mian stepped up the local zhajiangmian game when the Sichuan noodle house opened in San Gabriel this year, its cold noodles are a little more obscure, even on the restaurant's own menu. But those Sichuan cold noodles are worth looking for – springy, nutty and cool, tossed with pickles, slightly funky fermented chiles and a spoonful of lightly toasted sesame seeds. The Sichuan cold noodles are just spicy enough, and the flavors zip across your palate like lasers: spectacular. Are you going to want cold beer with this? Me too. But plum juice will have to suffice.
301 W. Valley Blvd. Nos. 114-115, San Gabriel, (626) 693-6888.
Ichimi Ann — If you want to taste what is possibly the best soba available outside of Japan, you should probably arrange to attend a pop-up or a workshop put on by Sonoko Sakai of Common Grains, who knows as much about buckwheat noodles as Clayton Kershaw does about the strike zone. If you'd be satisfied with what is merely very good soba, you'll probably be happy with Ichimi Ann, a soba-intensive noodle shop in a corner of the sprawling Rolling Hills Plaza, a restaurant dedicated enough to the craft to get its fresh buckwheat shipped in refrigerated containers from Japan. Zaru soba is among the simplest yet most complex dishes in the world of boiled dough: a tangle of chilled buckwheat noodles arranged on a bamboo mat; a sprinkling of toasted nori; and an austere dipping broth, mostly cold dashi, soy and mirin, for dipping. If you wish to contemplate it, this soba is a world. If you wish to eat it, maybe with a piece or two of pumpkin tempura, it is lunch. There are two locations, but I like the one in Rolling Hills, not least because it is across the parking lot from Hitachiya, the best Japanese kitchen store in this part of the world. A belly full of soba and a new earthenware donabe in the trunk? You've spent less productive afternoons.
2537 Pacific Coast Highway, Torrance, (310) 784-0551.
MORE FROM JONATHAN GOLD
Jonathan Gold reviews Lasa, a temporary Filipino restaurant with long-range ambitions
At Frogtown's Salazar, Jonathan Gold finds a Sonora barbecue joint, steakhouse and evolving tortillas
Jonathan Gold reviews Kali Restaurant: It's too much of a good thing
Get our weekly Tasting Notes newsletter for reviews, news and more.
You may occasionally receive promotional content from the Los Angeles Times.