Newsletter: In the kitchen: More fun with sugar snap peas and turmeric
Somehow it's March already, an excellent month to spend cooking. Because now that the Oscars are over, it's time to focus on college hoops. Sure, you can watch game after game at your local bar, but March Madness is also well spent at home, making bowls of spaghetti carbonara and penne with spinach sauce, market-driven dishes using our great winter produce (sugar snap peas!) or exploring how to cook with the fresh turmeric that's lately been showing up in many market stalls and produce aisles.
If you need some cookbook motivation, we consider the new book from Deborah Madison, the cookbook writer based in Santa Fe, N.M., who was cooking brilliant, inventive vegetarian dishes long before the current wave of vegetable-driven cuisine.
Snap judgment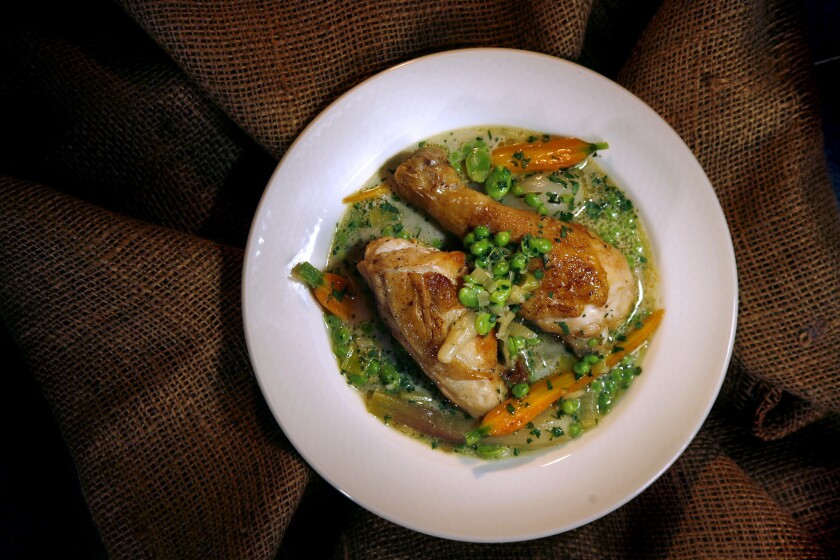 Unlike in most other parts of the country, winter is a terrific time to head to the farmers markets in Southern California. Not only do we have a wealth of citrus, but there's a ton of greenery, not only in the form of nettles and herbs and lettuces but sugar snap peas. These peas are more fun than most because you can eat them as-is, pod and all. And if that's too easy for you, we've got recipes for you as well.
Cooking with turmeric
Turmeric has long been a key ingredient in vibrant (and often vibrantly yellow) curries, but recently the rhizome has become super popular in everything from tea lattes to smoothies to rice bowls to toast. Food writer Jeanne Kelley explores ways to use both the fresh and powdered spice in the kitchen with inventive turmeric recipes — including one for a brilliantly yellow panna cotta.
15 ways of looking at a cheesecake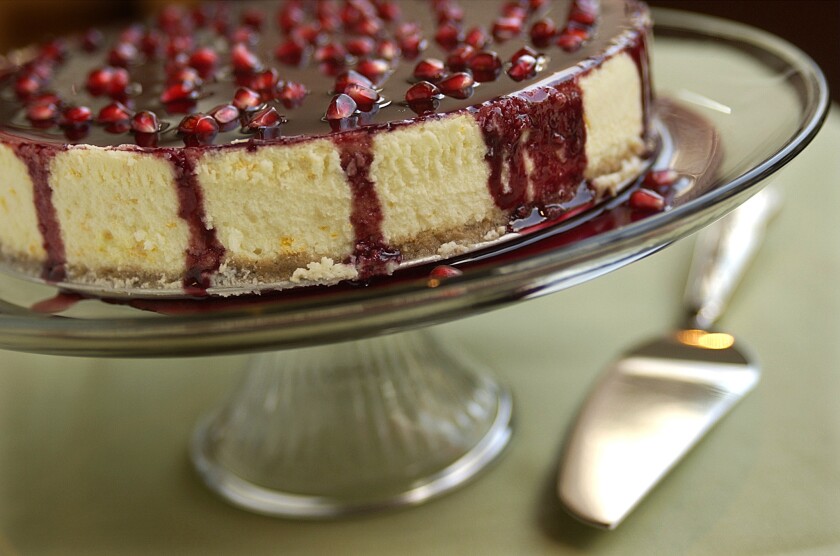 Some desserts are classic for a reason — they can operate as sugar conduits to childhood while being versatile enough to be both comfort food and the culmination of a fancy dinner. Cheesecake is one of the best of these. You can dress it up and down, turn it into a sweet confection or make it something more like a cheese course. However you want to go, we have more than a dozen recipes to help you out.
Cookbook of the week
Even as more and more terrific cookbooks accumulate on our bookshelves, there are a few — dog-eared, sauce-stained — that we come back to, like old friends. Those from Deborah Madison are like that. And so her new book, "In My Kitchen," which is the Chez Panisse alum's 14th, is both an exciting new read and something very familiar — the more so as many of the 100 or so recipes are updates of old favorites. Madison's recipe for red lentil soup with berbere is worth the price of admission alone.
In praise of margaritas
There are many good excuses to make an excellent margarita. National Margarita Day (which was last week), a good game, a hot day. And if it's cold and rainy out, just put on a sweater, make a jug of the classic cocktails anyway and think about your March Madness brackets.
The Daily Meal, the food and drink website under the editorial direction of Colman Andrews, is now one of our partners. Check out their 101 best pizzas in America and other stories, recipes and videos.
The Los Angeles Times Food Bowl: Want to spend 31 days exploring the food of this city through a Night Market, forums, dinners, films, pop-ups and more dining and drinking? A monthlong food festival is coming to L.A. in May.
Check us out on Instagram @latimesfood
Counter Intelligence: Sign up for Jonathan Gold's weekly newsletter
Check out the thousands of recipes in our Recipe Database.
Feedback? We'd love to hear from you. Email us at food@latimes.com.
---