Newsletter: Pastries, chocolates and some spirited cooking
Happy Saturday. Consider this a reminder that Valentine's Day is this coming Wednesday (as is Ash Wednesday, for that matter), so if you're needing to source some chocolates or flowers or dinner reservations, you're running out of time. We can help you with some of that, of course, which this year includes some suggestions for sourcing chocolate edibles. Welcome to 2018!
It's also an excellent excuse to cook dinner for your beloved, which might be a bit more intimate than lobster Bolognese at Mélisse, as well as a bit less pricey. We have some recipes for you, unsurprisingly — this time featuring the use of hard alcohol. Because that bottle of gin can smoothly go into recipes as well as that dry martini. If desserts are more your speed, a sophisticated and enormous pie from pastry chef Isa Fabro, the subject of this week's profile, could end a meal nicely, or substitute for a box or three of chocolates. In other news, we check in on the local farmers markets, and get news of some new and upcoming pizzerias.
And if you're reading this while watching the Winter Olympics — and maybe wondering why our restaurant critic is taking the week off — then tune in next week for our special issue on L.A.'s Koreatown. We'll have Jonathan Gold's essential Korean restaurants, plus stories about bars, coffee shops, spas and grocery stores, as well as recipes for Korean favorites.
BAKING HISTORY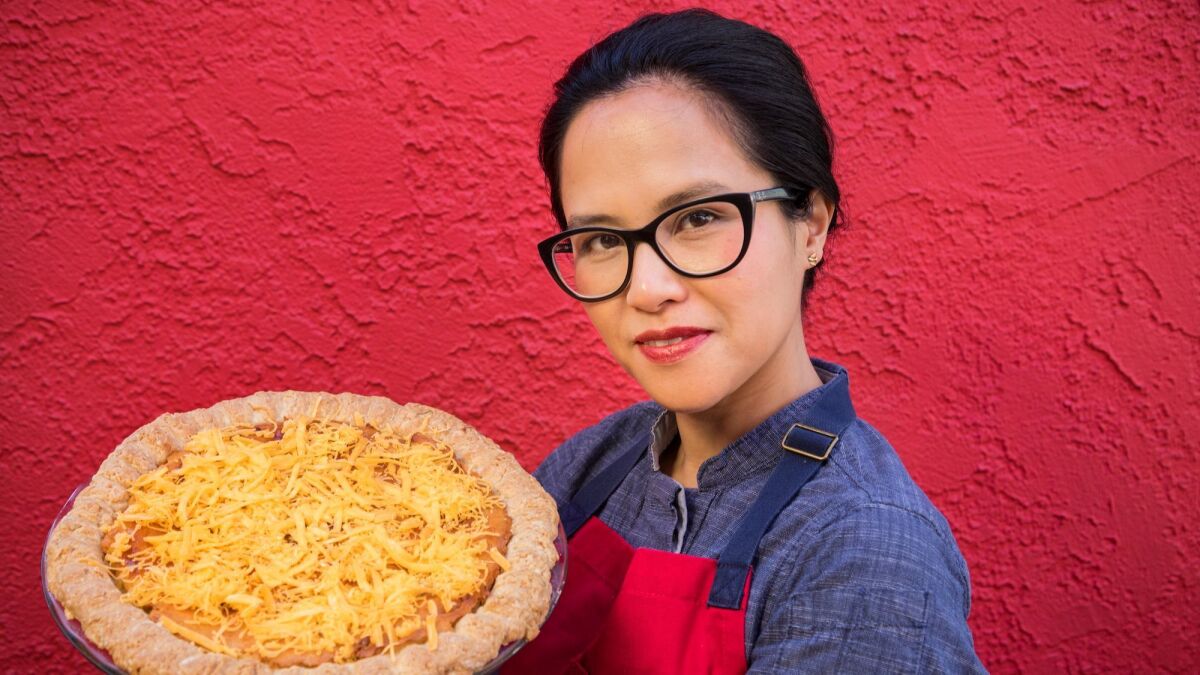 This week I talk to pastry chef Isa Fabro, who spent years in fine dining kitchens before branching out on her own and putting the food of her Filipino American heritage onto her plates. We get Fabro's recipe for Royal Bibingka pie — a super-decadent coconut butter mochi filling, zapped with cream cheese and topped with grated cheddar, all built into a flaky pie crust — and consider her career path, which replaced high-end line cooking with pop-ups, desert food festivals (that's one S not two in "desert"), food documentaries and social media. Did we mention that pie?
SPIRITED COOKING
Pairing alcohol with your dinner, serving cocktails before the meal — and maybe drinking a few while you cook — is all pretty routine. Less so is pouring some of that hard alcohol into the cooking itself. Test Kitchen Directer Noelle Carter explores how to use booze such as gin, bourbon and brandy in recipes and why. The stuff is a great flavor enhancer and can come in super-handy the next time you're roasting chicken, curing fish or making a fruit dessert — all pretty great ideas if you still need a Valentine's Day menu.
PIZZA PIZZA
L.A.'s Italian restaurant renaissance continues, in the form of some pretty terrific new pizzerias. Mozza's Nancy Silverton has teamed up with her former colleague chef Matt Molina to open Triple Beam Pizza in Highland Park, reports Deputy Food Editor Jenn Harris. Your pizza is weighed by the ounce, which is both hilarious and kind of daunting. The folks who brought us Factory Kitchen and Officine Brera are also opening a pizzeria — with a Mario Acunto wood-fired oven — in the Arts District.
CHOCOLATE, CIRCA 2018
Sure, you can get your beloved a box of chocolates for Valentine's Day — and we spotlight 10 local chocolatiers who are making some pretty terrific versions — but now that cannabis is legal in this state, writer Adam Tschorn explores the chocolate edibles scene. Among the four high-end confectioneries he considers is one shop that makes "seed-to-bar" chocolates using biodynamically farmed cannabis from the Sierra Nevada foothills, and another that specializes in cannabis-infused wild strawberries dipped in chocolate.
AND MORE WEED OR, RATHER, WEEDS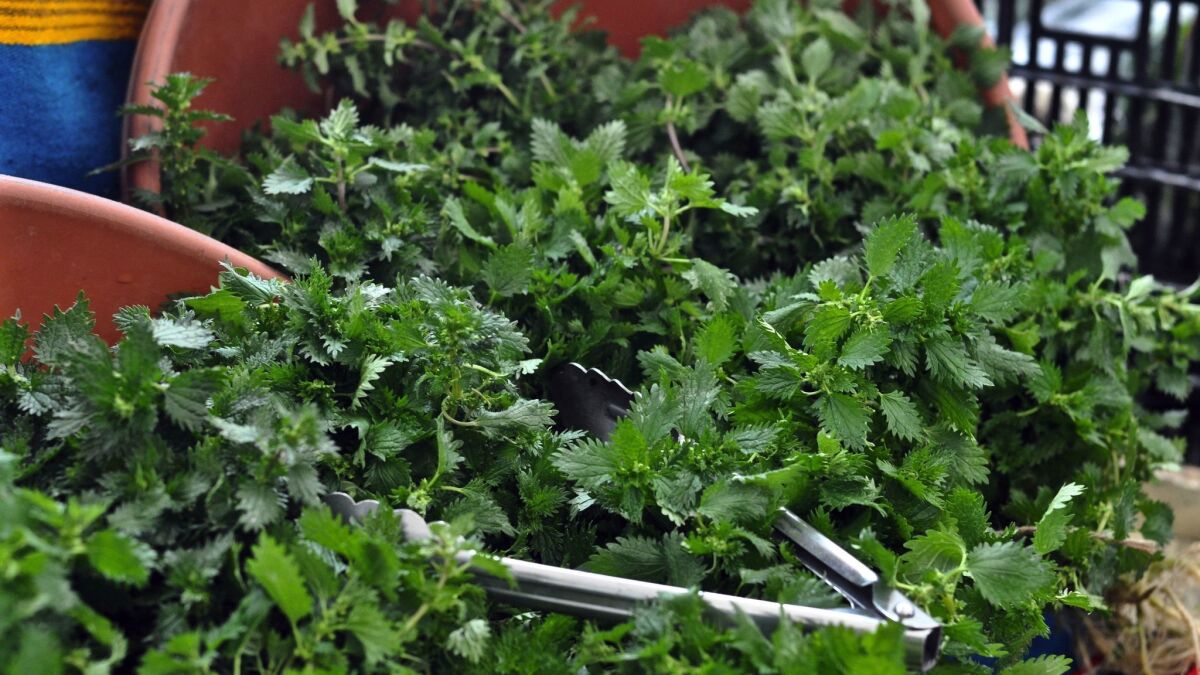 As Noelle writes in her weekly farmers market report, some weeds aren't really considered weeds anymore. Stinging nettles, for one, which chefs have long been using as a seasonal green: on pizza (Mozza has put nettles on their pizzas for years), in polenta, in gnocchi and pasta, and in soups. Their loading market stands at the moment, thanks to the cool (for L.A.) temperatures. Plus what's on the horizon and, of course, lots of recipes.
L.A. Times FOOD BOWL returns for a second year this May. It's 31 days of events celebrating L.A.'s food and drink scene and helping raise awareness and funds to fight food waste, hunger and food insecurity and to promote sustainability. Guest chefs include Ben Shewry (Australia), Yoshihiro Narisawa (Japan), Virgilio Martinez (Peru) and Yu Bo (China), along with Diana Kennedy (Mexico) and Fuchsia Dunlop (United Kingdom), with more to be announced. The full program will be released on March 31. If you have a restaurant, bar, market or other establishment and are interested in hosting a Food Bowl event, here's how to register.
Jonathan Gold's 101 Best Restaurants, the authoritative annual guide to local dining, is online for subscribers featuring his 2017 Best Restaurants. If you don't have a copy of the booklet, you can order one online here.
Goldbot: You can talk to Jonathan Gold any time you want — or at least the robot version of him that now lives on Facebook Messenger. You can ask Goldbot for a personal restaurant recommendation based on location, type of food or price. The bot will also deliver Jonathan Gold's latest reviews straight to your device.
Check us out on Instagram at @latimesfood.
And don't forget the thousands of recipes in our California Cookbook recipe database.
Feedback? We'd love to hear from you. Email us at food@latimes.com.
---