How a pastry chef is translating her Filipino heritage into her desserts, and redefining her career
The sun set on a recent evening in L.A.'s Chinatown neighborhood, the light from the lanterns strung across the second floor of the Far East Plaza replacing that of the sky. Families gathered around tables in the outdoor courtyard of the '70s-era shopping mall as lines moved along the booths set up outside the shops and restaurants. At a table near the stairway, pastry chef Isa Fabro set out her desserts — thick wedges of pie, individual Valrhona-dusted confections — like a jeweler unloading the contents of a display case.
How Fabro got here, to a tiny table at Chinatown After Dark, the neighborhood monthly micro food festival, is the story of one highly talented chef, but it's also a story of the contemporary Los Angeles dining scene. Over the course of the last decade, many of this city's most innovative chefs and restaurants have mobilized, and not just by getting on actual wheels. Through a growing network of pop-up events, test kitchen and temporary restaurant spaces, kitchen incubators and culinary residencies, L.A.'s dining operating system has changed — and, in the process, redefined what it means to be a chef and have a restaurant in the first place. As the physical restaurants have decentralized, the food on the plates has continued to do so, with more chefs restoring the cuisines of their own cultures to their professional menus.
For Fabro, now 41, this has meant translating the food of her parents — who emigrated from the Philippines first to Winnipeg, Canada, where Fabro was born, and then to Los Angeles, when Fabro was a small child — through the prism of her classical training. And it's meant moving from behind the line at fine dining restaurants to a series of pop-ups — and the even more transitional realms of the Coachella Valley Music and Arts Festival and Instagram — as a way to fit that identity onto her plate. Because although the cuisine of Los Angeles is still thriving in brick-and-mortar palaces, it's also increasingly built in the memory palaces of our chefs and the families they come from, and in the migratory routes their cooking took to get here in the first place.
Fabro's career itself has been a migratory route. After getting a degree in cinema and philosophy at Loyola Marymount University, she worked in the film and music industries in her 20s until the recession and a severe illness forced her to rethink her future. "You're just lying there, you have [hospital] machines, and you think: I'd be happy just cooking," Fabro says now. So as soon as she recovered, she went to cooking school, and when she was still at school got a job with the Patina Group. She then worked in a series of fine dining restaurants, first at Patina and Cafe Pinot, another Patina restaurant; then at Water Grill with David LeFevre; then with Quinn and Karen Hatfield at Hatfield's; and finally with Josef Centeno at his restaurant Orsa & Winston.
Along the way, Fabro began working in the pastry kitchen, first with Karen Hatfield — one of this city's finest pastry chefs — and then taking over the pastry program for all of Centeno's restaurants. The transition to pastry was in part to ease the strain on a bad back but also to focus on the art of the plated dessert, one of the pinnacles of fine dining.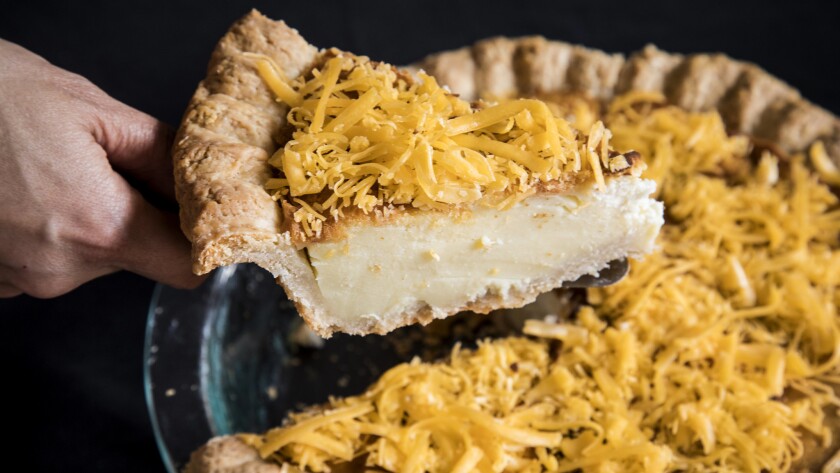 And then, in the beginning of 2016, Fabro decided to recalibrate again. She left Centeno's restaurant group and took a long trip to the Philippines, the first time she'd been to her parents' homeland in more than 30 years. When she came back to L.A., the food of her culture found its way to her own plates. She began a series of pop-ups at Unit 120, fellow Filipino American chef Alvin Cailan's restaurant incubator at the Far East Plaza — a location that's now the restaurant Lasa, run by brothers Chad and Chase Valencia, also first generation Filipino Americans, and which is, not coincidentally, one floor below the site of Chinatown After Dark.
If this seems like a tight-knit community, that's because it is; and there's a word for it too. "Barkada is like your crew or your clique, a group of school friends who you hang around with and get in trouble with," says Fabro. It's the name that became part of a recent KCET-TV episode of "The Migrant Kitchen" about L.A.'s Filipino food movement, and for the Instagram account Fabro set up, @barkadala, not only for gorgeous food shots, but for community-building. "It's job listings — 'I need a line cook' — and messages, like, 'What is this fruit?' It's a way to stay connected." And not only, of course, to the chefs cooking down the street, but to the islands their families came from.
"I think it's inevitable," Fabro says of her personal pastry kitchen, which she runs out of a shared kitchen space in Chinatown. "You're going to return to what you know. But it's really just me combining flavors and the techniques that I've learned, right?"
That mash-up of Filipino flavors and classical pastry techniques is as specific to Fabro's desserts as fingerprints. A pastry called an isamada is a personalized hybrid of an ensaïmada, a Filipino brioche filled with ube (purple yam) and the Breton kouign-amann. Her coconut malas are doughnuts that form a lineage with the Portuguese doughnuts malasadas and the Filipino sweet rice balls carioca. Tiny pies are made with fresh and caramelized bananas, a whip of condensed milk and latik, a Filipino caramel made with coconut milk that's also a component of the malas. And then there's the Royal Bibingka pie, an insanely rich composition of coconut butter mochi, a sweet rice flour paste, loaded into a flaky pie crust, embedded with spoonfuls of cream cheese — it's caramelized top finally finished with a thatch of sharp cheddar.
The progenitor of this pie — a word that seems woefully mundane here — is a seasonal, often Christmastime, dessert, a rice cake baked in banana leaves and sometimes topped with salted egg that's from Vigan, a town in the north of the Philippines. For Fabro, the recipe was a way to combine a favorite childhood dessert with a love of cheesecake and, well, pie. And to fork into a triangle of the stuff on a picnic table in Chinatown on a balmy winter night is to get a taste of what L.A. dining is like these days. Will she open an old-school pastry shop at some point? Probably. But the freedom of a traveling kitchen has given her latitude — making Detroit-style pizza with Cailan, taking a trip to Korea — that would be difficult to manage if she ran a traditional pâtisserie.
"How people are able to get food has changed," Fabro says. "You don't need to have a dining room."
To find Isa Fabro's desserts, go to her website www.isafabro.com, her Instagram @isafabro, future Chinatown After Dark and other upcoming events.
---
Get our weekly Tasting Notes newsletter for reviews, news and more.
You may occasionally receive promotional content from the Los Angeles Times.