Newsletter: Paella, pears and pints
Good morning. There's a lot going on in Los Angeles these days, with splashy new restaurants opening seemingly every week, plenty of food festivals on the clock — La Feria de los Moles is Sunday in Grand Park — including one of our own, happening in two weeks in Costa Mesa.
After a brief, fire-related closure, Suzanne Goin and Caroline Styne's wine bar A.O.C. reopened a few days ago; a new pizzeria debuts in Culver City; and, if you love both cocktails and Art Deco architecture, two new bars just opened in Union Station. We have a first look at another new restaurant in Highland Park, a neighborhood that has lately been a magnet for chefs. And we check in with a chef in Irvine whose own restaurant itinerary reads like that of a Michelin inspector: She not only dines at many of the world's best restaurants, she also interviews their chefs, attends their food conferences, and wants to start one of her own.
If you're spending your weekend in the kitchen rather than pulling up restaurant chairs, we have some recipes for you highlighting Asian pears, now loading market stands. We also have a recipe for tuna salad from one of this town's best chefs. What to pair with all this stuff? How about a pint of brut IPA, the latest beer trend. Maybe get a few for your Dodgers playoff party. Have a good weekend.
CURRY AND CONVERSATION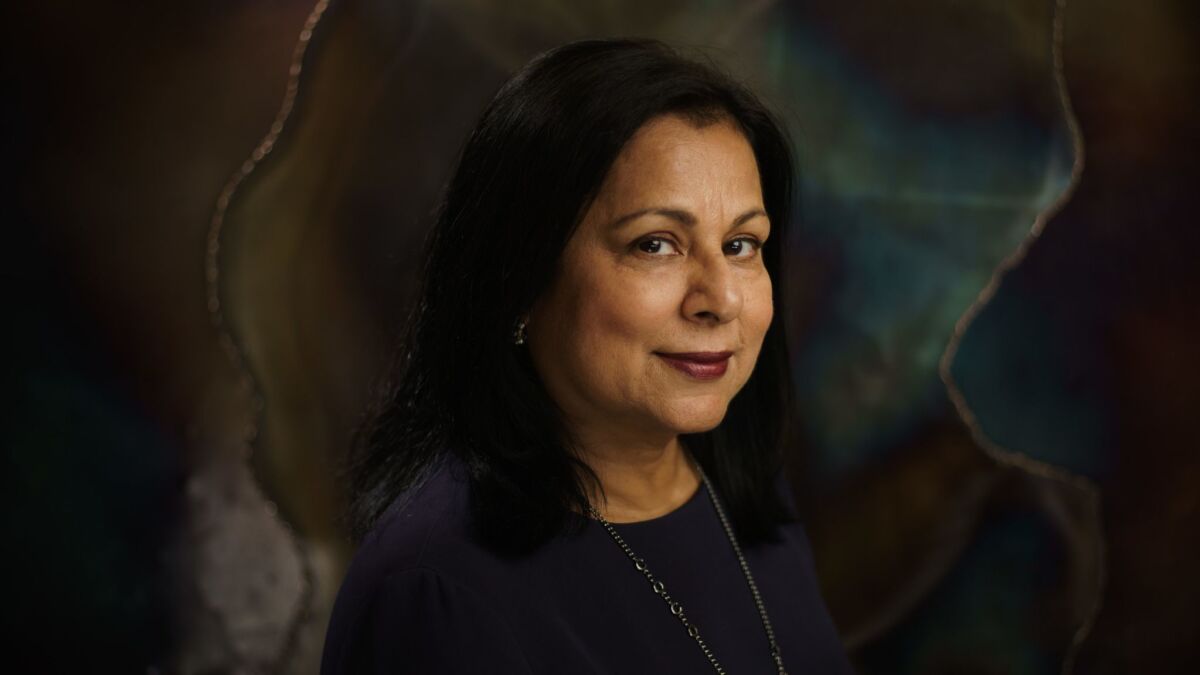 For the past 32 years, Geeta Bansal and her family have been making progressive Northern Indian food in their Irvine restaurant Clay Oven. Bansal has also been pulling up chairs at some of the best restaurants in the world, interviewing the chefs, and attending the food conferences that many of those notable chefs have been organizing. It's a conversation she tells me that she wants to bring closer to home, as part of a Southern California food symposium she hopes to organize. Meanwhile, she's continuing the cooking that has made Clay Oven a neighborhood favorite, including a seasonal watermelon curry, for which we got her recipe.
HIGHLAND PARK PAELLA PARTY
Among the restaurants that have lately opened in Highland Park, a neighborhood that is currently undergoing something of a renaissance, is Otoño, a Spanish-influenced place from chef Teresa Montaño. If you remember the now-shuttered Ración, the Basque restaurant in Pasadena where Montaño was the opening chef, you won't be surprised to see plates of jamón and braised octopus with summer beans. Food writer Ben Mesirow also suggests the cocktails, and of course there's paella, pans of the stuff, brimming with seafood and bearing socarrat, the blissful crunchy layer on the bottom.
SAND PEARS? SAND PEARS
In her Market Report this week, Noelle Carter considers Asian pears — also sometimes called sand pears or apple pears, as they taste kind of like a cross between an apple and a European pear. Whatever you call them, they're pretty fantastic: crisp, tart and deeply flavorful. Penryn Orchard Specialties brings nine varieties of pears to the Santa Monica farmers market, including four Asian pears and two Chinese pears. As for what to do with them, we have recipes for tarts and crisps, even galbi jjim.
BEER AS DRY AS CHAMPAGNE
We check in on one of the latest beer trends: brut IPAs, a style of beer that began in San Francisco and has recently spread down the coast. These are dry, fizzy beers, so named for their resemblance to Champagne, and a reaction to the surfeit of sweet hazy IPAs. Ben surveys a number of local brewers who are making the stuff and making it available at breweries and brew pubs in Long Beach, El Segundo, San Leandro and Redondo Beach, so you can make your own rounds when you get thirsty.
TUNA SOS
Tuna salad, not unlike tuna casserole, is an often forgettable dish. But the version that chef Antonia Lofaso puts on her menu at Scopa Italian Roots will make you forget about the stuff you had in your lunchbox or childhood potluck. Noelle gets Lofaso's recipe for her latest Culinary SOS column, a combination of Sicilian canned tuna, haricots verts, capers and little potatoes, dosed liberally with lemon juice. Have a restaurant dish you've been obsessing over? Let us know and we'll try to get the recipe for you, then test it and run it in the paper.
The Taste OC: For the first time, we're holding a Taste food festival in Orange County. From Oct. 19-21 we're having a food and drink party at the MET in Costa Mesa, with plenty of chefs, cooking demos and so much food and drinks. For more info and early tickets, go to extras.latimes.com/taste.
Check us out on Instagram at @latimesfood.
And don't forget the thousands of recipes in our California Cookbook recipe database.
Feedback? We'd love to hear from you. Email us at food@latimes.com.
---