Newsletter: Essential California: Grim Sleeper trial comes to a close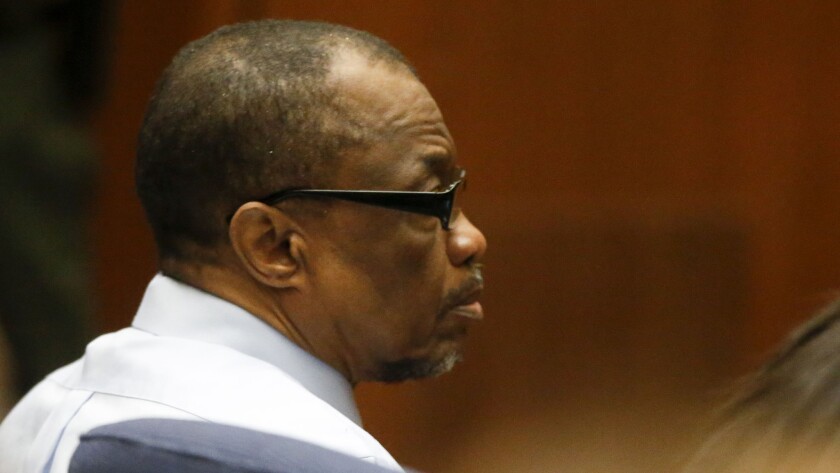 Good morning. It is Tuesday, May 3. If we're ever in a sinking boat, we'll use our phones to call 911 — not to Snapchat the experience like these folks, whose boat sank off the coast of Marina del Rey. Here's what else is happening in the Golden State:
TOP STORIES
One-on-one time
Members of the Coastal Commission can talk to developers, lobbyists and environmentalists about projects via email or telephone, over dinner and in the back of hearing rooms. Disclosure forms filed between January 2015 and March 2016 show more than half of such ex-parte communications involved developers, raising questions from critics over who has access to the commissioners. And now one state lawmaker wants to tighten those rules. Los Angeles Times
'Joking' around
It's not just the L.A. County Sheriff's Department that's had to deal with inappropriate text messages and emails. Similar cases have popped up in San Francisco and Santa Clara. "Cop humor remains its own unique brand of often macabre joking. But racially insensitive jokes that might have been accepted in the past now throw up red flags." Los Angeles Times
Closing arguments
Jurors heard closing arguments Monday in the case of the Grim Sleeper. Lonnie Franklin Jr. is accused of killing 10 young women in South Los Angeles over a period of 20 years beginning in the 1980s. "None of them deserved to be brutally dumped like trash as if their lives had no meaning," said Deputy Dist. Atty. Beth Silverman. Los Angeles Times
Tragic end
Two teenagers whose bodies were found in the Los Angeles River may have ended up there after one of the boys fell into the water and the other jumped in to rescue him, police said. Gustavo Ramirez, 15, and Carlos Daniel Jovel, 16, were found Sunday. Two other friends who were with the boys said they were all at the river on Friday night when Gustavo fell in. Los Angeles Times
L.A. AT LARGE
Gimme shelter: Why doesn't Los Angeles have more shade at bus stops? A 2001 deal between the city of Los Angeles and CBS Decaux called for the installation of more than 1,000 bus shelters. And under the deal, the city should have received millions of dollars in ad revenue. Fifteen years later, hundreds of shelters are missing. 89.3 KPCC
Tourism industry: Tourists spent $20.6 billion in Los Angeles County last year, according to the L.A. Tourism & Convention Board. An estimated 7 million of the 45.6 million visitors were international, many coming from China or South Korea. "Tourism isn't just thriving in Los Angeles — it's powering an economic resurgence that touches every corner of our city," said Mayor Eric Garcetti. Los Angeles Times
Hiking to a landmark: Why is it so difficult to get to one of Los Angeles' most recognizable landmarks? Gates, permitted parking and misdirection from Google Maps make it nearly impossible to get up to the Hollywood Sign. Curbed LA
POLITICS AND GOVERNMENT
California vs. Florida: Gov. Jerry Brown doesn't like Florida Gov. Rick Scott coming here and trying to take business back to the Sunshine State. "California is the 7th largest economic power in the world. We're competing with nations like Brazil and France, not states like Florida," Brown wrote in a letter to his fellow governor. Los Angeles Times
Ethics rules: A doctor who violated ethics rules by trying to broker a deal between his eye clinics and UCLA will be allowed to keep his seat on the University of California's Board of Regents. That was the conclusion of a secret investigation into Dr. William De La Peña, who did give up his seat on the regents' health services committee. ProPublica
CRIME AND COURTS
Personal appearance: Media mogul Sumner Redstone will have to give a taped deposition in a case on his mental competency. "His appearance is of the utmost significance. He is not a peripheral witness," said Judge David J. Cowan. The trial between the 93-year-old and his former companion is expected to begin on Friday. Los Angeles Times
Demonstrator charged: A 19-year-old man was charged with one felony count of vandalism and one misdemeanor count of inciting a riot after a Donald Trump rally last week in Costa Mesa. Luis Fernando Alarcon is accused of defacing a California Highway Patrol cruiser and encouraging others to riot. He remains in jail in lieu of $20,000 bail. Los Angeles Times
Calls for help: In San Diego, 911 dispatchers are supposed to answer calls within 10 seconds, but when demand surges, some callers are finding themselves on hold for two to seven minutes. "What's important to understand for the public is, this has the full attention of the police chief and the mayor," said San Diego Police Department spokesman Scott Wahl. Voice of San Diego
BUSINESS
Stopping for gas: Start-ups in San Francisco, Palo Alto and Los Angeles want to make gas stations a thing of the past. Companies like Filld will bring a truck full of gas to you on demand, though safety concerns haven't been given much thought. "You can never ask for permission because no one will give it," said Chris Aubuchon, CEO of Filld. Fire department officials are now looking to draft rules regulating the practice. Bloomberg
Banking practices: "Fintech" companies like Stripe in San Francisco hope to disrupt the banking industry the same way Uber and Airbnb have taken on taxis and hotels. But while the apps are popular with young consumers, older customers question whether the start-ups can provide the same security — financial and online — as banking institutions. 60 Minutes
CALIFORNIA CULTURE
Outta here: One-third of Bay Area residents are contemplating leaving the area in the next few years. A survey from the Bay Area Council found housing, traffic and high prices as the top reasons for wanting to leave. "This is our canary in a coal mine," said Jim Wunderman, president and chief executive of the council. SFGate
Musician's home: The home of Grateful Dead bassist Phil Lesh is on the market for $10.35 million. The home in Ross, Calif., includes seven bedrooms and terraced gardens. SFGate
What a doll: San Pedro native Misty Copeland, the first black female principal dancer in the American Ballet Theatre, now has her own Barbie doll. Daily Breeze
CALIFORNIA ALMANAC
Sacramento will be partly sunny with a high of 81. San Francisco will have clouds with temperatures reaching 64 degrees. It will be partly sunny and pleasant in Los Angeles with temperatures reaching a high of 75. Riverside will be sunny and 87. San Diego will have low clouds and a high of 71.
AND FINALLY
Today's California Memory comes from Richard Dixon:
"When I was young in the 1930s in Oakland, we had a fox terrier named Skippy. Skippy was a very smart dog. We had a summer cabin at Bucks Lake in Plumas County. When we were ready to go in the summer to Bucks Lake, all we had to do was mention this to Skippy and he would run and jump through the open window of the car in our garage and he would bite you if you tried to get him out. He loved our cabin and the area around it and was not going to be left behind in Oakland. He would stay in the car until we arrived to Bucks Lake."
If you have a memory or story about the Golden State, share it with us. Send us an email to let us know what you love or fondly remember about our state. (Please keep your story to 100 words.)
Please let us know what we can do to make this newsletter more useful to you. Send comments, complaints and ideas to Alice Walton or Shelby Grad.
---