'Grim Sleeper' trial: 'Ten young women, all of them cruelly murdered by that man,' prosecutor says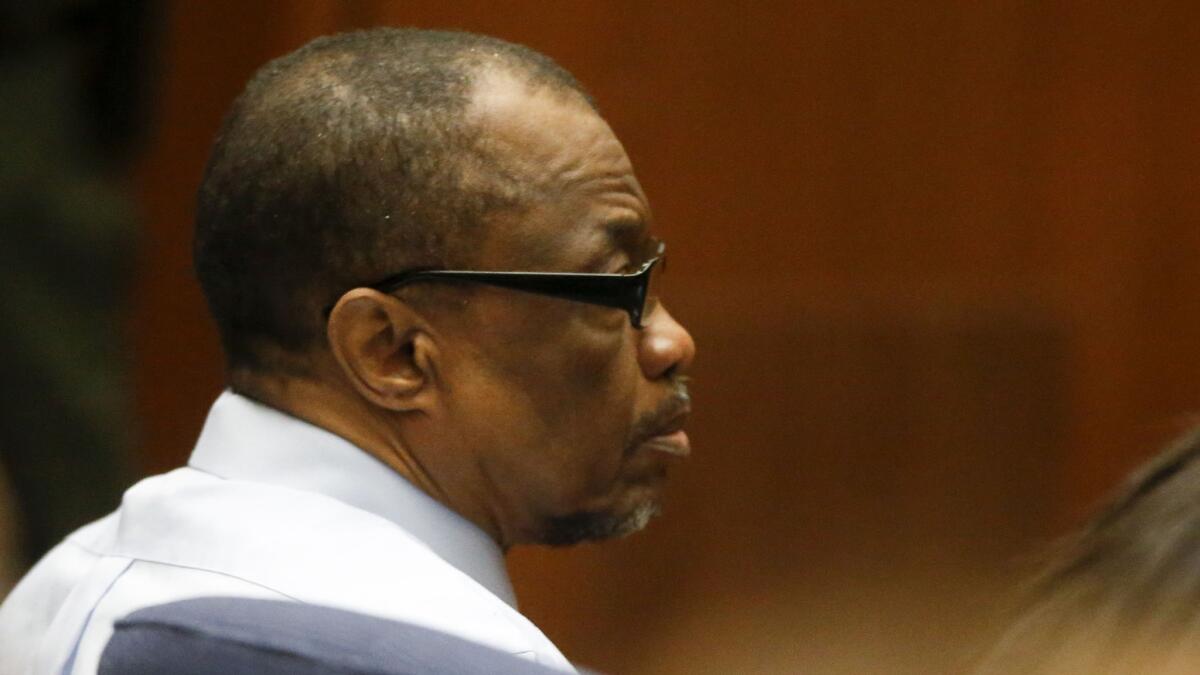 The collage of smiling faces was projected onto a screen in a downtown Los Angeles courtroom, 10 young women beaming before the jury.
Minutes later, a series of photographs quickly flashed across the screen: South Los Angeles alleyways, then garbage, mattresses and other debris lining the dirt and asphalt.
And finally, photographs of what lay underneath the filth: the decaying bodies of the same women.
"Ten young women, all of them cruelly murdered by that man — the defendant, Lonnie Franklin," said Deputy Dist. Atty. Beth Silverman, pointing to the man seated at the defense table.
After nearly three months of grisly testimony, a Los Angeles jury on Monday heard closing arguments in the murder trial of the man accused in the so-called Grim Sleeper serial killings.
Prosecutors say Lonnie Franklin Jr. committed a series of slayings over more than two decades in South Los Angeles, starting in the mid-1980s.
Franklin faces 10 counts of murder in the killings of nine women and a 15-year-old girl. He also faces one count of attempted murder.
Franklin, 63, did not testify. Prosecutors are seeking the death penalty. If Franklin is convicted, jurors will hear more testimony before deciding whether he should be executed or sentenced to life in prison without the possibility of parole.
On Monday, Silverman told jurors that the women whose faces they saw are unable to tell of what happened to them, their voices silenced by Franklin.
Interested in the stories shaping California? Sign up for the free Essential California newsletter >>
"We just have to listen to what the evidence tells you," she said. "The evidence in this case is the voice of the victims who can no longer speak for themselves."
As Silverman spoke, Franklin bounced slightly in his chair, his eyes fixed to the wall behind the judge.
The women shared much in common in both life and death, Silverman told jurors.
They were all young, black and living troubled lives in South Los Angeles. They struggled with addiction, and some resorted to prostitution to support their habit. They were all dumped in alleyways, their naked or partially undressed bodies hidden in or under trash.
Nearly all were shot in the chest, some were strangled, and some suffered from both, Silverman said.
Franklin preyed on the vulnerabilities of the women in his community, a serial killer hiding in plain sight, luring them with the promise of drugs and alcohol, she said.
But the women were more than mere victims of a man determined to degrade and kill them, the prosecutor said.
They were daughters and sisters who were loved by their families; they were women who no matter their troubles did nothing to deserve their fate, Silverman said.
"They suffered from the same frailties and the same imperfections that all humans do, and they had the same hopes and the same dreams for their futures that we all have," she said. "None of them deserved to be brutally dumped like trash as if their lives had no meaning."
Silverman carefully described to jurors the evidence presented by prosecutors during the trial, which showed that Franklin was connected to each of the 10 victims, as well as the 11th who survived, by DNA evidence, ballistics or both.
Silverman recounted testimony detailing how an undercover L.A. Police Department detective posed as a busboy to retrieve DNA samples from Franklin as he attended a child's birthday party at a Buena Park pizza restaurant.
The half-eaten slice of pizza, a fork, two napkins, two plastic cups and a piece of chocolate cake retrieved by the officer would end up being key pieces of evidence in the prosecution's case against Franklin.
Silverman projected gruesome crime scene and autopsy photos as she detailed the deaths of the victim. Each new image elicited whimpers from the family members gathered in the packed audience.
Silverman began with the 1985 killing of Debra Jackson, who prosecutors say was the first victim.
She was followed by other women who were killed in the 1980s: Henrietta Wright; Barbara Ware; Bernita Sparks; Mary Lowe; Lachrica Jefferson; and Alicia Alexander, who was killed in 1988.
As a photograph of Alexander's decomposing body was shown in court, her mother closed her eyes and rocked in her seat next to her husband. Alicia's older brothers stared at the ground and cried until the photo was removed.
Silverman continued to the next victim, 15-year-old Princess Berthomieux, who was killed 12 years later in 2000, followed by Valerie McCorvey in 2003 and Janecia Peters in 2007.
The apparent gap in time from the earlier cases to the later ones led to the serial killer being dubbed the "Grim Sleeper."
The sample of Franklin's DNA was used to match genetic material found on the bodies or at the crime scenes of seven of the victims, evidence showed.
A gun found during a search of Franklin's home was used to kill one of the victims, according to testimony.
Police criminalists testified that bullets from eight of the victims — seven of whom were killed — were fired from the same weapon. Of those victims, Franklin's DNA was found on three.
Enietra Washington, the woman believed to be the Grim Sleeper's only known survivor, recounted a day nearly 30 years ago when she was shot and raped before identifying Franklin as her attacker.
Her testimony, the prosecutor told jurors, bolsters the pattern Franklin followed when killing the women.
"She provides a blueprint for the murdered women who can't speak," Silverman said.
Defense attorney Seymour Amster began his closing argument Monday afternoon, saying that the prosecution's case was built on circumstantial evidence trumped up by deception and illusion.
Amster said that men other than Franklin could have committed the killings, referring to evidence that DNA not belonging to Franklin was found on the women, on their clothes or at the crime scenes.
The prosecution has not explained how "all of this DNA by unknown individuals could not have been the individual who is the actual killer," Amster said.
Amster also dismissed the methodology used by police to match the gun found in Franklin's home to a victim and to link eight other victims to a different firearm.
The method is "inferior and not up to the standards" authorities should have been using, he said.
Amster is expected to continue his argument Tuesday morning.

For more news on the "Grim Sleeper" serial killer trial, follow @sjceasar
ALSO
Why a historic highway that united California's two halves may never reopen to cars
Baby girl dies after being ejected from Porsche that fell 200 feet off mountain road
Teens tell police two friends died in L.A. River after one fell in, other tried to save him
Sign up for Essential California for news, features and recommendations from the L.A. Times and beyond in your inbox six days a week.
You may occasionally receive promotional content from the Los Angeles Times.