Families of two teenage best friends who drowned in L.A. River share stories and tears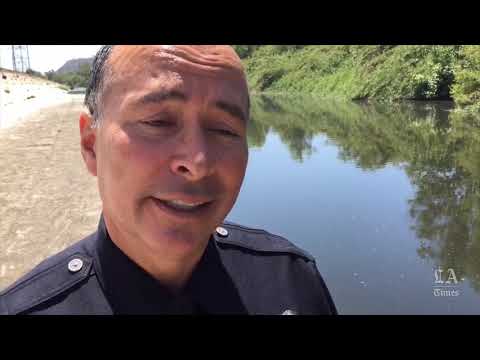 An LAPD sergeant describes the scene where two bodies were pulled from the L.A. River.
The two families gathered in a cramped apartment in Highland Park, sharing stories and tears about two boys whose bodies were pulled from a river that, even in drought, never stops running.
Gustavo Ramirez, 15, and Carlos Daniel Jovel, 16, were best friends, Carlos' mother, Reina Ardon, said Monday from inside her home, where the walls are lined with photos of her smiling son, the youngest of her two children.
Police said the pair may have ended up in the Los Angeles River after one fell in and his friend tried to save him, Los Angeles Police Sgt. Frank Preciado said Monday, based on accounts from two other teenagers who were with them at the time.
The teenagers told police they were hanging out Friday evening along the river behind their school — the Sotomayor Learning Academies complex — when Gustavo fell in the water, Preciado said. Carlos jumped in after him, he said, but neither surfaced.
The two friends "panicked," Preciado said.
One called 911 and said someone was in the river, Preciado said. But the teens didn't stay, he said. When the 911 operator tried to call back for more information, the phone was off.
See the most-read stories this hour >>
Three helicopters — two from the Fire Department and one from the LAPD — flew over the river and the area behind the school, Preciado said, but didn't see anything.
The same night, the teenagers' families went to police to report the two missing, worried because neither had returned home. At the time, the detectives did not connect the missing boys to those reported in the river, Preciado said.
Los Angeles experienced a remarkably dry winter, extending a severe drought that has lasted four years. But even during dry periods, the river still flows.
It runs at a somewhat steady flow year-round, fed by a continuous supply of water from the Donald C. Tillman Water Reclamation Plant in the Sepulveda Basin, which dumps 23 million gallons of reclaimed water a day into the river.
In 2006, a 14-year-old boy fell into the river while fishing with his friends in Glassell Park and drowned, according to a Los Angeles Department of Water and Power newsletter at the time.
One of the teens dropped his pole into the water and as the 14-year-old tried to get it, he fell into the water and disappeared. His body was found submerged downriver two hours after the incident was reported.
Join the conversation on Facebook >>
Carlos had told his parents Friday that he was going to play basketball near the school with a group of friends, including Gustavo, his mother said. The 16-year-old knew he needed to be home by 4 p.m. to pack for a weekend camping trip with his father.
"It shocked me when the time passed and he wasn't home yet," said Juan Carlos Jovel. "He was so excited."
The two planned to leave at 6 p.m., but Carlos never returned. The family searched for the teenagers, optimistic, even as days passed, that they would find them, said Ardon, Carlos' mother.
"We never lost hope. I never lost hope," Ardon said, as she began to cry, putting a hand over her face. "But I was so scared."
On Sunday morning, Preciado said, the two teenagers who had been with Jovel and Ramirez told their parents that their friends had fallen into the water. After the parents called police, Preciado said, detectives spoke to the two teenagers, who directed them to the "very specific area" where Gustavo and Carlos were last seen.
The soil under the moss-covered concrete bank had eroded, leaving a hollow area and a stream of water about 12 feet deep, Preciado said.
On Sunday, a sonar-equipped boat was launched to scan the area and detected a few spots for a dive team to examine further. As the sonar equipment was pulled from the water, Preciado said, a cable caught one of the bodies.
Divers found the second body about 45 minutes later.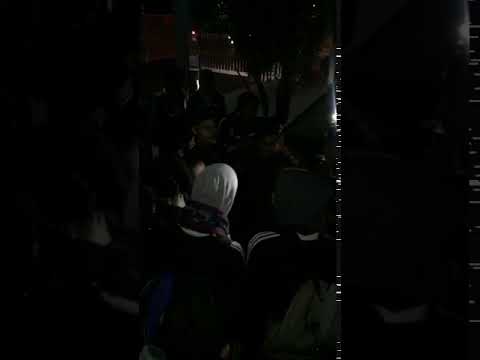 Gustavo Ramirez, center, participates in a rap battle with friends. Gustavo, 15, and 16-year-old Carlos Daniel Jovel went missing Friday. Their bodies were discovered in the L.A. River Sunday.
"I had the hope we'd find them alive," Macario Ramirez, Gustavo's father, said Monday, as he clutched a tissue in his right hand, sitting at a table in the apartment with his 19-year-old daughter and Carlos' parents. He began to cry.
"I had the hope until the last minute that it wasn't them," Gustavo's mother, Antonia Ramirez, said. "That the ones they took out of the river weren't them."
Throughout Monday morning, loved ones descended on the apartment, offering condolences and a warm embrace to each set of parents. Both boys had been happy and entertaining, always joking around with their parents, siblings and with each other, the families said.
When Carlos would tell his mother a joke, it would make her laugh so much she would have him tell it repeatedly, Ardon said.
"Mom, I'm not a recorder," he would say. Ardon smiled as she recalled what her son — known to his family as Titos — would tell her.
"He was the kind of person that you didn't have to try and you were laughing," his 18-year-old sister Sandra Jovel said.
Gustavo was known as Smiley to his soccer teammates because of the smile he always had on his face. And the only trouble Gustavo would get into in school would be for "interrupting class with his laughter," his mother said.
He always made his two older sisters laugh, Antonia Ramirez said nodding toward her 19-year-old daughter Griselda Ramirez, who began to cry. Gustavo had told Griselda Ramirez on Friday that he was going to play basketball and she told him not to be home later than 6 p.m.
"He just said bye and he left," she said tearfully. "He never came back."
Times staff writers Doug Smith, Veronica Rocha and Matt Hamilton contributed to this report.

Twitter: @Brittny_Mejia
Twitter: @katemather
ALSO
12 rescued from sinking boat near Marina del Rey
Police shoot, kill knife-wielding man after Panorama City domestic dispute
Granada Hills Charter High School's national Academic Decathlon champions to be honored at rally
Sign up for Essential California for news, features and recommendations from the L.A. Times and beyond in your inbox six days a week.
You may occasionally receive promotional content from the Los Angeles Times.