Newsletter: Essential California: How the Lakers landed LeBron
Good morning, and welcome to the Essential California newsletter. It's Monday, July 2, and here's what's happening across California:
TOP STORIES
Under cover of darkness and all by himself, Magic Johnson arrived at LeBron James' Brentwood house at 9:01 p.m. on Saturday. He knew — he just knew — that if he could look James in the eye and talk to him, they'd connect. For more than two hours they shared their experiences, members of one of the tiniest and most elite fraternities. And now the Lakers have a superstar again. James agreed to a four-year deal worth $154 million, which he can sign as early as Friday. Los Angeles Times
-- Several former Lakers stars, including a few Hall of Famers, were excited to see LeBron James agree to join the team Sunday night. "We've always had a star. This is where he belongs," said Byron Scott, who won three rings during the Lakers' 1980s Showtime era. "I just had a good feeling that this was the place he wanted to be." Los Angeles Times
-- James gives Lakers the star power they have been lacking, columnist Bill Plaschke writes. Los Angeles Times
New insight on family separations
The Trump administration's "zero tolerance" policy of criminally charging people who cross the border illegally led to thousands of children being separated from their parents. But the practice of separating families appears to have begun accelerating last year, long before zero tolerance was announced in the spring. Many of these cases, according to records and interviews, happened at ports of entry along the border. Los Angeles Times
-- Immigration and Customs Enforcement is feeling besieged. Los Angeles Times
-- Vietnamese refugees who got a warm welcome from America are puzzling at today's family separations and harsh rhetoric. Los Angeles Times
-- Marches across the country protested family separation. Los Angeles Times
-- The L.A. push to abolish ICE. Los Angeles Times
-- Examining Trump's claims that ICE liberated cities from MS-13. New York Times
-- The look of patriotism in the age of Trump. The New Yorker
Legacy time
When Gov. Jerry Brown took office in 2011, some said California was ungovernable. Now, Brown is poised to earn a place in the history books as the leader who helped right the ship of state. His mantra of measured spending could be a standard by which future governors are judged. Los Angeles Times
Won by a landslide
In Mexico, leftist Andres Manuel Lopez Obrador won Sunday's presidential election by a landslide, ushering in a new era in Mexican politics that could have profound implications for the country's domestic and international policies — including its relationship with the United States. Los Angeles Times
Get the Essential California newsletter »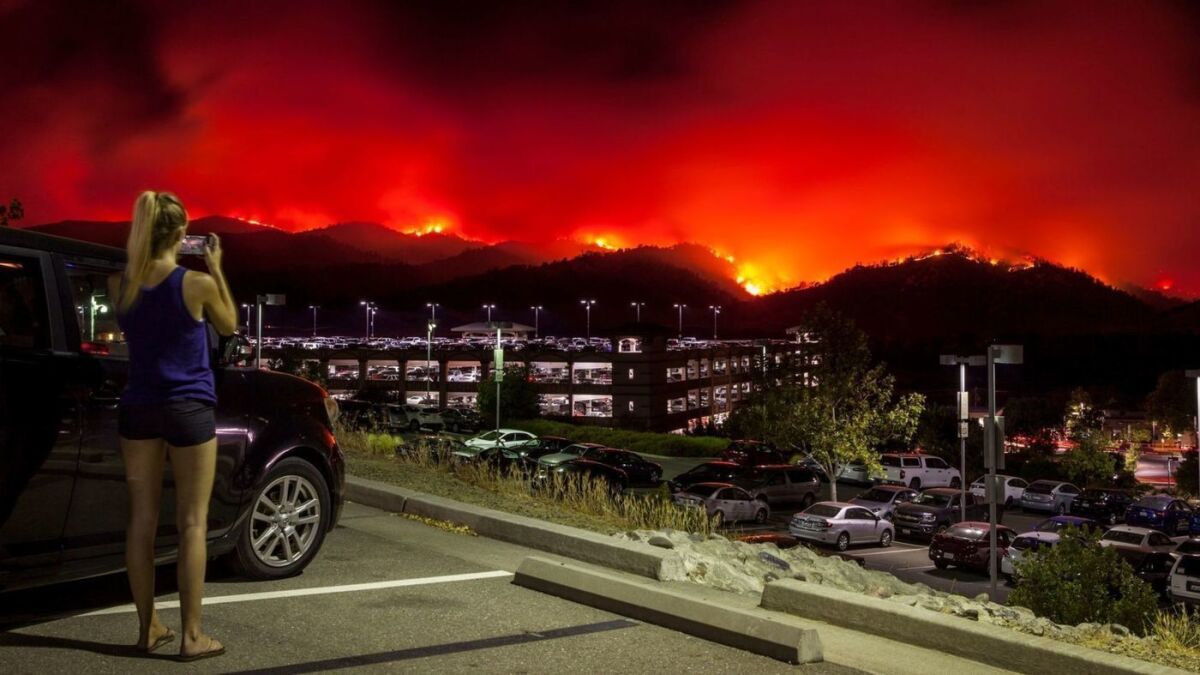 L.A. STORIES
He faced a recall effort: Paul Egly, the controversial judge who oversaw court-mandated integration efforts of Los Angeles schools in the late 1970s, died Tuesday at his Laguna Beach home. He was 97. Los Angeles Times
Driving force: This Newport Beach driving instructor is one of just three women worldwide training the instructors who will teach women in Saudi Arabia how to take the wheel. Los Angeles Times
CALIFORNIA CLIMATE
Not again! In the Northern California, a strong, dangerous start to the fire season. Los Angeles Times
A new way of life: For Lake County, five years of fire. Wall Street Journal
POLITICS AND GOVERNMENT
Perspective: Californians won't vote on the nation's toughest privacy protections after all — because the Legislature did its job and handled the matter, says columnist George Skelton. Los Angeles Times
Behind the ballot battles: How politics gets done in Sacramento, on a deadline. Los Angeles Times
Changing electorate: How the GOP lost in one San Diego district. Los Angeles Times
CRIME AND COURTS
Gun politics: The long legacy of a mass shooting at a San Francisco high-rise. San Francisco Chronicle
They have a choice: Will cops leave their unions after last week's Supreme Court decision? Don't count on it. Sacramento Bee
Grim reminder: The death of a firefighter in Long Beach is a reminder of the dangers even on seemingly routine calls. Orange County Register
CALIFORNIA CULTURE
The American way of movie life: More than 30 years since Universal successfully launched "Back to the Future" on July 3, the Fourth of July is now as closely associated with superheroes and Will Smith as much as barbecues and fireworks. A look back at the hits as well as misses. Los Angeles Times
What wattage: California might become home to the world's biggest battery. Wall Street Journal
On the front lines: As San Francisco's minimum wage jumps again, restaurants are struggling with pricing and service issues. San Francisco Chronicle
Plus: Could a $15 minimum wage slow the S.F. exit for those of modest means? Sacramento Bee
And: The latest minimum wage hike in Southern California comes as some employers launch bidding wars for scarce workers. Los Angeles Times
On gender equality: The restroom is three floors down, and other indignities of being a woman in tech. Mercury News
CALIFORNIA ALMANAC
Los Angeles area: Partly cloudy, 75, Monday. Partly cloudy, 76, Tuesday. San Diego: Partly cloudy, 73, Monday. Partly cloudy, 72, Tuesday. San Francisco area: Mostly sunny, 67, Monday. Sunny, 67, Tuesday. Sacramento: Sunny, 92, Monday. Sunny, 89, Tuesday. More weather is here.
AND FINALLY
This week's birthdays for those who made a mark in California: Rep. Doug LaMalfa (July 2, 1960),attorney Gloria Allred (July 3, 1941), L.A. County Superior Court Judge James Hahn (July 3, 1950), Rep. Judy Chu (July 7, 1953).
If you have a memory or story about the Golden State, share it with us. Send us an email to let us know what you love or fondly remember about our state. (Please keep your story to 100 words.)
Please let us know what we can do to make this newsletter more useful to you. Send comments, complaints and ideas to Benjamin Oreskes and Shelby Grad. Also follow them on Twitter @boreskes and @shelbygrad.