Newsletter: Essential California: Prosecutors use aggressive tactics against 'Suge' Knight and his team, sparking civil liberty concerns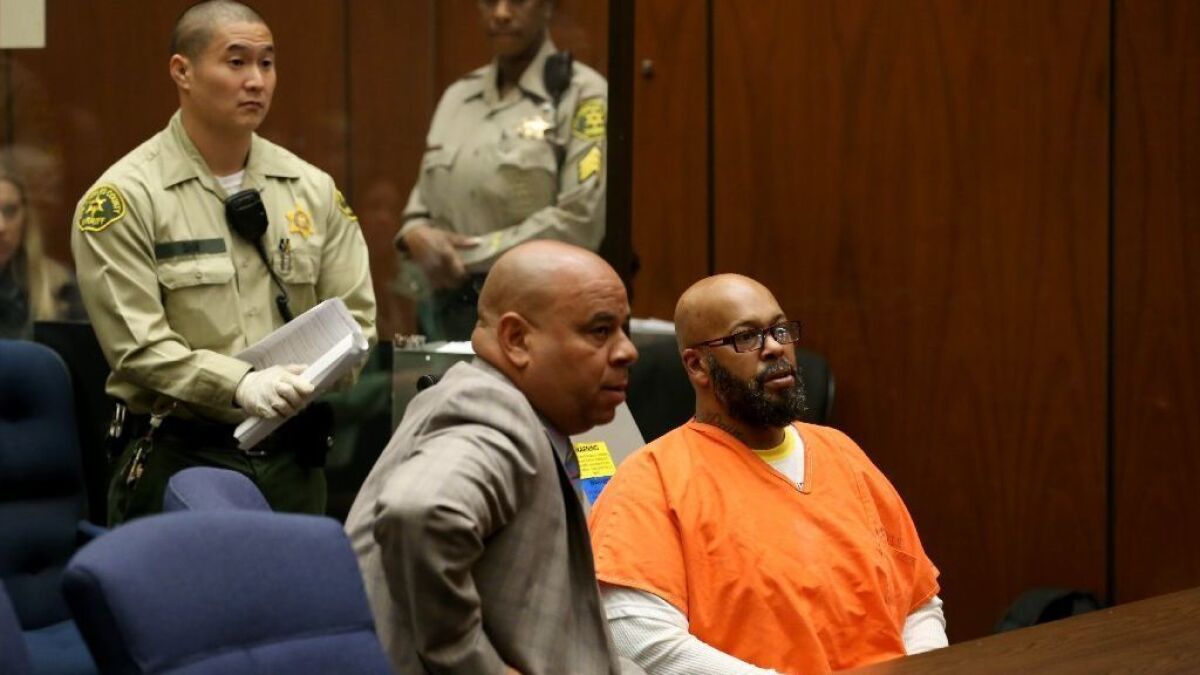 Good morning, and welcome to the Essential California newsletter. It's Tuesday, Feb. 6, and here's what's happening across California:
TOP STORIES
Legal battle
As Marion "Suge" Knight's murder trial approaches, prosecutors and Sheriff's Department investigators have taken aim at the rap impresario's attorneys, his associates and even a pair of journalists making a documentary about the record label he co-founded prior to his fall from hip-hop royalty. Law enforcement officials say they find themselves in an extraordinary situation, trying to prosecute a man they allege has intimidated witnesses in the past while contending with a defense team that appears to have engaged in witness tampering, bribery and repeated violations of court orders. But some legal experts and local defense attorneys uninvolved in the case say aggressive actions taken by law enforcement are butting up against long-enshrined civil liberties. Los Angeles Times
Reunited at last
In late January, 48 mothers and fathers from the town of Nueva Italia arrived in Los Angeles. Some hadn't seen their children in three decades. Their visit was made possible by a program run by the government of the Mexican state of Michoacan that helps aging parents reunite with their children who have lived in the U.S. illegally for more than 10 years. Los Angeles Times
L.A. STORIES
Cold case: Los Angeles County Sheriff's investigators say they're closer to understanding exactly how actress Natalie Wood died while boating off Catalina Island nearly four decades ago, but say they would still like to hear again from her husband, Robert Wagner. Los Angeles Times
Public health debate: Orange County's first and only needle-exchange program has shut down after Santa Ana city officials denied its permit application, sparking concerns from public health advocates. Los Angeles Times
2014 shooting revisited: The troubled man who committed a massacre in Isla Vista was part of the alt-right, new research shows. Los Angeles Times
To the rescue? Will a Hollywood outsider bring real change to Weinstein Co.? Variety
IMMIGRATION AND THE BORDER
Harrowing tale: Last year, reporters and photographers turned up dead in Mexico at a rate of about one per month, making it the most dangerous country in the world for journalists after war-torn Syria. The story of Emilio Gutierrez Soto, who is in jail, shows why. Los Angeles Times
On the edge: A Salvadoran couple adopted three American daughters. Now they face the threat of deportation. The Desert Sun
POLITICS AND GOVERNMENT
High price tag: UC Berkeley spent almost $4 million on security for a month of free-speech events last year when the campus became a flash point for the country's political divisions. Los Angeles Times
Fined: Susan Kennedy, a former top aide to Govs. Arnold Schwarzenegger and Gray Davis, has agreed to pay $32,000 in fines for shadow lobbying, or advocating for paid clients before a state agency without registering as a lobbyist, according to documents released Monday. Los Angeles Times
On the horizon: "One of California's most powerful heath care unions wants the public to press hospitals and insurers over high costs, filing 10 state and local propositions for November's elections — a tactic critics deride as an inappropriate attempt to gain negotiating leverage via the ballot box." Politico
CRIME AND COURTS
Reform ahead? California Atty. Gen. Xavier Becerra announced Monday that his office will oversee reforms at the San Francisco Police Department that were recommended by federal officials after the U.S. Department of Justice's decision to scale back a program that helped departments improve community relations. Los Angeles Times
New filing: A woman who was sued by director Brett Ratner for defamation after she publicly accused him of rape alleged in a court filing Monday that the director was attempting to silence and intimidate her and other women from coming forward about his sexual misconduct. Los Angeles Times
What happened here? A 16-year-old boy was shot and killed Sunday in the Westmont neighborhood in South Los Angeles during a foot chase with Los Angeles County Sheriff's Department deputies who say he had a handgun — though a firearm has not been found. An official said it may have been taken by someone in a crowd of people who converged on the scene. Los Angeles Times
CALIFORNIA CULTURE
Big trial begins: The Waymo-Uber trade secrets trial began Monday with the judge blasting a "famous" witness' request to take the stand in a private room outside the view of the public. There are two people on the current witness list who might be considered famous. Los Angeles Times
An idea: Could a ferry solve the Westside's traffic problem? Curbed LA
High demands: Snap Inc., the parent company of video messaging app Snapchat, will need to show strong growth when it releases its fourth-quarter earnings report Tuesday if it hopes to reverse what's been a difficult first year as a publicly traded company. Los Angeles Times
Big takeover attempt: Chip maker Broadcom boosted its buyout offer for San Diego's Qualcomm on Monday to $82 per share — ratcheting up the pressure on shareholders to support a hostile takeover bid. San Diego Union-Tribune
On the way to Barstow: The Cracker Barrel in Victorville has finally opened! Eater LA
CALIFORNIA ALMANAC
Los Angeles area: Partly cloudy, 74, Tuesday. Sunny, 81, Wednesday. San Diego: Sunny, 66, Tuesday. Sunny, 75, Wednesday. San Francisco area: Sunny, 68, Tuesday. Sunny, 70, Wednesday. Sacramento: Sunny, 71, Tuesday. Sunny, 73, Wednesday. More weather is here.
AND FINALLY
Today's California memory comes from James Voelzow:
"When my father graduated from Michigan State College in 1951, he got a job as an engineer at Douglas Aircraft in Santa Monica and we moved to L.A. (Westchester) in 1951. My first impression as a 6-year-old was the amazing palm trees, so different from the foliage in Michigan. Things were more relaxed then. In 1953, my friends and I would walk into the airport (now LAX) and be taken through the planes by the mechanics! The Flight Deck was the restaurant next to the control tower and part of the arrival/departure lounge — the only commercial buildings there. Palos Verdes was totally empty and loved for cliff climbing. The port breakwaters were for spearing crabs with bamboo poles. Marina del Rey was Playa del Rey and a beach to camp on overnight. Beach cities were distinct cities, and Malibu was shacks along the highway. The entire Coast Highway abounded with saltwater taffy stands. In 1954, we moved to one of the first tract homes in Granada Hills in the San Fernando Valley. The Valley at the time was citrus groves, eucalyptus trees, pastures and onion fields. My friends and I rode our bikes for miles on dirt roads that are now major thoroughfares."
If you have a memory or story about the Golden State, share it with us. Send us an email to let us know what you love or fondly remember about our state. (Please keep your story to 100 words.)
Please let us know what we can do to make this newsletter more useful to you. Send comments, complaints and ideas to Benjamin Oreskes and Shelby Grad. Also follow them on Twitter @boreskes and @shelbygrad.
---